---
Stocks Are Doing Something They Haven't Done Since The Dot Com Bubble
With 66 S&P 500 companies, representing 22% of S&P 500 earnings, having already reported Q4 earnings, there was some good, some not so good, and some downright bizarre news this earnings season.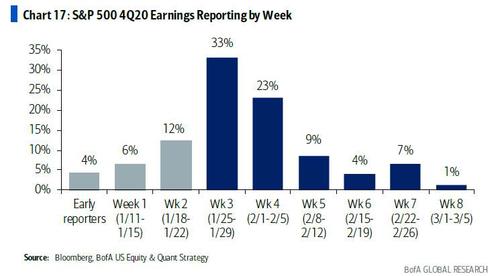 First, the good news: as Bank of America's Savita Subramanian reports, S&P EPS rose 2% last week to $38.70 (-8% YoY) and 73% of companies have beaten on both sales and EPS, tracking similar to last quarter when we ultimately saw a record number of beats. This means that as of this moment, 4Q earnings are clearing BofA's - and the consensus - EPS estimate by over 2% (but ex-Financials, earnings are tracking just 1% above expectations at the start of January). Despite Financials' beat and overall positive 2021 guide, which was largely due to billions in reserve releases, the sector has lagged with Growth & Tech driving the S&P 500's 2% return last week according to BofA's Subramanian who however repeats that the bank "sees signs of a last gasp Growth trade, and advise sticking with Value."


In the not so good news category, BofA notes that while S&P 500 non-Financial net margins unexpectedly rose 10bps YoY to 11.3%,  - pointing to aggressive cost control implemented by companies - analysts expect a 70bps drop in net margins YoY to 10.2% in 4Q. Of the 10 sectors (ex-Fins), only Materials is expected to see higher margins YoY (+1.0ppt). Indeed, the bank's own Corporate Misery Indicator, which has been strongly correlated with, and sometimes led, the profits cycle, also took a pause in 4Q, indicating sluggish earnings recovery in 4Q.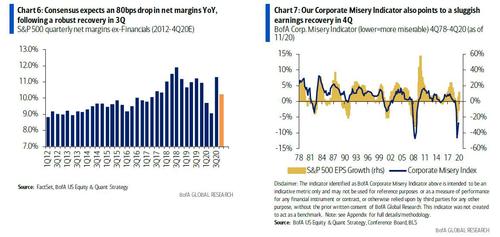 That said, there was a silver lining to the expected margin contraction: BofA's predictive analytics team used earnings calls transcripts to calculate sentiment for S&P500 companies that have reported this earnings season. It found that corporate sentiment remains positive so far and is now largely unchanged vs. pre-COVID 4Q19 levels, despite a weaker reading vs. last quarter on a YoY basis. That said, sentiment is expected to continue to improve from here as the economy reopens.

Which brings us to the downright bizarre: with the S&P 500 trading at an all-time high and rich valuations, BofA observes that there has been no reward for beats so far this earnings season (similar to last quarter) in fact, a record 1.6% underperformance penalty - for beats. Are investors rewarding positive outlooks (where 2021 expectations have risen by 1.5% since Jan. 1)? Quite the opposite: so far we see a very unusual penalty for raising guidance – 20bps of negative 1-day alpha vs. the average positive 2ppt alpha since 2007. What this means is that companies which beat on both sales and EPS underperformed the S&P 500 by 1.6% the following day, representing the worst reactions in BofA data history going back to the dot com bubble days of 2000! 

It gets crazier: where there were also no rewards for above-consensus guidance (-20bps vs. +2.1ppt on average since 2007), companies which missed on both revenue and EPS actually outperformed the S&P the next day!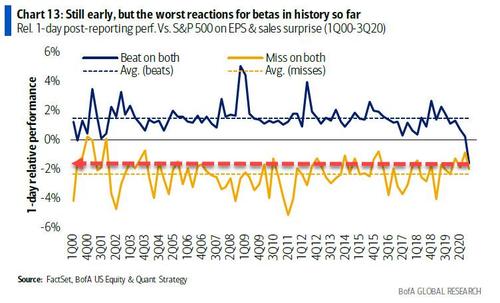 Why does this matter? Well, the last time we saw such a reaction to earnings was in Q2 2000... after which the S&P 500 fell by 13% over the next three months amid a marked change in leadership, with Value outperforming growth by over 25ppt.