---
Stocks & Bond Yields Plunge On COVID Surge & Fed Balance Sheet Purge
That felt weird eh? A down week for stocks? Bad news was not good news and dips weren't bought? Nasdaq was the least worst on the week as Dow, S&P, and Small Caps all fell in line...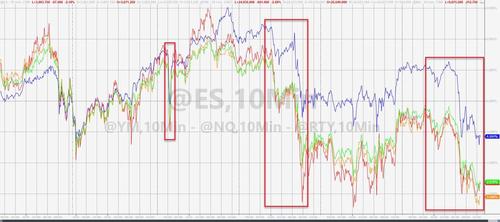 That's the second down week in the last three - WTF is happening!!!
Three reasons stand out (yes, we know the deluge of virus resurgence and China tension headlines may have catalyzed it but it's not like that's anything the market hasn't completely shrugged off for two months):
First, the 'hard data' jobs picture refused to confirm the 'soft data' surveys that a V-shaped recovery is here...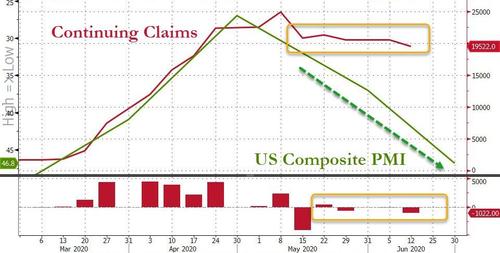 Source: Bloomberg
Second, the post-June-op-ex trend was not your friend historically...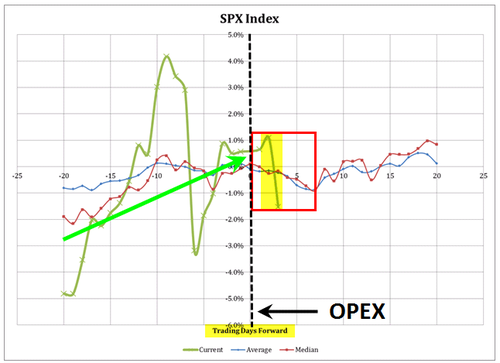 Third, and most importantly, The Fed dared to allow its balance sheet to shrink for the second week in a row!!!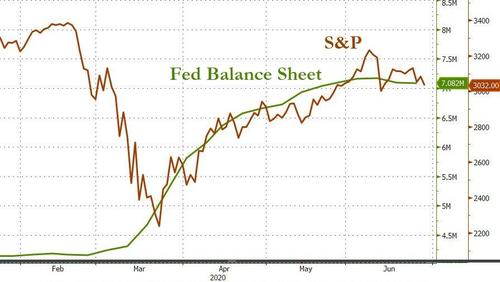 Source: Bloomberg
Do you still want to play the game?
Here are the main headlines that sparked the moves today:
1000ET *TEXAS GOVERNOR ORDERS TAVERNS TO CLOSE IN RESPONSE TO VIRUS

1050ET *CHINA MESSAGES THAT U.S. PRESSURE COULD JEOPARDIZE PURCHASES OF U.S. EXPORTS

1100ET *HARRIS COUNTY, TX, TO DECLARE TOP-LEVEL EMERGENCY ON COVID-19

1120ET (Bullish) - *KEY FAA TEST FLIGHT OF BOEING'S 737 MAX JET EXPECTED NEXT WEEK

1125ET *ARIZONA VIRUS CASES JUMP 5.4%, ABOVE PRIOR 7-DAY AVE. OF 2.9%

1130ET *FLORIDA SUSPENDS CONSUMPTION OF ALCOHOL AT BARS STATEWIDE

1145ET *EU MOVES TOWARD RECOMMENDING A BAN ON ENTRY TO U.S. TRAVELERS

1220ET *SAN FRANCISCO MAYOR BREED: TO DELAY REOPENINGS PLANNED FOR MONDAY
The Dow broke below 25k, testing down to its 50DMA...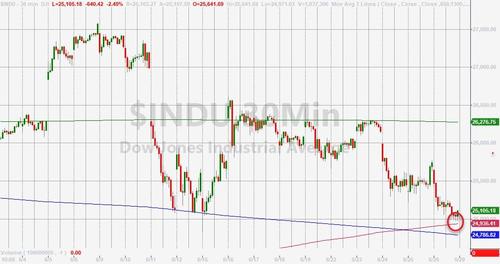 S&P Futs broke below 3,000 while the cash S&P tested its 200DMA all day and they even wheeled out Mnuchin and Kudlow in the last hour to try and stabilize things...
1510ET *KUDLOW SAYS EVERY NUMBER IS SHOWING V-SHAPE RECOVERY FOR U.S.

1515ET *MNUCHIN: WILL GO BACK TO CONGRESS NEXT MONTH FOR MORE TOOLS
A live look at Kudlow holding 3000. pic.twitter.com/v1kg2ynyHX

— Joseph S. Mauro (@jsmauro13) June 26, 2020
It didn't work at first but then came the panic bid in the last 15 minutes to close it back above the 200DMA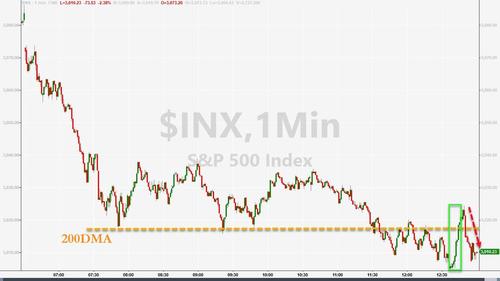 Nasdaq's largest companies are on the verge of completing a comeback that has taken more than 17 years to unfold. As Bloomberg reports, the turnaround is based on the ratio between the Nasdaq-100 and S&P 500 indexes, which plunged as much as 69% from a March 2000 record through September 2002.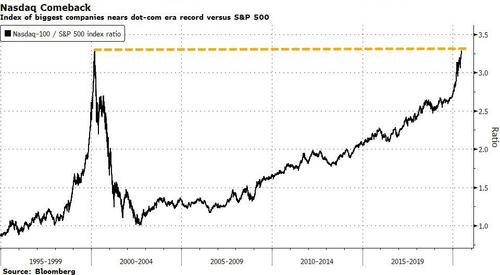 The ratio rose above the record as U.S. exchanges opened Thursday, only to come up short by the close. "This incessant demand for all things internet and tech" is behind the Nasdaq-100's rebound, Troy Bombardia, a former hedge-fund manager, wrote Thursday in a post on the SentimenTrader blog.
Interestingly, it appears institutions finally capitulated on their shorts this week (this data is as of Tuesday's close, which may explain the early week surge)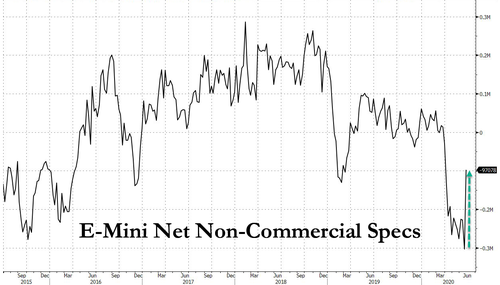 Source: Bloomberg
FANG Stocks had a tough week, not helped by the FB boycott...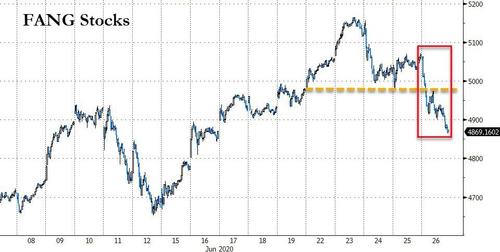 Source: Bloomberg
Banks had an ugly day after the stress test restrictions last night...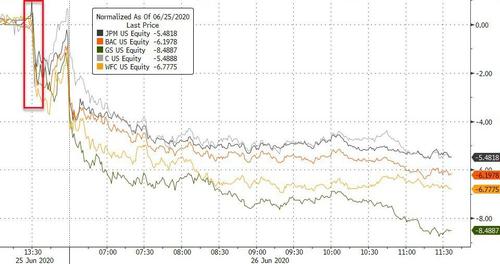 Source: Bloomberg
The dollar managed a big roundtrip on the week to end very marginally higher...
Source: Bloomberg
Bitcoin was lower on the week, but found support around $9,000 once again...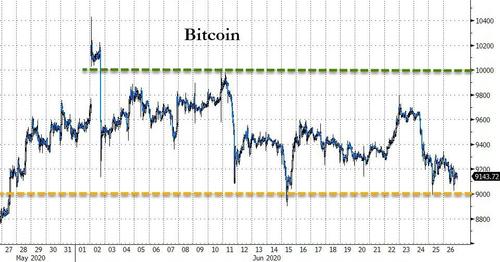 Source: Bloomberg
Bonds were bid on the week with the long-end outperforming...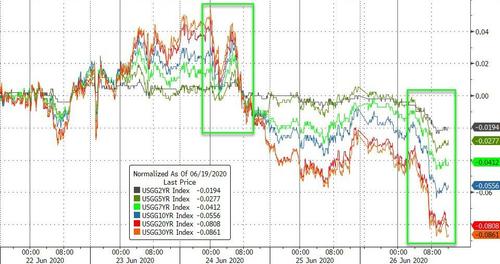 Source: Bloomberg
With 30Y back to its lowest since May...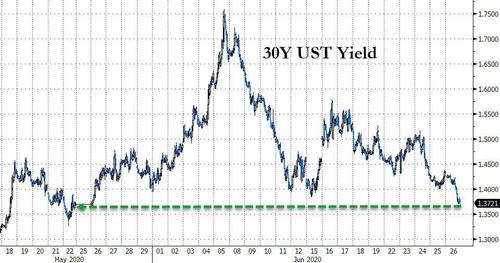 Source: Bloomberg
Quite a gap to fill...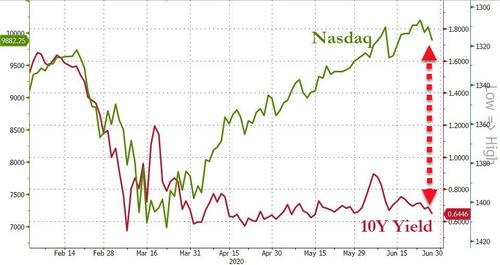 Source: Bloomberg
Oil was lower on the week as gold and silver gained. Copper outperformed (on Chilean production concerns)...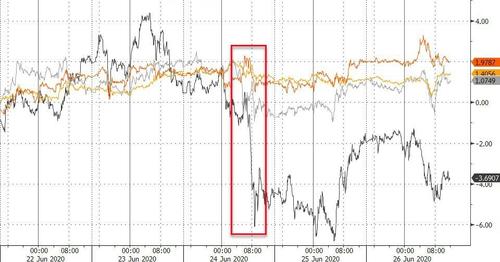 Source: Bloomberg
WTI ended the week below $40...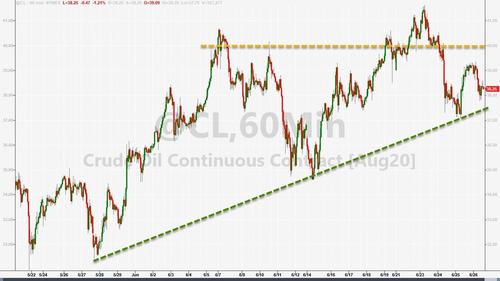 Silver's late-week outperformance of gold pushed the gold/silver ratio back below 100x...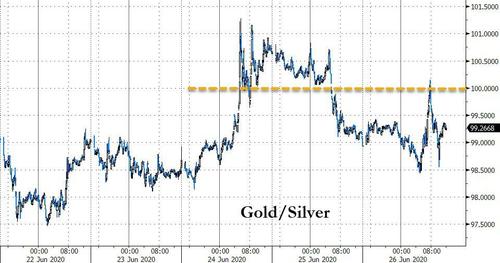 Source: Bloomberg
And finally, we wonder if this may be the 4th reason for recent vol? With The Fed balance sheet's growth no longer erasing every fear, the surge in probabilities of a Democrat win in November seems to have spooked the market...
Source: Bloomberg