---
Stocks & Bonds Pump'n'Dump After Powell: "May Need To Do More"
Hawkish... but not hawkish enough...
That's the initial message the market heard from Fed Chair Powell.
He confirmed his message from the post-FOMC presser message that disinflation has barely begun and there's still a long way to go.and that "financial conditions have tightened."
"Financial conditions are more well-aligned with that than they were before."
He also reiterated that more rate hikes are likely to be needed.
"This process is likely to take quite a bit of time," Powell says. It's not going to be smooth.
But, he did not push back against any expectations that Rubinstein suggested the market may have that The Fed won't get where it thinks it will.
"We expect 2023 to be a year of significant declines in inflation," Powell says.

"My guess is it will take certainly into not just this year but next year" to get to 2%.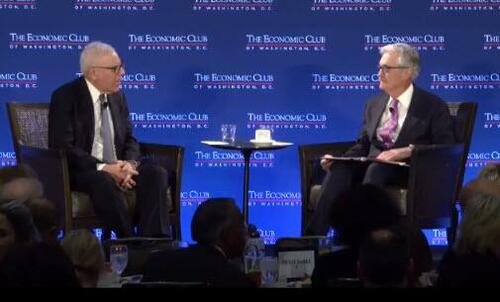 And as we warned...
February 7, 2023
That means only one thing...
Stocks ripped...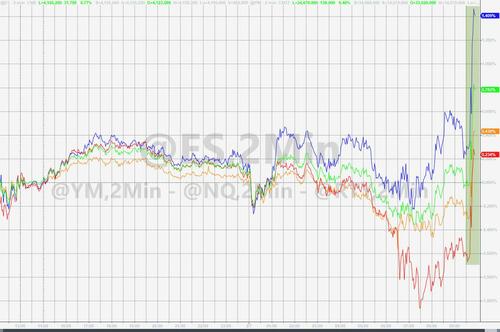 As stocks soared, Fed rate-trajectory expectations shifted dovishly...
Rate-hike expectations for March, May, and June did fall very modestly...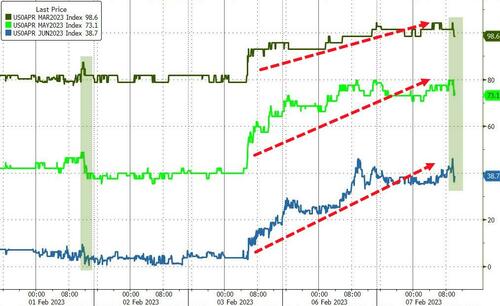 Bloomberg's Ira Jersey says he doesn't hear very much new from Powell so far in the interview:
"The market (could it be algos?) again seems to take the word 'disinflation' and give it a greater significance than it should have."

But "the caveat of 'early' in the process just solidifies my view that the Fed won't be cutting this year, which is different than the market is pricing."
But, despite the hawkish shift in rate expectations, the dollar dived...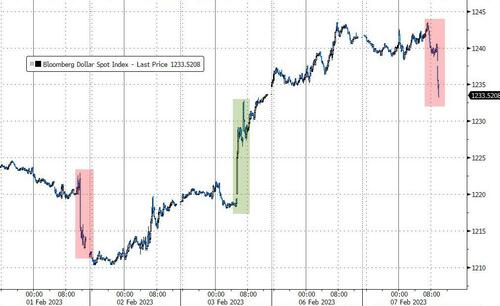 And bond yields tumbled...
Bitcoin accelerated back above $23,000...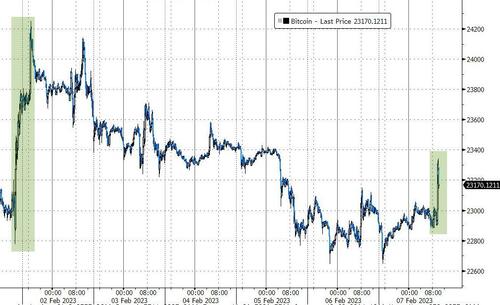 Neil Dutta of Renaissance Macro Research, weighs in:
"The Fed is wedded to a stale outlook. That is dovish because it gives the current momentum in the economy more room to run. He had the opportunity to lean against what happened last week and he took a pass. Stock market investors get it."
Clearly, investors are encouraged that Powell hasn't made any move to toughen his messaging to financial markets.
But...
After that initial kneejerk higher, we'd note that Powell later reiterated that "we have a significant road ahead to get inflation down to 2%."
Additionally, Powell says the Fed may need to hike rates more than what is priced in the markets if employment reports come in unexpectedly strong and inflation climbs.
"The reality is if we continue to get strong labor market reports or higher inflation reports, it might be the case that we have to raise rates more than is now expected," Powell said in remarks to the Economic Club of Washington.
The S&P rallied all the way up perfectly to pre-payrolls levels then puked on Powell's pushback...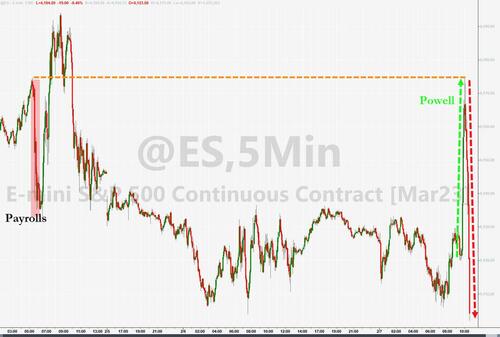 His base case is that it won't go away quickly and easily.
Fed whisperer Nick Timiraos paraphrasd Powell perfectly: "Despite many people believing (or hoping) the Fed's recent inflation projections were too high because inflation would come down faster, the Fed didn't see it that way and, given last week's job report, still doesn't."
Loading...