---
"Our Credibility Is On The Line" - Stocks, Bonds Sink As Fed's Bullard Reiterates Hawkish Stance
With many expecting/hoping for the usual 'walk-back' by St,Louis Fed's Jim Bullard this morning - after unleashing some chaos with his reality check on inflation fighting last week - his interview with CNBC this morning did anything but, rather reiterating the need for quick aggressive action to raise rates and his efforts to persuade the rest of the committee of the need to act decisively and soon:
"We need to front load more of our planned removal of accommodation than we would have previously."
Additional headlines, via Bloomberg, suggest voting-member Bullard is ready to push this hawkish agenda across the whole board...
*BULLARD: FED MUST REASSURE PEOPLE IT WILL DEFEND INFLATION TGT

*BULLARD: INITIAL RATE HIKES, BAL-SHEET RUNOFF RELATIVELY CHEAP

*BULLARD: HAVE BEEN PUSHING CMTE TO MOVE FASTER SINCE SUMMER

*BULLARD: COULD HAVE MOVED ASSET BUYS UP FASTER IN RETROSPECT

*BULLARD: I'M A LITTLE MORE WORRIED WE'RE NOT MOVING FAST ENOUGH

*BULLARD: HAVE A LONG WAYS TO GO IF WE WANT TO BE RESTRICTIVE

*BULLARD: WOULD WANT TO START PASSIVE BAL-SHEET RUNOFF IN 2Q
Bullard was very frank about at least one thing: "our credibility is on the line here..."
"We've been surprised to the upsde on #inflation. This is a lot of inflation in the US economy ... our credibility is on the line here and we do have to react to data," says @stlouisfed President Jim Bullard tells @steveliesman. pic.twitter.com/nUw79Vo6zB

— Squawk Box (@SquawkCNBC) February 14, 2022
Stocks sank back after the rebound on Russia comments...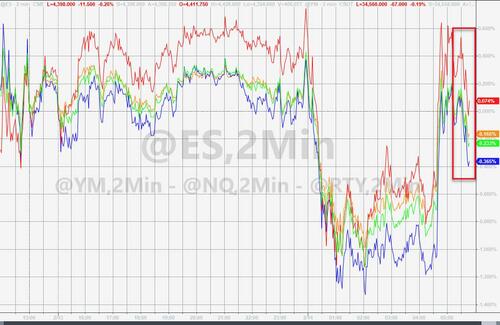 Treasury yields are extending their spike with 10Y Yields pushing back towards 2.00%...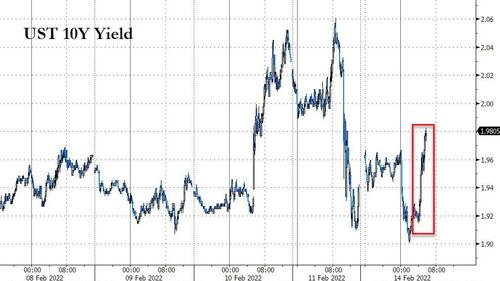 And 2Y Yields are back near Bullard spike highs from last week...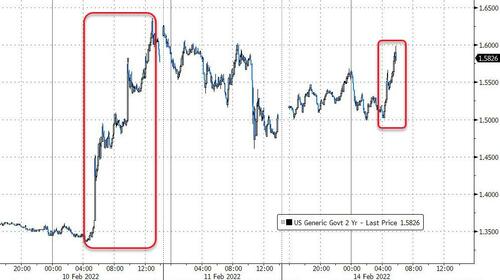 And finally, the market is now pricing in a 75% chance of 50bps hike in March...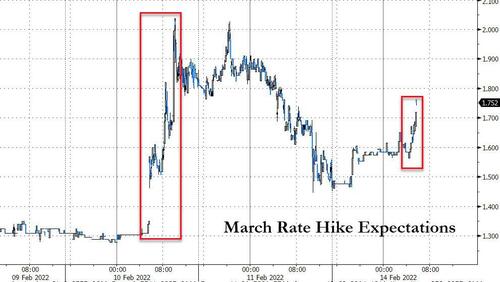 Will any of the other Fed speakers now come out to play good-cop?
Juxtaposing Bullard's views were those of San Francisco Fed President Mary Daly, who warned on Sunday that being too "abrupt and aggressive" with interest rate increases could be counter-productive to the Federal Reserve's goals; signaling she is not yet prepared to come out of the gate with a half-percentage-point interest rate hike next month.
"So I look at the data, and I see that it is obvious that we need to pull some of the accommodation out of the economy, but history tells us with Fed policy that abrupt and aggressive action can actually have a destabilizing effect on the very growth and price stability that we're trying to achieve," Daly told CBS' "Face The Nation" in an interview.
So 7.5% inflation is not enough to get you off the pot Mary? ... because stocks are so fragile?