---
Stocks, Crude, Crypto, & Bond Yields Are All Dumping
Everything 'was' awesome...
But now it appears things are going just a litte bit pear-shaped (and no obvious headline driven or technical catalyst yet).
US Equity indices are rapidly erasing the overnight exuberance, with even Nasdaq's Alphabet-driven spike fading fast. Small Caps are deep in the red and Dow is back to unchanged...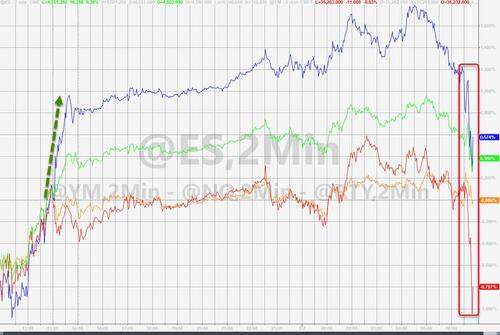 Notably The S&P and The Dow (far left and far right respectively) are clinging to their 100DMAs...

As Nomura's Charlie McElligott noted this morning that the face-ripping rally of the last few days has now "officially" has puts Dealers back into a shock-absorbing "Neutral / Long Gamma vs Spot" position in both SPX and QQQ index / ETF options (and importantly, $Delta now nearing "neutral" as well), which means greater "stability" in Equities with Dealer hedging flows which should now tend to "insulate" market from the swings we have previously been experiencing under the "short Gamma" regime...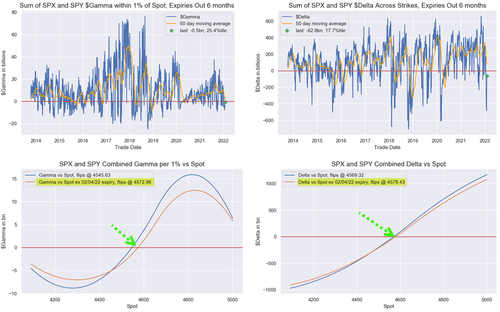 Adding that:
"I actually still believe that for the next 300 point move in SPX, we are more likely to hit 4250 before 4850…"
The weakness accelerated after the ugly ADP print this morning, but notably that initially sent Treasury yields higher... but hey have puked that all back now...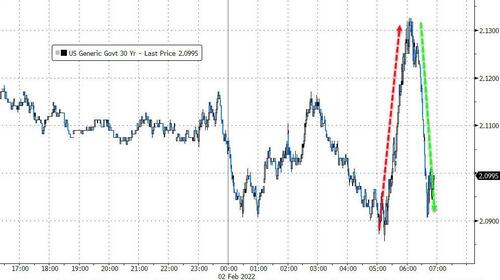 Crypto is also getting clubbed like a baby seal with Bitcoin back below $38k...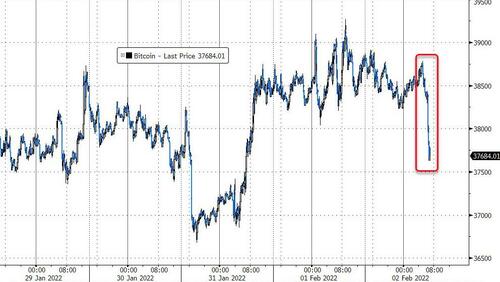 And finally, crude prices - which spiked on OPEC+ - have erased the entire spike ahead of this morning's inventory data.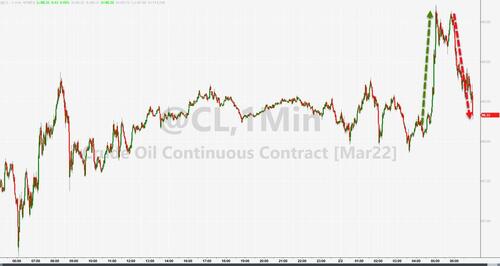 Presumably this chaotic trading has as much to do with running out of short-squeeze ammo, as it is the collapse in liquidity across markets as most investors are just marking time ahead of Thursday's ECBdecision and Friday's January non-farm payroll report. Lunar New Year celebrations are also slowing activity.
Finally, McElligott reminds investors of the catch-22 here - "...the higher Equities go, the easier it will be for the market to price-in renewed Fed hawkishness again - as the Equities rally will then 'ease' Financial Conditions, which is the opposite of what the FOMC is seeking to achieve; rinse, repeat."