---
"You Cannot Make This S**t Up!" - Markets Reverse After Ukrainian Leader Says 'Attack' Comments Were "Irony", Not Real
Update (1435ET): As one veteran trader exclaimed over MSG: "You cannot make this fucking shit up!!!"
US markets reversed their earlier violent moves after comments from Ukrainian leader Zelenskiy about an attack on Wednesday were actually irony (remember he was a comedian) and not reality...
Idiot algos crash stonks because they literally don't have a humor filter https://t.co/Vwr0LWrSHI

— zerohedge (@zerohedge) February 14, 2022
*  *  *
Algos have been set to stun on any Ukraine/Russia headline it would appear.
The Wall Street Journal reports that the U.S. is closing its embassy in the Ukrainian capital of Kyiv and relocating operations 340 miles west to Lviv near the Polish border, as allies warn that an attack by Russian forces on Ukraine may be imminent.
Additionally CBS reports that satellite images show Russian troops leaving assembly points and moving to attack positions.
CBS News has learned that some Russian units have left their assembly areas and begun to move into attack positions, according to a U.S. official. Some long-range artillery and rocket launchers have also been moved into firing positions. https://t.co/MMwjYE87lj

— CBS News (@CBSNews) February 14, 2022
Of course, there is no actual evidence of any of this... but, the double-whammy of headlines was enough to prompt hard selling in stocks (now that Europe is closed)...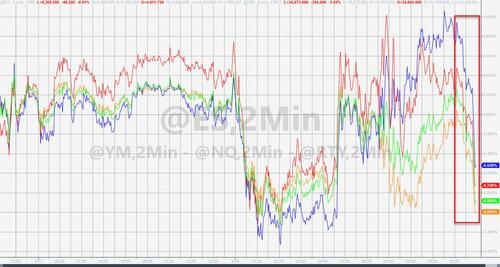 And buying gold...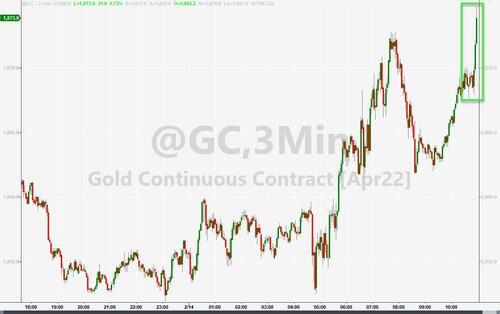 And bonds...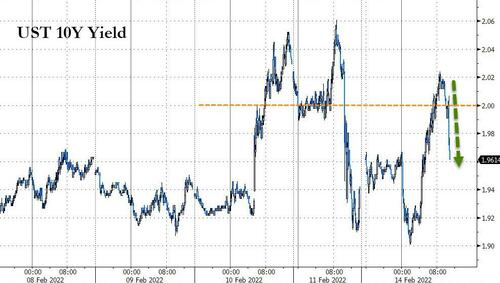 And a bid under crude oil also...
More propaganda?
So to summarize, Ukraine is talking down the war-fear rhetoric, Russia has said they are ending military exercises, and the US moves its embassy - a purely optical action - and leaks unsourced, no-evidence comments of satellite images showing movements in Russian troops... who exactly is trying to escalate panic here (or sparking false flag fears).
Moreover, the claim that US official intel has figured out that "Feb 16th will be the day of attack" is farcical.