---
Stocks, Gold, Crude, & The Yield Curve Tumble After Weeklong Flood Of Hawkish FedSpeak
After last week's CPI-driven dovish market response, The Fed unleashed hell on the 'hopers' this week, crushing pause/pivot/slow-down believers.
16 different speeches from Fed speakers this week - all with the same message: higher rates for longer; no pause or pivot imminent...
Some highlights included:
Bostic: more rate-hikes needed, "must keep rates at peak" until inflation on track for 2%

Bullard: rates could rise to 7%, "burned two years in a row on inflation optimism"

Waller: Fed still has "long way to go" on rate-hikes

Daly: "pause is off the table"

Kashkari: "not seeing evidence of underlying demand cooling", "not there yet" to pause rate-hikes

Collins: 75bps still on the table, "no clear evidence that inflation coming down"
Putting this all together, we saw terminal Fed rate expectations surge this week, erasing all of the post-CPI 'pause hope' plunge (and rate-cut expectations fall also)...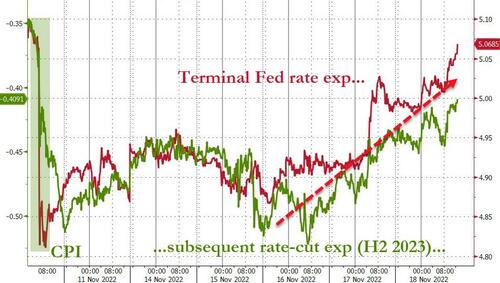 Source: Bloomberg
At the same time, Leading Economic Indicators (LEI) are down 10 months in a row and now notable negative on a YoY basis...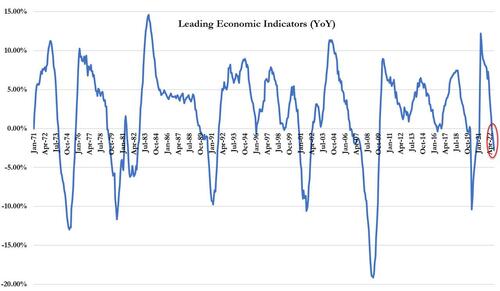 All of which sent all the US majors red on the week with Small Caps and Nasdaq the biggest losers. A late-day vert-ramp as the tail of $2.1 trillion in options expired sent The Dow back up to unch on the week. Overall a noisy week with Nasdaq up 2% early in the week and down 2.5% later in the week...
It's been a very defensive week with Staples and Utes outperforming (and along with Healthcare the only sectors green) as Consumer Discretionary was weakest...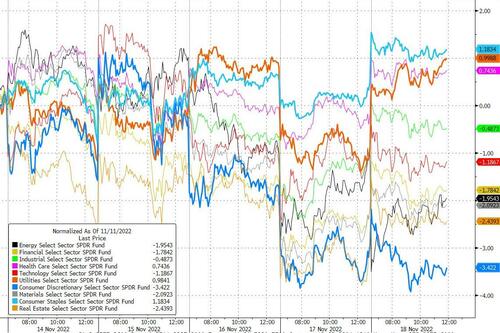 Source: Bloomberg
The dash-for-trash post-CPI has largely reversed this week with unprofitable tech stocks clubbed like a baby seal (-14% from Tuesday's highs after a 30% ramp from Friday's CPI)...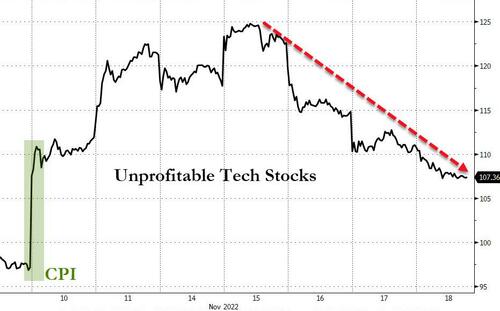 Source: Bloomberg
And almost perfectly the same, the big short squeeze was eviscerated this week as "most shorted" stocks tumbled 11% this week...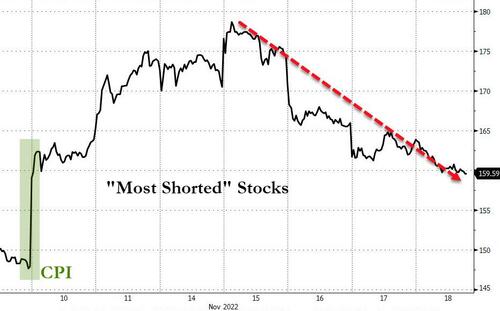 Source: Bloomberg
It's been a year since the peak of stocks and Nasdaq is down over 30%, Small Caps -25%, S&P down just under 18%, and The Dow only down around 9%...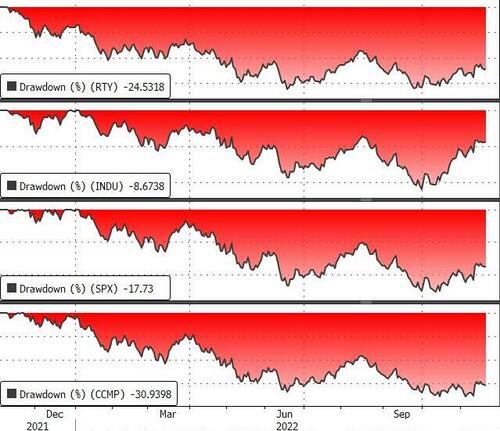 Source: Bloomberg
VIX was puked to a 22 handle today as OpEx flows hit...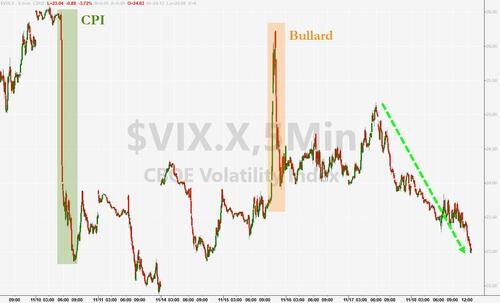 Source: Bloomberg
What next for VIX?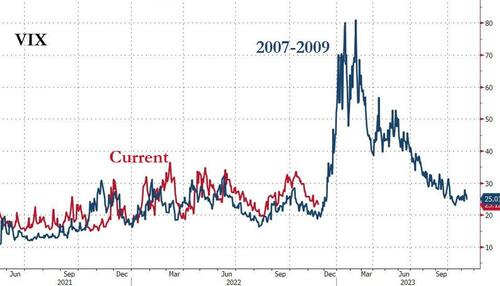 Source: Bloomberg
While all the major US equity markets were lower on the week, Treasuries were very mixed with the short-end clubbed like a baby seal (2Y +17bps) as the long-end yields dropped 9bps with 10Y flat...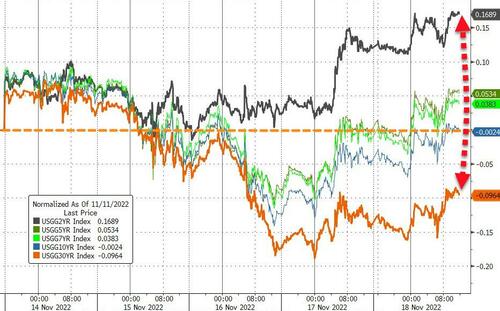 Source: Bloomberg
For context, all yields are lower post-CPI but the short-end is underperforming (30Y yields down 35bps)...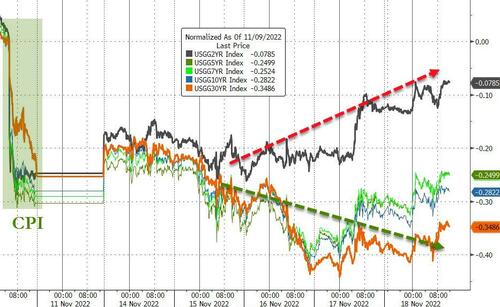 Source: Bloomberg
The 30Y yields shifted back below, and held below, 4.00%...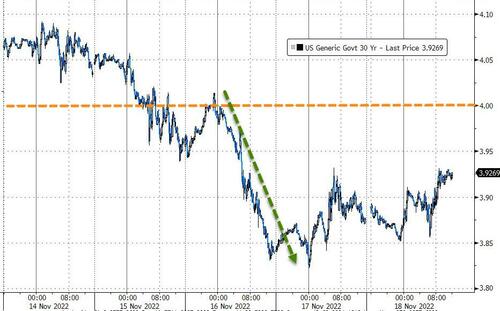 Source: Bloomberg
All of which sent the yields curve to its most inverted in multiple decades. Literally the entire curve is inverted...most notably The Fed's favorite, 3m10Y spread, is near record lows/inversion...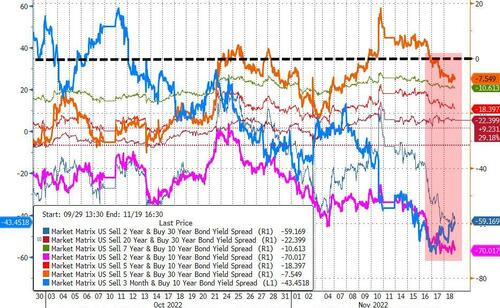 Source: Bloomberg
...2s30s is back at the September lows...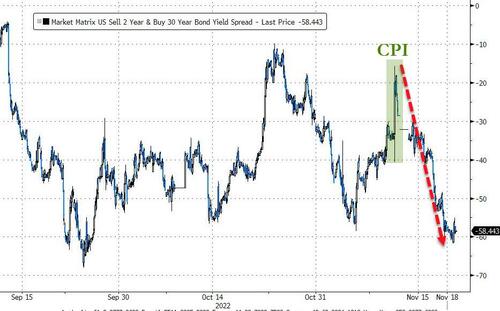 Source: Bloomberg
The dollar limped higher on the week after extending post-CPI losses earlier in the week...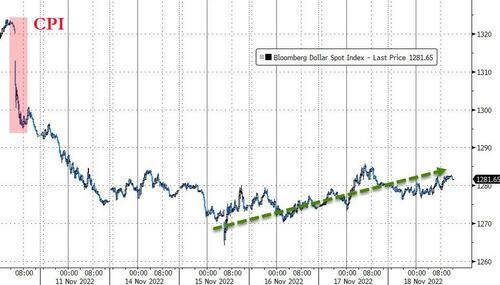 Source: Bloomberg
Cryptos were relatively stable this week after all the FTX fiasco. Solana was SBF'd a bit more though while Bitcoin was unchanged...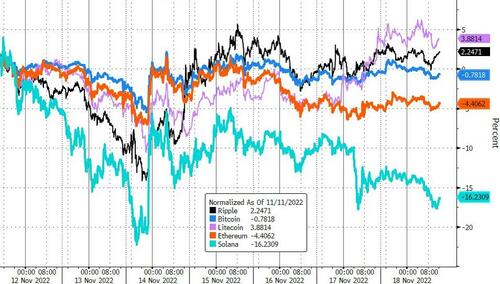 Source: Bloomberg
Bitcoin and crypto have notably decoupled recently with the correlation between the two crashing to -0.45 - the lowest since February...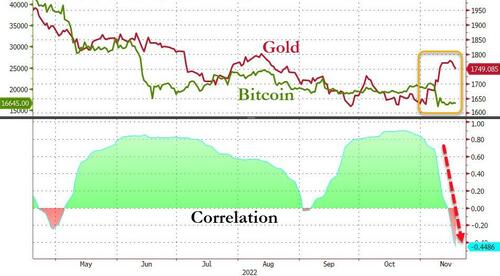 Source: Bloomberg
Commodities were ugly this week with oil monkeyhammered down over 10% and gold outperforming (down only 1.2%)...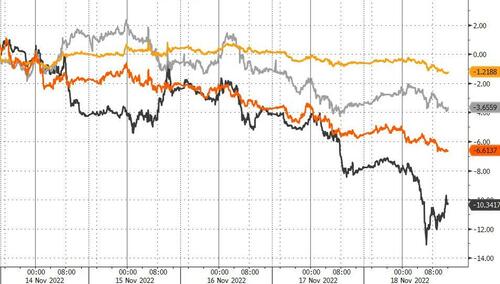 Source: Bloomberg
Gold held above $1700 however...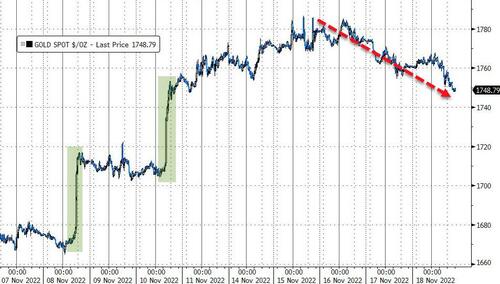 Source: Bloomberg
WTI tumbled to a $77 handle intraday, its lowest since late September...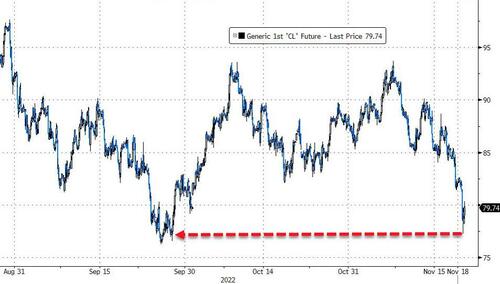 Source: Bloomberg
Interestingly, the last few weeks have seen the price of oil fade notably relative to gold after being rangebound for most of the year. 1 Oz of Gold now buys 22 barrels of oil...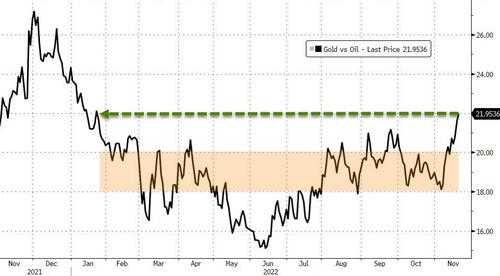 Source: Bloomberg
Finally, Fed Chair Jay Powell's favorite yield curve indicator is screaming rate-cuts. As Bloomberg reports, in March, Powell touted the three-month bill yield out to 18 months as the yield curve with "100%" explanatory power.
"If it's inverted, that means the Fed's going to cut, which means the economy is weak," he said.
Thursday, the curve inverted for the first time since the onset of the global financial crisis and it closed inverted again today...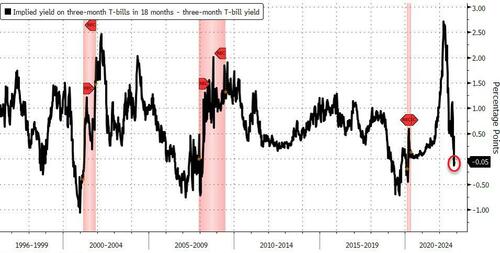 Source: Bloomberg
Earlier this month, Powell walked back his view a bit, saying the curve could also invert if investors are pricing in "significant declines" in inflation.
Loading...