---
Stocks Plunge After Pfizer Cuts Vaccine Rollout Target By Half Due To "Supply Chain Obstacles"
US stocks tumbled during the final hour of trading Thursday as Pfizer revealed that it expects to ship half the number of vaccines this year, raising new questions about the optimistic projections and expectations for the pace of vaccinations.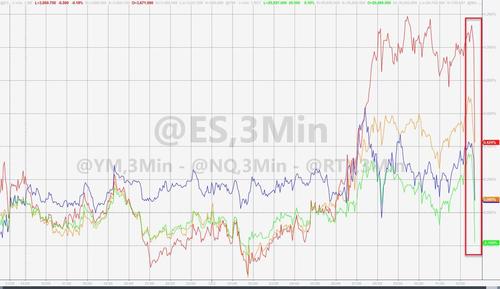 The company cited supply chain delays tied to the fact that the company has found raw materials in early production that did not meet its standards.
It still expects over 1bln doses rolled out in 2021
"Scaling up the raw material supply chain took longer than expected," a company spokeswoman said. "And it's important to highlight that the outcome of the clinical trial was somewhat later than the initial projection."
Pfizer and Germany-based partner BioNTech SE had hoped to roll out 100 million vaccines world-wide by the end of this year, a plan that has now been reduced to 50 million.
As we noted earlier this week, even the "superforecasters" cited by Goldman had predicted 25 million Americans would be vaccinated by Jan. 21.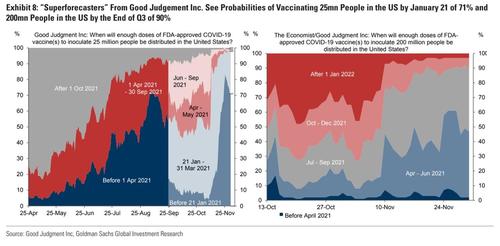 It's still possible the US might meet that target, but the big question facing the market is: will this be the last "unanticipated" delay?
And then there's the issue of whether we can we even get 50 million Americans to take the vaccine by year end.
question is, can we even get 50M people to take a vaccine by year-end?

— Oliver Renick (@OJRenick) December 3, 2020