---
Stocks Puke Into Bear Market As US Financial Conditions Crash Most 'Since Lehman'
Today the stench of a desperate liquidity scramble as The Dollar rallied while Stocks, Bonds, Bitcoin, Crude, and Gold were all dumped.
The Fed ramped up its liquidity bailout facility to a stunning $175 billion per day and still the market kept collapsing...
The Dow and S&P crash into a bear market...erasing most of the Trump rally...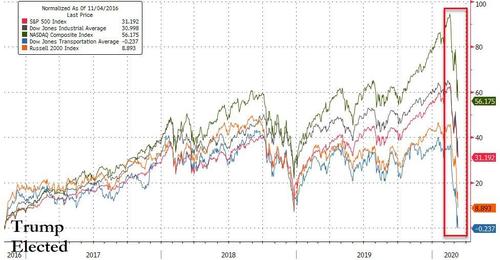 This is the fastest drawdown from a peak into bear market in history, and worst start to a year since 2009...
Source: Bloomberg
US Financial Conditions are tightening massively...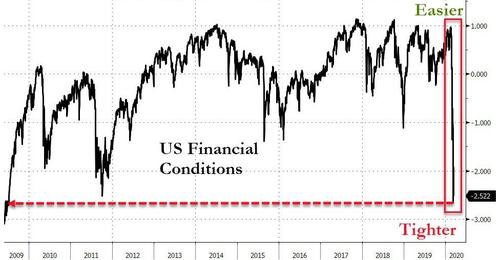 Source: Bloomberg
Crashing at the fastest pace since Lehman... (NOTE - the sudden drop is reminiscent of the first moments of crisis in August 2007)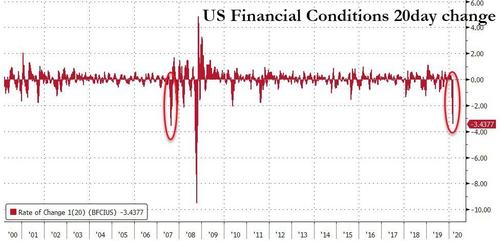 Source: Bloomberg
With a massive dollar shortage evident...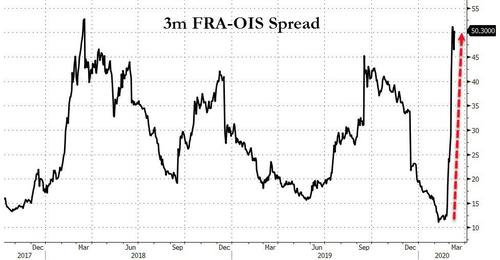 Source: Bloomberg
Forcing The Fed to puke liquidity into the markets...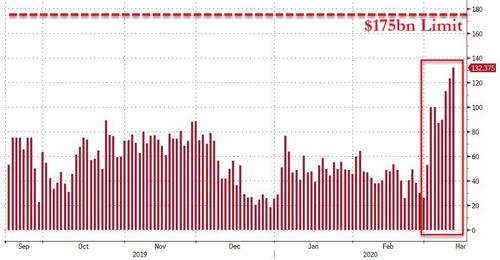 Source: Bloomberg
Which is perhaps why the market is now demanding 82bps of rate-cuts next week by The Fed...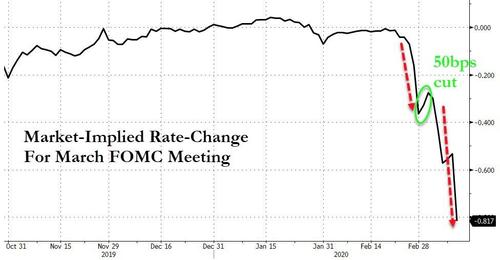 Source: Bloomberg
Today was a bloodbath in US equities with Small Caps and The Dow hammered hardest...
Dow Futures show the week's carnage best - just make sure to check the scale, these are simply massive swings...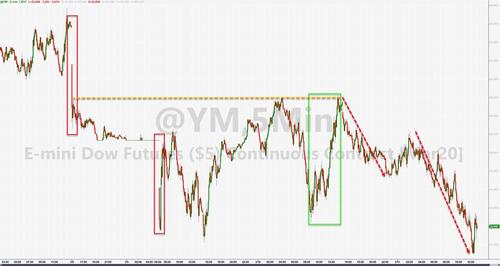 And on the week, Small Caps are down almost 13%...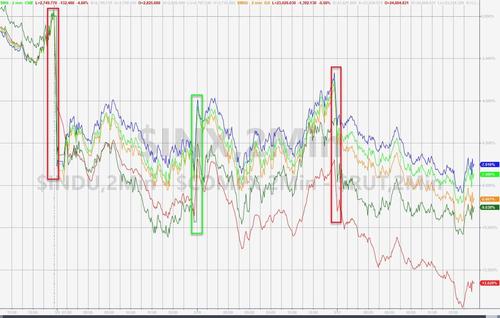 The Dow was the biggest underperformer because Boeing stock crashed today, but it was the CDS that is more worrying...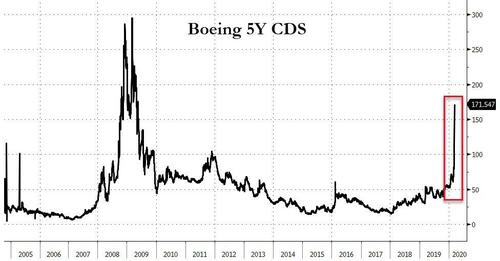 Source: Bloomberg
Virus-related travel and leisure sectors were hammered...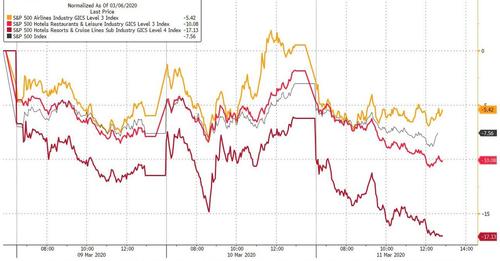 Source: Bloomberg
Bank stocks were clubbed like a baby seal today, now down a stunning 10-16% on the week alone!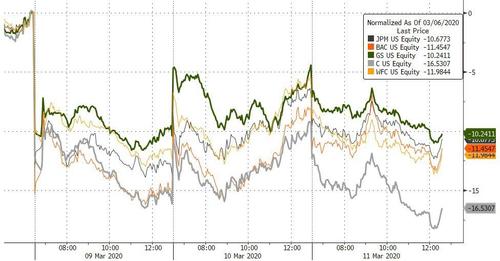 Source: Bloomberg
VIX surged back above 50 today...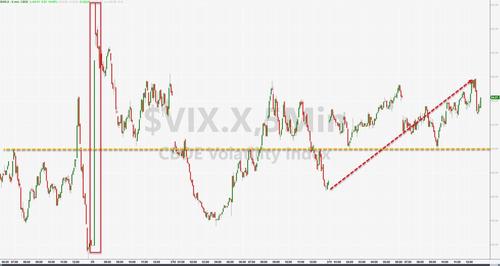 As Bloomberg details, the historic oil-market collapse that's dragging down shares of the biggest Western explorers is swelling yields on investor payouts. The elite cohort of large international drillers known as the supermajors - Exxon Mobil Corp., Royal Dutch Shell Plc, Chevron Corp., Total SA and BP Plc - now are churning out bloated yields that dwarf those paid by the broader S&P 500 Index.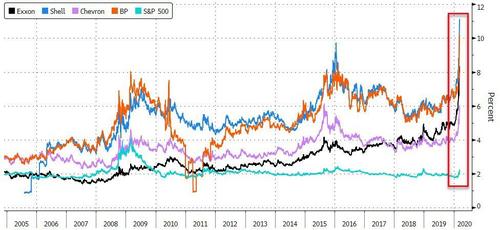 Source: Bloomberg
Credit markets are collapsing with HY spreads smashing wider...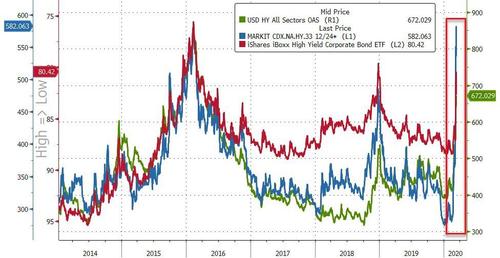 Source: Bloomberg
And IG spreads are exploding in the US...
Source: Bloomberg
Treasuries were very mixed today with the short-end rallying (2Y -5bps) and long-end selling off (30Y +5bps)...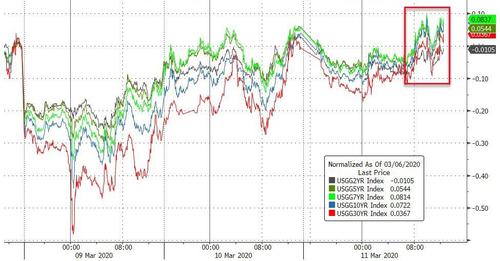 Source: Bloomberg
10Y Yields pushed back above the pre-weekend plunge levels...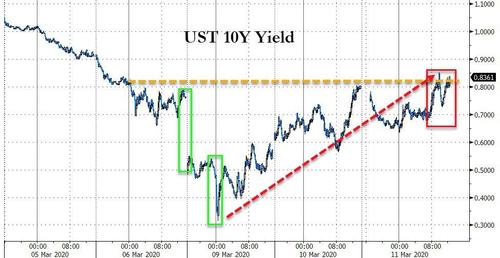 Source: Bloomberg
The Dollar rallied today as everything as was sold - suggesting a massive scramble for liquidity...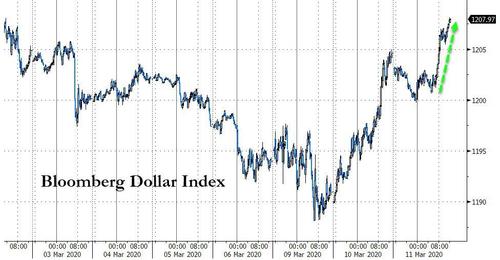 Source: Bloomberg
Rather notably, Developed Market FX is now trading with a higher vol than Emerging Market FX...
Source: Bloomberg
Cryptos continued to slide lower, with Ethereum hammered today...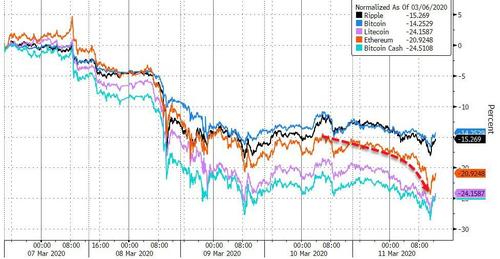 Source: Bloomberg
Bitcoin was battered back below $8000...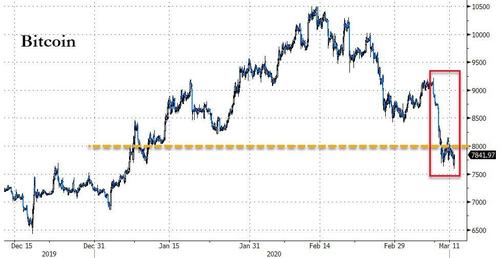 Source: Bloomberg
Ethereum plunged back below $200...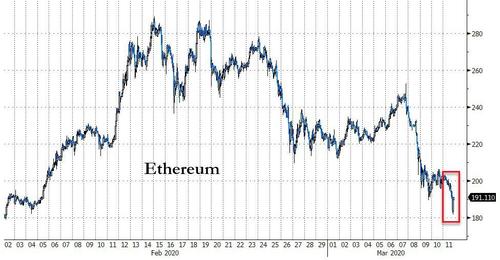 Source: Bloomberg
Commodities were all lower today...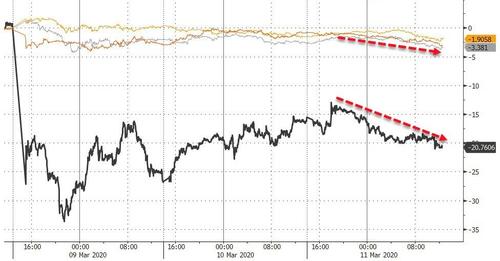 Source: Bloomberg
WTI's hopeful rally ended today with prices back to a $32 handle...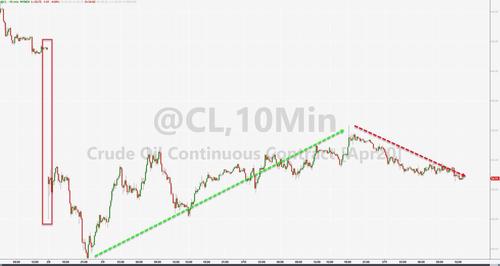 Gold was sold today too alongside bonds, bitcoin, and stocks...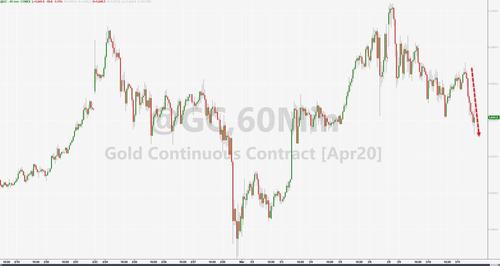 And for a sense of just how much oil has crashed, the number of barrels that an ounce of gold can buy is exploding...
Source: Bloomberg
Finally, Bloomberg notes that investors are piling into gold day-after-day as concerns escalate about the impact of the coronavirus, markets gyrate, and rate-cut expectations jump. Holdings in bullion-backed exchange-traded funds expanded 55 tons in the three days to Tuesday, with increases seen both on days when S&P 500 Indexsank, as well as posting gains. The tally stands at a fresh record, and year-to-date inflows already total more than half of the 323.4 tons added in 2019.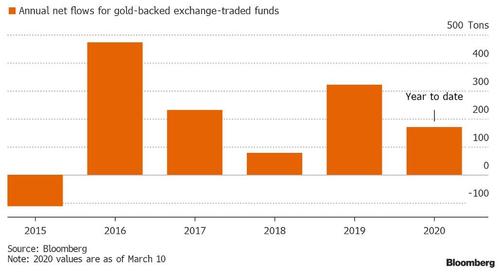 Source: Bloomberg
This week is the worst for a stock/bond portfolio since Lehman...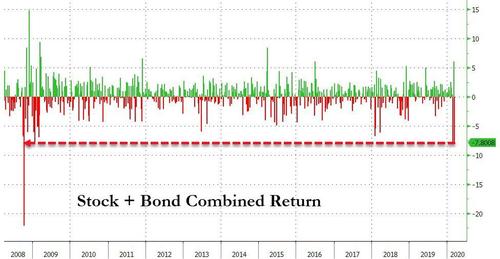 Source: Bloomberg
And investors have swung from "Extreme Greed" to "Extreme Fear" at the fastest pace on record...