---
Here Are The 5 Chinese Military Response Scenarios If Pelosi Visits Taiwan
Update(1840ET): FT is out with some further details on the White House's handling of the Pelosi trip, now being watched carefully around the world...
Pelosi did not include Taiwan on her official itinerary — which includes Japan, South Korea and Malaysia — over security concerns, but the Financial Times first reported that she would be the first Speaker to visit Taiwan in 25 years. 

...President Joe Biden dispatched senior officials, including national security adviser Jake Sullivan, to lay out the risks to Pelosi, but people familiar with the situation said she had decided to press ahead with the landmark trip.
Concerning strained and now fast deteriorating relations with China, Newsquawk earlier Monday had the following details in a note on Thursday's Biden-Xi phone call:
A senior official in Beijing said the atmosphere of last week's Biden-Xi telephone conversation was the worst among the five talks between the leaders and President Xi was said to have showed the toughest attitude he has ever shown to any world leader, while the most important topic in the conversation was China-US relations especially the 'Taiwan Question'. 
If indeed it's accurate that Xi got "tough" in the call with Biden, expressing Beijing's 'red lines' directly to the US president, this is certainly recipe for something big in terms of a major Chinese response (of course... in what form - diplomatic or military - nobody knows) should Pelosi show up in Taipei this week.
Amid concerns that if she lands with fighter jet escort guiding her military transport plane - which has been widely reported to be set for Tuesday night - this could trigger nothing short of a shooting war with China.
And now, a number of military analysis publications are examining the various possible 'worst case scenarios'. One independent analyst and China-Taiwan watcher has laid out a full range of hypothetical, albeit realistic scenarios involving different potential levels of Chinese aggression against the self-ruled island of Taiwan.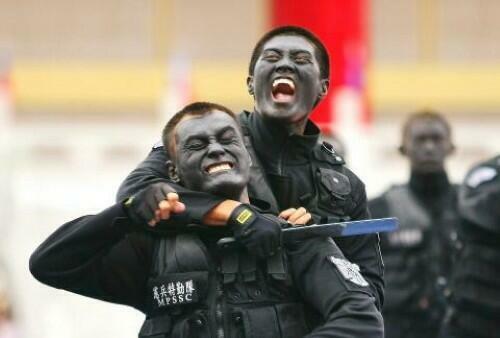 Below is an excerpt from an insightful post titled Red Clouds of War Looming Over Taiwan by a Westerner who is a Taiwan-based researcher...
Scenario 1: The minimalist approach. The PLA occupies Jinmen or Matsu islands, as well as Taiwan's islands in the South China Sea, and maybe even the Penghu Islands. They also declare part or all of the Taiwan Strait a "no go" zone to foreign military shipping. This would probably be fairly easy for the PLA, and Taiwan would probably not want to overcommit to naval action against the huge PLA Navy (PLAN) if it didn't directly approach the main island.
Scenario 2: Hybrid warfare. Some sort of partial naval and aerial blockade of Taiwan intended to interfere with the economy, combined with stepped-up harassment, such as direct flyovers of Taiwan's territory by PLA Air Force (PLAAF) jets, or incursions into Taiwan's maritime space by China's naval militia, protected by PLAN warships. This might also be accompanied by cyberattacks designed to shut down the internet and other infrastructure for days at a time. Taiwan would have no choice to assert a stiff defensive posture, resulting in real engagements between Taiwanese and Chinese forces, posing a serious risk of escalation.
Scenario 3: A serious attack but no invasion. This would involve air and sea warfare only, no boots on the ground. A full aerial and naval blockade, a protracted set of naval and aerial battles designed to degrade Taiwan's military, combined with ballistic missile attacks on military targets. Aggressive cyberattacks turning off the internet and shutting down critical infrastructure for days or weeks. Once air and naval superiority were established, China could pick off targets at will, ratcheting up the threat until the government breaks.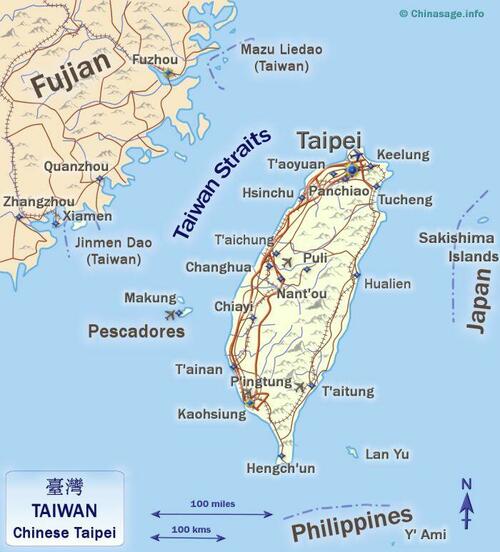 Scenario 4: The Full Monty – a proper invasion. Total air and sea blockade, massive ballistic missile attacks on military targets, massive cyberattacks to paralyze virtually all military, governmental, and civilian communication and shut down critical infrastructure. Aggressive naval and aerial engagements to degrade Taiwan's forces and achieve battlespace superiority, followed by sustained aerial assaults by fighters and bombers on military targets. A decapitation strike at Taipei by special forces units to try to seize key leadership personnel. Well-coordinated insider treason and sabotage actions by gangsters, planted CCP agents, and other groups sympathetic to China – the so-called "5th column". An amphibious assault with close air support from fighters, helicopters, and battle drones at one or more locations in Taiwan, and very possibly a move to seize a major port, such as Keelung, Taipei Port, Taichung, or Kaohsiung. Then hundreds of thousands of troops would start rolling in until the island was occupied. That would be the plan, anyway. PLA success in such an endeavor is very unclear. But they could do a hell of a lot of damage trying. And yes, they might actually succeed, at least partially, such as in seizing and holding the region around Taipei.
Scenario 5: Worst Case (short of nuclear) scenario. Full air and sea blockade, massive ballistic missile attacks on military targets, massive cyberattack, aggressive naval and aerial attacks to degrade Taiwan's forces and achieve battlefield superiority, followed by aerial assaults by fighters and bomber on military targets and area bombing of civilian targets. There are massive casualties, and Taiwan is crushed by brute force, surrenders, and then the occupiers enter the country and take it over.
The full analysis can be read here.
* * *
Update(1509ET): The White House in an afternoon press briefing condemned Beijing's escalating rhetoric after it was widely reportedly hours earlier that House Speaker Nancy Pelosi will likely touch down in Taiwan Tuesday evening. There's speculation she could even spend the night, based on anonymously sourced statements to Taiwan officials.
"There's just no reason for this to escalate," White House national security spokesman John Kirby said as a warning to China. "There's every reason given the our national security interests — as well as the interest of our allies and partners that are that are staking the Indo Pacific on any given day — there's every reason for this to not escalate." Kirby didn't confirm whether she'll go through with it.
China reiterated over the weekend and into Monday that it will take "strong and resolute measures to safeguard its sovereignty and territorial integrity" - seeing in a possible Pelosi visit a violation of 'red lines'.  "Put simply, there is no reason for Beijing to turn a potential visit consistent with long-standing U.S. policy into some sort of crisis conflict or use it as a pretext to increase aggressive military activity in or around the Taiwan Strait," Kirby continued in his statement.
-Q: If Pelosi goes to Taiwan, how will the White House find out? On Television?
-J. Kirby: The Speaker is flying aboard a US military aircraft, we will know..

— Joyce Karam (@Joyce_Karam) August 1, 2022
Kirby blamed China's actions of staging provocative military drills both across from Taiwan and elsewhere in the South China Sea as a sign Beijing "appears to be positioning itself to potentially take further steps in the coming days, and perhaps over a longer time horizon." He added: 
"These potential steps from China could include military provocations, such as firing missiles in the Taiwan Strait or around Taiwan."
Kirby further repeated the White House stance that it won't interfere with members of Congress making their own decisions on visiting Taiwan.
INDICATIONS CHINA MILITARY MIGHT RESPOND TO PELOSI TRIP: KIRBY
ESCALATION IN TAIWAN STRAIT SERVES NO ONE'S INTEREST: US
US WILL ENSURE PELOSI'S SAFETY IF SHE VISITS TAIWAN: KIRBY
WHITE HOUSE SAYS WE WILL NOT TAKE THE BAIT, NOR WILL WE BE INTIMIDATED -KIRBY
KIRBY ON TAIWAN: PELOSI HAS NOT CONFIRMED HER TRAVEL PLANS
PELOSI HAS THE RIGHT TO VISIT TAIWAN: KIRBY
Russia: Don't cross our red lines in Ukraine or we'll take action.
US politicians: They're bluffing. Cross those red lines.
*Russia invades.*

China: Don't cross our red lines in Taiwan or we'll take action.
US politicians: They're bluffing. Cross those red lines.

— Caitlin Johnstone (@caitoz) July 27, 2022
"Nothing has changed. There's no drama to talk to. It is not without precedent for the Speaker of the House to go to Taiwan," he said. "Nothing about this potential, potential business — which, oh by the way, has precedent — would change the status quo and the world should reject any PRC effort to use it to do so."
Chinese officials and state media are vowing a swift, severe response if Pelosi flies into Taiwan...
…and China's retaliation will not just target Pelosi, the Biden administration will also have to face the serious consequence of a comprehensive setback of China-US relations https://t.co/vl5cIIXjCb https://t.co/FeBQalJFwf

— Global Times (@globaltimesnews) August 1, 2022
Meanwhile the FT is out with some further fresh details related to White House scrambling ahead of Pelosi's possible visit to the self-ruled island: "President Joe Biden dispatched senior officials, including national security adviser Jake Sullivan, to lay out the risks to Pelosi, but people familiar with the situation said she had decided to press ahead with the landmark trip," FT wrote.
* * *
Update(10:55ET): The vast majority of breathless Western media reports about Nancy Pelosi's now "imminent" Taiwan visit are being sourced to Taiwanese media and officials; and among Taiwanese outlets it seems to race is on to produce more and more specific detailed predictions. For example, this is the latest out of Taiwan tabloid ETtoday - picked up by international news wires: US House Speaker Nancy Pelosi will arrive at Songshan Airport Tuesday evening at 10:30pm local time.
At the same time The Wall Street Journal is reporting Monday that "she's definitely coming" - based on an unnamed source in contact with top Taiwan officials: 
People whom Mrs. Pelosi is planning to meet with in Taiwan have been informed of her imminent arrival, this person said, though some details remain in flux. Some of Ms. Pelosi's meetings have been scheduled for Tuesday evening, but most are set for Wednesday, the person said, adding that they include, but aren't limited to, Taiwanese government officials. "She's definitely coming," the person said. "The only variable is whether she spends the night in Taipei."
And now being reported by Bloomberg - minutes following the WSJ:
PELOSI IS EXPECTED TO VISIT TAIWAN TUESDAY: PEOPLE FAMILIAR SAY
And yet Pelosi herself - not to mention the White House - could likely be very much on the fence given China's military has ramped up threats, and is now on a war-footing, based particularly on harsher quotes coming out in state media on Monday. Taiwan's defense ministry has said "no comment" when asked to confirm is she's arriving.
The Chinese army will surely eliminate Pelosi's visit's consequence through the escalation of military operations. As a result, this will make her dejected and humiliated: Global Times Commentator Hu Xijin#HuSays pic.twitter.com/6MrLRmNX3O

— Global Times (@globaltimesnews) August 1, 2022
China has also announced closure of waters in the South China Sea amid ongoing PLA navy drills.
After weekend drills, specifically in response to reports of a Pelosi Taiwan visit, more have been announced, set from Tuesday through Friday.
The maritime administration in Qinglan, South China's Hainan, issued a warning on Monday and prohibited entry to an area in the South China Sea due to military exercises from Tuesday to Saturday. pic.twitter.com/xHxRRd4mBn

— Global Times (@globaltimesnews) August 1, 2022
This as the USS Ronald Reagan carrier strike group continues to patrol waters near Taiwan - possibly preparing to respond to any aggressive acts from China which could threaten a potential Pelosi visit to the self-ruled island.
Possible location of Ronald Reagan CSG on August 1, and its entire tracks from July 1 to Aug 1. https://t.co/TVaaojjDD5 pic.twitter.com/ejef5AlJWx

— SCS Probing Initiative (@SCS_PI) August 1, 2022
More on the US strike group's movements... the USS Tripoli amphibious assault ship is also said to be headed for Taiwan.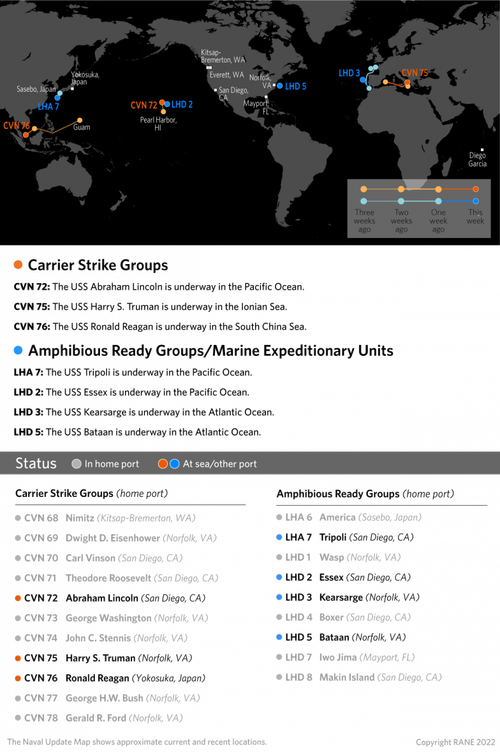 * * *
US equity markets are accelerating their losses suddenly this morning (after briefly touching unchanged from overnight weakness) following headlines that House Speaker Nancy Pelosi is reportedly expected to land in Taiwan on Tuesday night.
Liberty Times reports, citing people familiar with the matter, Pelosi plans to visit the Legislative Yuan and meet lawmakers on Wednesday.
However, the US and Taiwan are still preparing for last minute changes, the paper adds.
Futures were sliding already but the Pelosi headlines pushed them to overnight lows...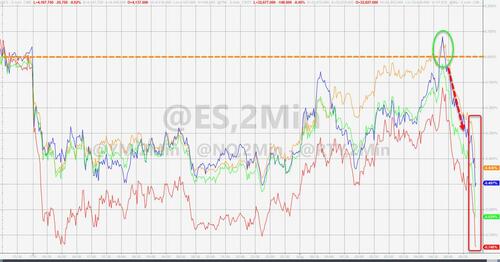 Bonds are bid with 10Y Yields tumbling back to unchanged...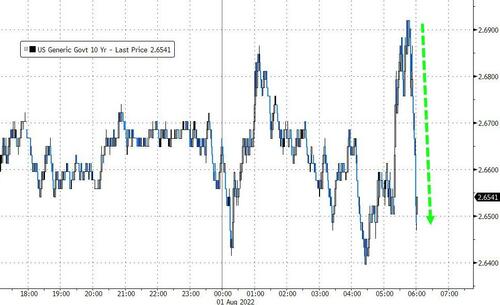 The offshore Yuan also tumbled on the report...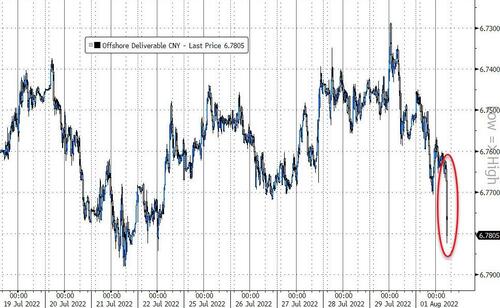 Interestingly, crude prices are notably lower (after disappointing China PMIs) and are accelerating lower after the Pelosi-Taiwan headlines...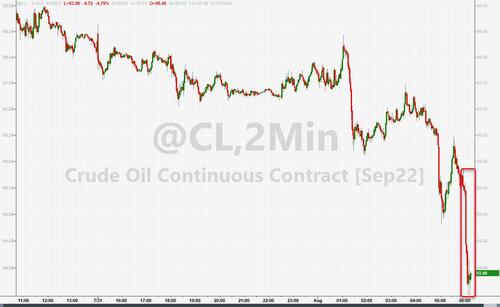 China meanwhile Monday once again warned its military is prepared to take action if House Speaker Nancy Pelosi follows through on a landmark visit to Taiwan.
According to her published itinerary, which does not as yet name Taiwan - this could see her flying to Taiwan after her delegation visits Malaysia and just ahead of going to South Korea.
Amid Chinese PLA drills ongoing in regional waters, and with the USS Ronald Reagan carrier strike group also in the South China Sea, Nikkei writes that "The U.S. military is moving assets, including aircraft carriers and large planes, closer to Taiwan ahead of an anticipated but unconfirmed visit to the island by House Speaker Nancy Pelosi."
PELOSI EXPECTED TO VISIT TAIWAN ON AUG 2. THE MOST WATCHED FLIGHT ON EARTH RIGHT NOW. #Pelosi #Taiwan

佩洛西预计八月二日抵台。全民围观航线GPS. pic.twitter.com/8ht40C99Rb

— Hao HONG 洪灝, CFA (@HAOHONG_CFA) August 1, 2022
The PLA military also on Monday issued a fresh propaganda video saying essentially 'we're ready for war' - consistent with prior messages circulating on official Chinese military channels...
NOW - China's People's Liberation Army just posted a new video on WeChat ahead of Pelosi's potential visit to Taiwan.pic.twitter.com/QaiFcdGCn1

— Disclose.tv (@disclosetv) August 1, 2022
As FT notes additionally of PLA muscle-flexing as a warning to Pelosi: "China's PLA also on Saturday carried out live-fire exercises in Pintang, a coastal area in south-eastern Fujian province about 125km from Taiwan. State media also broadcast footage of a Chinese destroyer firing its weapons in the South China Sea, through which the USS Ronald Reagan aircraft carrier group is believed to be sailing after visiting Singapore."
Loading...