---
Stocks Slide To Session Lows After White House Says "Pelosi Making Deal Harder By Not Budging One Inch"
In the day's first obligatory round of fiscal stimulus jawboning which just serves to justify why neither party will budge on a deal ahead of the elections despite pretending to "work hard" to get a deal, we first had House Speaker Nancy Pelosi saying on MSNBC that a stimulus bill "can be passed before the Nov. 3 election if President Trump cooperates", before hedging that Trump has been "back and forth" on a deal, adding he needs to bring around Senate Republicans to back any agreement in the first fingerpointing of the day. Still, she concluded that "the president wants a bill, I really do."
In response, the White House immediately countered with Press Secretary McEnany saying Pelosi is making it harder by not budging "even one inch" on her stimulus demands.
The market read between the lines, realized that the constant back and forth means no deal is coming, and hammered both the S&P...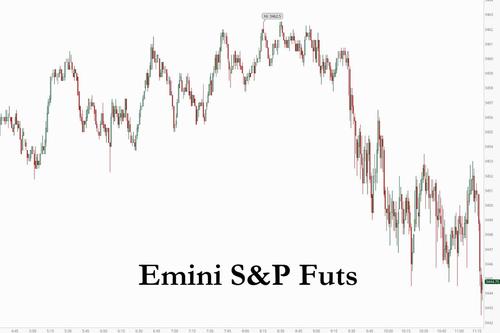 ... and the Nasdaq.