---
Stocks Tumble After Fed's Bullard Urges 50bps Rate Increase, Suggests Inter-Meeting Hike
St.Louis Fed president Jim Bullard has gone full hawktard after the Biden White House appears to have greenlit The Fed to crash the economy:
*FED'S BULLARD FAVORS 100 BPS INTEREST-RATE INCREASES BY JULY 1

*BULLARD FAVORS FIRST HALF-POINT U.S. RATE INCREASE SINCE 2000
Finally, this seemed to trigger the push...
*BULLARD: SHOULD BE OPEN TO CONSIDERING INTER-MEETING INCREASE
That sent the odds of a 50bps March rate-hike up to 100%...
The February Fed funds contract expires Feb. 28, over two weeks before the March 16 policy decision, yet hike premium is creeping into the contract.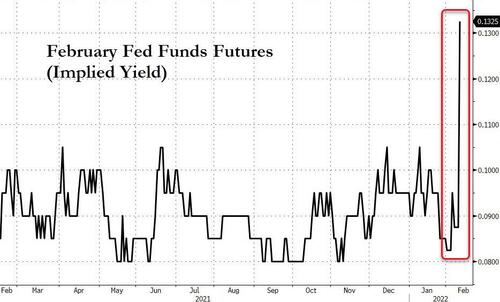 Stocks immediately lurched lower...
The 2Y yield is exploding higher after Bullard's comments...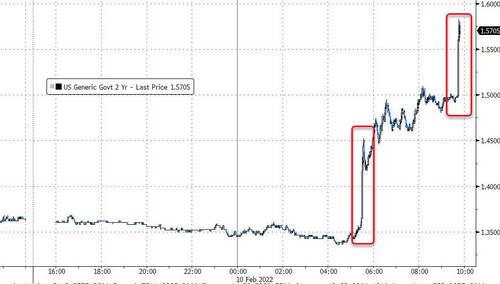 And finally, Bullard also noted that he favors starting QT (balance sheet reduction) in Q2 and added that this action may require asset-sales.
It is clear The Fed is desperate to figure out how to start a softly-landed recession without also crashing the market.