---
"Strong Push Of Arctic Air" - Polar Vortex To Strike US Next Week
A polar vortex will strike the US early next week, according to AccuWeather. 
AccuWeather Lead Long-Range Meteorologist Paul Pastelok said Central states would be the first to experience a blast of Arctic air, excepted to arrive early next week. 
"We are anticipating that a strong push of Arctic air will take place into the US during the second and third week of February in response to displacement or weakening of the polar vortex during the first week of February," Pastelok said.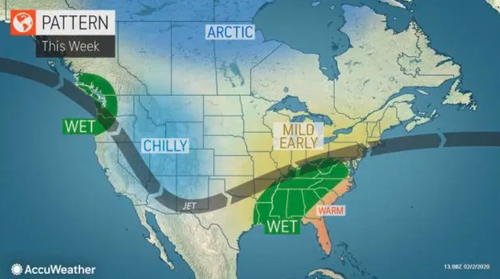 He said an area of high pressure above much of the southwestern Atlantic this winter has led to unseasonably warm temperatures for the East Coast to start the year. 
"For this reason, we expect the upcoming big discharge of Arctic air to target the interior West and northern Plains initially, where it might be more persistent as February progresses," Pastelok said.
"While much colder air could work into the Eastern states during the middle to latter parts of February, there is some uncertainty as to how long-lasting and/or severe this may be, depending in part on the persistent area of high pressure over the southwestern Atlantic," he added.
The last time a polar vortex sent Arctic air into Central states and parts of the Northeast, it was around late November into December. 
Data provider Refinitiv estimates that heating degree days (HDDs) for US-Lower 48 for the next two weeks is expected to increase, indicating that it will require more energy, starting next week, to heat homes across the country as the polar vortex sends frigid air into Central states.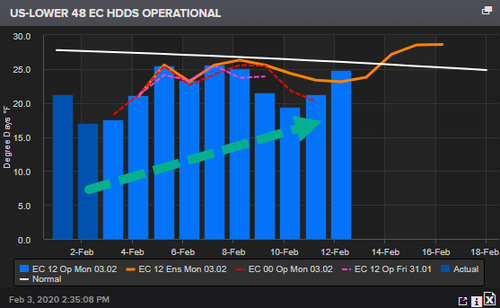 An active storm track could setup in the weeks ahead with colder air in the Central states and in some parts of the Northeast. 
But-but-but, Punxsutawney Phil didn't see his shadow on Sunday, declaring that spring is on its way. Well, before spring arrives, there might be one last shot of cold Arctic air...
The annual Groundhog Day event at Gobbler's Knob in Punxsutawney had 'Punxsutawney Phil' declaring that spring will come early after the animal failed to cast a shadow https://t.co/Ld9rU4jJS5 pic.twitter.com/jKaULwD2v2

— Reuters (@Reuters) February 2, 2020