---
Surreal Photos As San Francisco Sky Turns Orange
Eerie, dark orange clouds enveloped San Francisco and the Bay Area on Wednesday as a result of nearby wildfire smoke entering the atmosphere. Stunning photos were posted by SF Gate on Wednesday showing what looks like a Martian sky, which was yellow on Tuesday, but darkened in color overnight to orange as a result of smoke being pushed inland off the Pacific Ocean.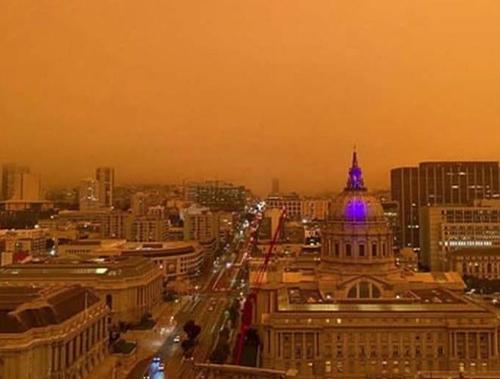 According to the, at 10:45 AM local time, "it looked as if it were dawn".
UCLA climate scientist Daniel Swain said on Twitter: "Extremely dense & tall smoke plumes from numerous large wildfires, some of which have been generating nocturnal pyrocumulunimbus clouds ('fire thunderstorms), are almost completely blocking out the sun across some portions of Northern California this morning."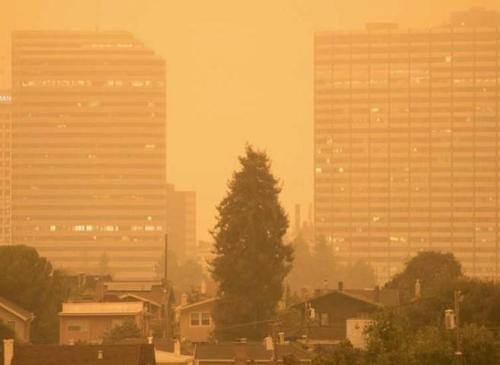 Another user responded: "I don't remember orange skies growing up in in the Bay Area, California. Now we have days of not being able to walk outside."
Jan Null, a meteorologist, said that north winds were "bringing lots of smoke from Oregon." Oregon had declared a statewide emergency on Tuesdy as a result of the fires  many of which were also causing smoke in Northern California. In some spots, soot and falling ash were reported to be hitting the ground.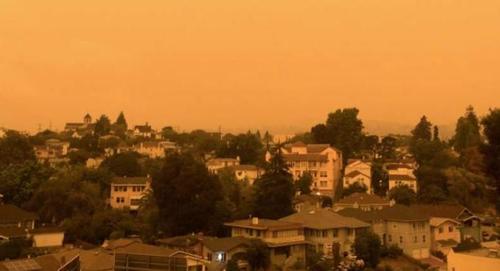 National Weather Service forecaster Roger Gass said: "They reported a significant amount of ash. Almost to the point where it looked like moderate to heavy snow."
Chinatown, San Francisco 09.09.20 pic.twitter.com/tZFL2gEn09

— Zneha (@mithrilmaker) September 9, 2020
The haze in the East Bay got the worst of it, while the rest of the Bay Area had air quality "ranging from good to moderate" on the ground. The fire is actually getting further from the area, but the smoke was pushed inland by a marine layer over the Pacific Ocean.
"That's the reason it doesn't smell smoky but the sky is a different color," Gass commented.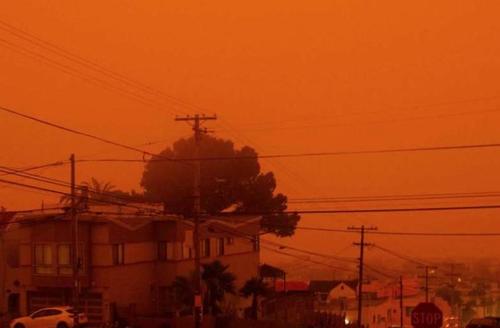 Null noted: "That's why air quality isn't too bad this morning. The smoke is not able to mix down through the inversion. The smoke is also sort of traveling past us."
You can view dozens more photographs and SF Gate's article here.
The view from "Mount Vision" near Point Reyes per @NVSeismoLab's https://t.co/wrLjrnA6Mg.

Notice the other regional cams around the North Bay show a similar view. #cawx pic.twitter.com/6RUnFAZvpX

— NWS Bay Area (@NWSBayArea) September 9, 2020