---
Subprime Auto Lender And Used Car Retailer Collapses As Distress Cycle Finally Arrives
One month ago, when discussing the "perfect storm" hitting the US auto market, we showed that according to Fitch "More Americans Can't Afford Their Car Payments Than During The Peak Of Financial Crisis"...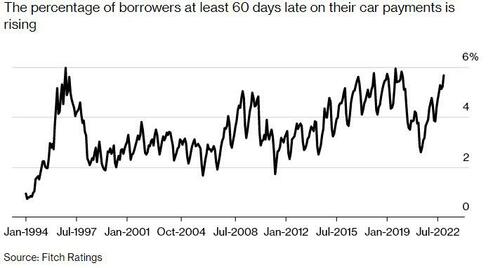 ... which was to be expected: after all the latest consumer credit report from the Fed revealed an exponential spike in the amount of new car loans, which increased by more than $2,000 in one quarter, from just over $38,000 (a record), to $40,155 (a new record).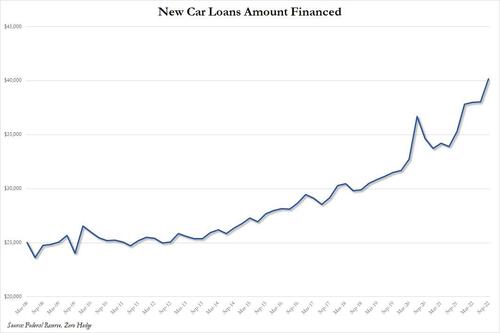 And yet something just didn't click: if so many subprime Americans were saddled with record amounts of auto loans - on average more than $40K - where were the defaults? After all, the average loan rate for new car loans just hit a 13 year high and will soon rise to the highest level this centiry.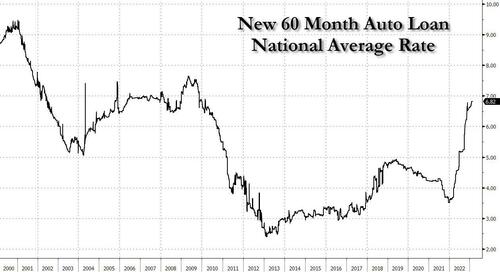 Well, after a lengthy period in which nothing seemed to happen, suddenly the dominoes are starting to fall, and as Bloomberg reports, used car retailer and subprime auto loan lender, American Car Center, told employees the business was closing its doors, just one day after the company had hoped to pull off a funding Hail Mary by selling a $222 million bond (it failed).
According to Bloomberg, the used car retailer, which targets consumers regardless of their credit history (and thus targets almost entirely subprime borrowers who can't get a loan elsewhere), said in an email to employees on Friday the firm was ceasing all operations, closing its headquarters in Memphis, Tennessee, and that all employees would be terminated by the end of the business day, the people said. It employed about 288 people at its headquarters.
The closure email came a day after the company sent another message to staff saying management and advisors had been working with lenders to improve liquidity and continue operations. American Car Center, which has more than 40 dealerships across 10 states, is owned by York Capital's private equity group.
The long overdue collapse - the first of many - comes as more Americans are starting to fall behind on their car payments, and the distress cycle is rapidly accelerating.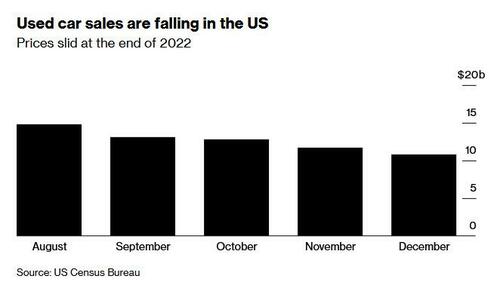 Think of it as the infamous New Century domino that signaled the collapse of subprime housing... only for cars.
Just before the announcement, American Car Center shelved a bond deal backed by subprime loans citing market conditions despite investors placing orders for the debt. It wasn't clear why ACC backed down in the last moment as the alternative was liquidation. However, since many more auto subprime lenders will now follow in ACC's footsteps, we are confident the answer will emerge. 
Meanwhile, we can't help but be amused by the mindblowing divergence in Wall Street mental models, where on one hand speculation that used car pries are somehow surging has sent risk assets lower driven by fears of a rebound in inflation (remember that spike in the Manheim used car price index?), while on the other companies like ACC and Carvana are either liquidating or on the verge of doing so, simply because the used car auto segment has completely imploded.
Loading...