---
Subway Sale Auction Draws Little Attention And Lower Valuation Than Expected
Here's one surefire, time-tested economic indicator that assures an incoming recession: a planned auction of Subway sandwich shops, announced to be up for sale several weeks ago, isn't drawing in the bids that the chain expected.
The chain is now being valued at just $7 billion, far below the $10 billion it was originally looking for from the auction, according to the NY Post.
The company never set a deadline for a second round of bidding after a first round in February passed, the report says. Offer deadlines are being pushed back until later this month in order to "give suitors more time to conduct due diligence, according to sources close to the process", the report reads.
In other words, it appears that no one is interested.
And the large brands that would have normally been expected to participate in the offering - including names like Yum Brands, owner of Taco Bell and KFC; and Burger King owner Restaurant Brands International - aren't even participating in the sale, the report says.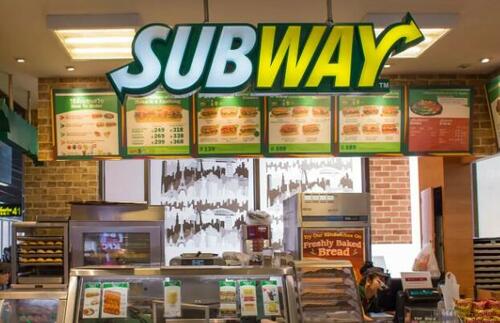 Instead, PE firms like Bain Capital, Clayton, Dubilier & Rice and TPG Capital are showing interest. Roark Capital, which owns Arby's, Buffalo Wild Wings, Dunkin' Brands, Sonic and Jimmy Johns, is also "in the mix", the report says. 
The company has prevented firms from partnering on an acquisition, the Post writes. This has the effect of keeping the auction competitive, but also dampering potential bids that could come in. 
"They want to prevent everyone teaming up and driving the price down," one source said. 
Meanwhile, the company's numbers have been in decline, despite recent ad campaigns that have featured Tom Brady, Derek Jeter and Steph Curry. The company currently does roughly $700 million in EBITDA, the Post reported. 
The company has 20,562 stores, down from its more than 27,000 stores it had during its 2015 peak. In the last 12 months, Subway has lost 555 restaurants, marking a 2.6% decrease. Jersey Mike's, a competitor, has seen it stores add 359 locations over the same time period. 
Loading...