---
Suez Canal Megaship "Partially Refloated" Ahead Of US Navy Assessment
Here's today's overview of the continued logjam at the Suez Canal:
Ever Given Partially Refloated At Stern

At Least 20 Vessels Carrying Livestock Stuck At Canal

IKEA Warns Containers Filled With Goods Blocked By Suez Crisis

Vessels Already Diverting Course from Suez Canal To Cape Of Good Hope

US Navy Arrives Saturday To Assess Ever Given

300 Vessels Waiting To Traverse Canal

Tanker Rates For Suezmax Vessels climb to $17k Per Day

Suez Blockage Results In Rising Container Prices From China To Europe

Tugboats And Dredging Ships Were Unsuccessful In Refloating Ever Given

Bloomberg Report Process To Refloat Ever Given Could Take Until Next Wednesday

Shoei Kisen, The Japanese Owner Of Ever Given, Aims To Dislodge Vessel From Canal Bank By Saturday

Suez Canal Authority (SCA) To Cooperate With US To Refloat Ever Given
* * * 
Update (1654ET): So just how stuck is Ever Given?
The Suez Canal's engineering documents show a cross-sectional diagram of the channel where the container ship is stuck. 

An overlay of the container ship and the channel's cross-sectional piece suggests the vessel is more stuck than what meets the eye via ground-based footage and satellite imagery.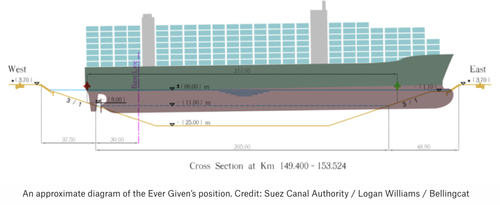 If the vessel cannot be refloated entirely, then unloading the ship with a tower crane could be the next bet. But that comes at risk since the load mechanics will drastically change and may have disastrous effects as the balance could shift. As JPMorgan's Marko Kolanovic noted earlier today, "another interesting development of this week was the blocking of the Suez Canal. While we believe and hope the situation will get resolved shortly, there are some risks of the ship breaking."
In case you are wondering just how stuck #EVERGIVEN could be? Here a little to scale visual I put together. The #suezcanal cross section shows 1/3 of canal not meant for navigation and shallow. It's not just the bulbous bow that's stuck! #evergreen #shipping #suez #egypt pic.twitter.com/OajbBKEK3J

— Malte Humpert (@malte_humpert) March 25, 2021
* * * 
Update (1631): Ever Given, the vessel stuck in the Suez Canal, was partially refloated, Bloomberg reports, citing Inchcape Shipping Services, a maritime services provider.
Inchcape said the salvage team refloated Ever Given's "stern/aft" and released the rudder at around 9 pm local time. 
There will be another attempt to refloat the entire vessel once the high tide is observed.
 * * * 
Update (1553ET): We reported earlier today that 300 vessels are caught in a logjam at the Suez Canal. At least 20 of those vessels are carrying livestock, according to marine tracking data. Here are more details about the ships carrying livestock via The Guardian: 
Georgios Hatzimanolis, a spokesperson for the tracking website Marine Traffic, said while some livestock ships were waiting to enter the canal, three – the Omega Star, the Unimar and the Sea Star – "all appear to be stuck at various points in the canal." Marine Traffic data showed 11 delayed livestock ships, while an NGO has identified others, bringing the total identified so far to 20.

Five of the ships identified had loaded animals in Spain, and nine had loaded in Romania earlier this month, according to the NGO Animals International.

Gerit Weidinger, EU coordinator for Animals International, said data from marine tracking websites indicated the Unimar left Spain on 15 March bound for Jeddah. The Omega Star left Spain, she said, on 16 March bound for Port Said.

There were no immediate welfare concerns for the animals, but if the Ever Given has to be lightened to make it easier to dislodge, using cranes to remove enough containers could take weeks and the surrounding ships would need to leave and find longer alternative routes.
* * * 
Update (1540ET): With billions of dollars in goods unable to transit the Suez Canal. Reports state consumer goods destined for Western countries are stuck on board container ships. 
CNN's Ana Cabrera said, "containers filled with IKEA products on board ships blocked at the Suez Canal."
An IKEA spokesperson told Cabrera that the blockage could "create constraints on our supply chain," if delays persist. 
More Western importers could inevitably signal delays of products due to the Suez crisis in the coming days. 
* * * 
Update (1300ET): Vessels headed to the Suez Canal are already changing course as it could take days to refloat Ever Given. 
Refinitiv data shows LNG tanker Pan Americas deviated from its route in the Atlantic Ocean on Mar. 24, likely due to Suez's developments. The tanker appears to be headed around the Cape of Good Hope.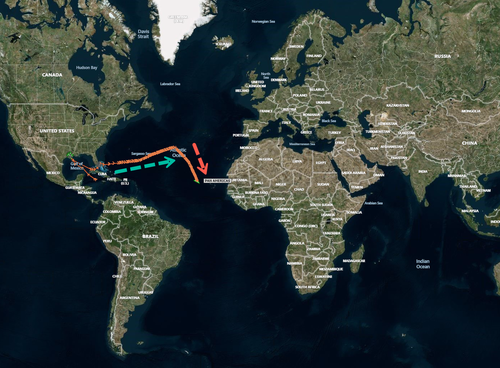 Here's Bloomberg's take on vessels deviating course. 
How bad is the traffic jam at the Suez Canal?@daniburgz tracks the satellite images pic.twitter.com/nTpYtRC7kn

— Bloomberg Quicktake (@Quicktake) March 26, 2021
We noted earlier that a sail around the Cape of Good Hope instead of the Suez Canal could add an extra ten days, plus additional fuel costs. 
* * * 
Update (1221): CNN's Barbara Starr reports the US Navy will send an "assessment team of dredging experts to Suez Canal as soon as Saturday to advise authorities on options to try to free the stuck tanker Ever Given." Starr said the report was confirmed by two US Department of Defense officials. 
BREAKING: CNN has learned @USNavy expects to send assessment team of dredging experts to Suez Canal as soon as Saturday to advise authorities on options to try to free the stuck tanker Ever Given, according to two DOD officials. Comes after Egypt accepted @USEmbassyCairo offer.

— Barbara Starr (@barbarastarrcnn) March 26, 2021
This comes as multiple attempts to refloat the massive container ship have failed. 
Sports betting website MyBookie is now offering bets on when the container ship will be "declared unstuck" from the canal.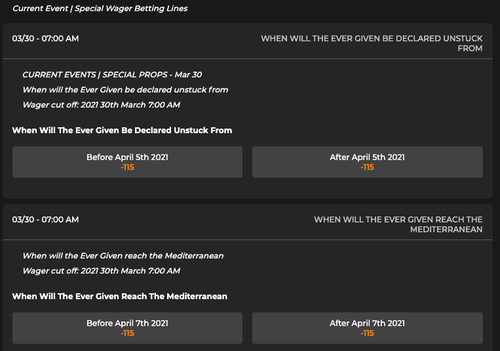 * * * 
Update (1111ET): Maxar Technologies' satellite imagery shows the dredging attempt around the front hull of Ever Given.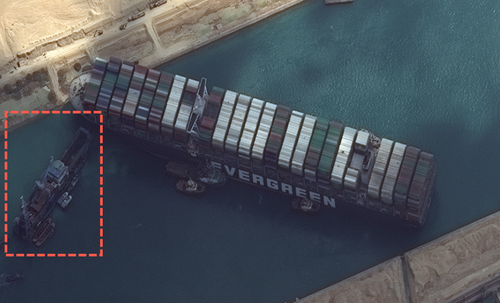 Here's another view of the dredging.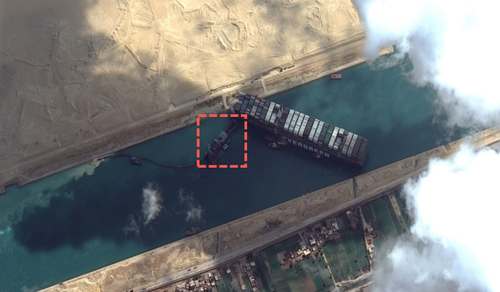 * * * 
Update (1039ET): Bernhard Schulte Shipmanagement, the technical manager of Ever Given, said Friday an attempt to refloat the stranded container ship in the Suez Canal "was not successful." 
AFP reports, "tugboats and dredgers were working on Friday to free the giant container ship which is blocking Egypt's Egypt's Suez Canal for a fourth day, forcing companies to reroute services from the vital shipping lane around Africa." 
AFP published pictures of a giant dredging boat around the front hull of Ever Given.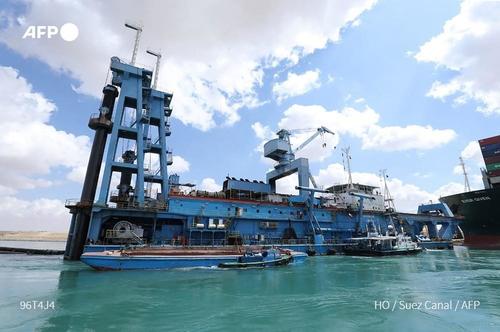 Earlier, we noted more than 300 vessels are waiting to traverse the canal.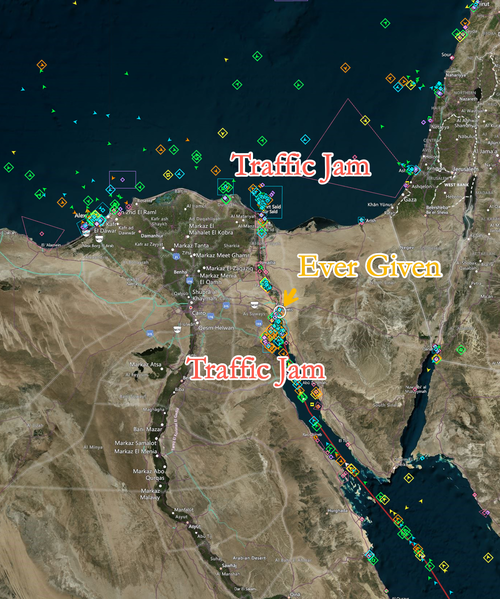 A video from a few days back shows a line of vessels (note this was a few days back, the situation is much worse). 
Canal de Suez | #Evergreen

El mayor portacontenedores del mundo, de 400 metros de largo y 59 de ancho, quedó encallado por el viento y una tormenta de arena.

Mas de 100 barcos permanecen a la espera, atentos al precio del 🛢🛢🛢 petróleo.pic.twitter.com/NojPoJWqEI

— 𝐅𝐢𝐧𝐚𝐧𝐳𝐚𝐬 ≜ (@Finanzas_Pharol) March 24, 2021
Some vessels are being rerouted around the Cape of Good Hope as the Suez crisis might continue through the weekend.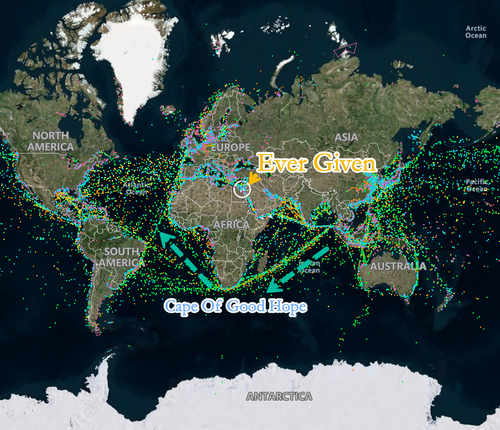 ... and what might have to happen if refloating attempts continue to fail is to partially unload the container ship. 
* * * 
The world got another wake-up call this week about the overreliance on complex, just-(not)-in-time global supply chains. As of Friday, the massive container ship, "Ever Given," remains stuck in the canal, unable to be refloated, paralyzing the world's most important shipping lane. Ever Given is one of the world's largest container ships, with approximately 20,000 shipping containers of goods, and it has paralyzed one of the world's most important shipping lanes - a vital linkage between Asian factories and customers in Europe and the US.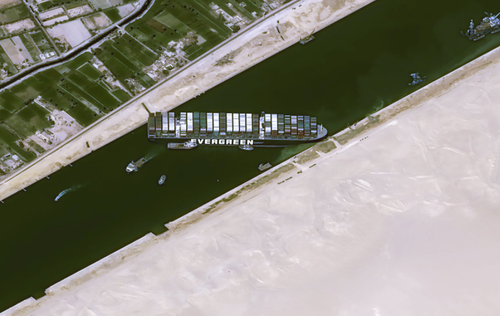 Reuters reports the Suez Canal Authority (SCA) is looking forward to cooperating with the US to refloat the stranded container ship that has blocked the canal since Tuesday. 
"The Suez Canal Authority (SCA) values the offer of the United States of America to contribute to these efforts, and looks forward to cooperating with the US in this regard," it said in a statement.
Shoei Kisen, the Japanese owner of the ship blocking the Suez Canal, aims to dislodge the vessel from the canal bank by Saturday. But as Bloomberg reports, the process to refloat the ship could "take until at least next Wednesday." 
Peter Berdowski, CEO of Dutch company Boskalis who has been tasked with dislodging the vessel, warned Ever Given "could be stuck in the canal for weeks."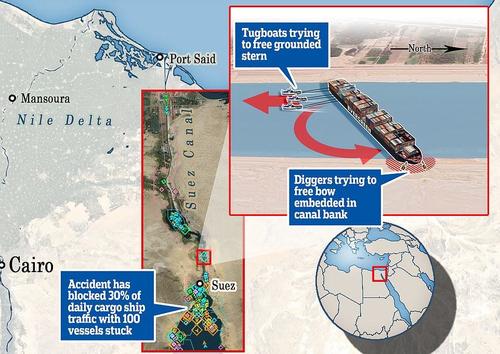 So actual timelines on when the vessel will be unstuck are unclear. The blockage is wreaking havoc across global supply chains, and crude prices were higher on Friday morning on mounting fears the container ship will be stuck for much longer than initially anticipated. Since the container ship got stuck on Tuesday, crude prices have been chopping around 57-handle to 61-handle.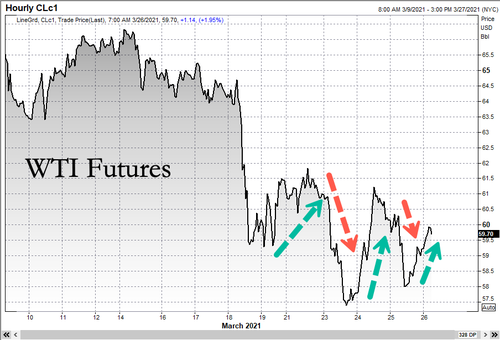 On Friday, tugboats and suction dredger crews worked around the vessel's front hull to remove sediment. The task to refloat the 200,000-ton ship may involve removing containers to lessen the vessel's weight. 
Since Tuesday, tugs and diggers have been unsuccessful in attempting to refloat the stranded vessel. As hundreds of ships pile up on either end of the canal entrances - A.P. Moller-Maersk A/S and Hapag-Lloyd AG have instructed their vessels to take alternative routes to avoid the canal. Vessels have been instructed to reroute around the Cape of Good Hope.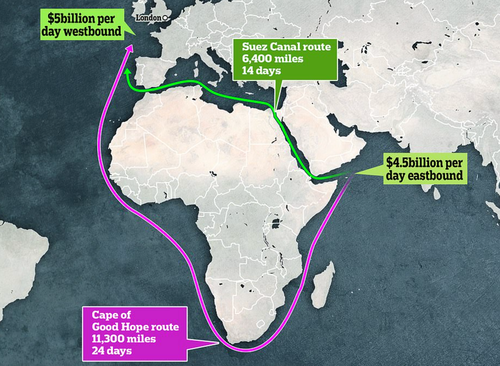 The canal is one of the world's most important shipping lanes, with 12% of global trade and 8% of liquefied natgas traverse the canal and nearly two million oil barrels each day. Every day the canal is blocked, it halts about $9.6 billion of trade.
"The number of ships loaded with billions of dollars worth of goods waiting to traverse the canal has risen to more than 300," according to Bloomberg data.
Reeling from the blockage, marine freight rates are surging this week as companies race to find alternative shipping lanes. 
According to Bloomberg, the cost to ship a 40-ft. container from China to Europe has risen to $8,000, up 4x year-over-year. Suezmax vessels, which carry about 1 million barrels of crude, are now chartering for approximately $17,000 per day, the most since summer 2020. 
Reuters notes the Black Sea to Mediterranean fuel shipping rates rose this week as traders attempt to bypass the blocked Suez canal.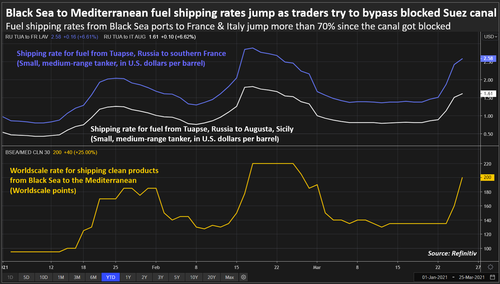 On top of an already stretched global supply chain, manufacturers in Asia are already preparing for extended shipping delays due to the blockage. To get an idea of some of the goods that flow through the canal from the East to West, cargo aboard an HMM Co. vessel moored outside the canal is carrying frozen beef, paper, beer, auto components, chocolate, furniture, frozen pork, and other goods. 
Other reports include Caterpillar Inc. is facing shipping delays because of the canal blockage and is considering air freight for certain parts. 
Mark Ma, the owner of Seabay International Freight Forwarding Ltd., a company that handles Chinese goods including toys, pillows, and mattresses sold on Amazon, has 20 to 30 containers stuck in the canal. 
"If it can't be resumed in a week, it will be horrible," said Ma. "We will see freight fares spike again. The products are delayed, containers can't return to China and we can't deliver more goods."
More reports indicate at least 10 LNG vessels from the Middle East with end destinations in Europe have been delayed. 
"Even if the route is liberated within one week, there is a large queue of cargoes lining up to cross the canal," said Carlos Torres Diaz, Rystad's head of gas and power markets. "The return to normal flow will take some time."
The knock-on effects of the blockage are rippling through the global supply chain and is the "worst-case scenario" for global trade.