---
Suez Canal Nearly Doubles Capacity To Clear Traffic Jam Of Ships 
The Suez Canal Authority (SCA) is working overtime to clear the massive logjam of vessels at either end of the canal. 
Chairman of the SCA Osama Rabie told Egypt Today that the canal is being upgraded so as many as 95 vessels per day can transit, a 90% increase from the average flow of 50 ships per day. 
Inchcape Shipping Services, a maritime services provider, reported Thursday morning as many as 324 vessels were waiting to transit the canal. There were 151 vessels north of Suez, and 173 south of Suez. By the day, ships continue to arrive at the canal, and the reasoning behind SCA's capacity increase is to ensure a logjam of vessels does not persist. 
Rabie told local news Al-Hayat TV that backlogs are being solved by increased capacity. He said: "We're planning, God willing, that by Friday night or Saturday morning, to have cleared" the logjam.
As shown in the map below, dozens of vessels are transiting the world's most important way, with increased capacity expected to start today.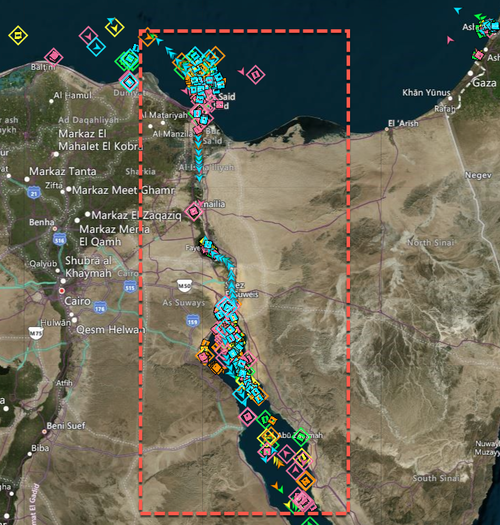 Consultant to the SCA, Captain Sayed Sheisha, told Egypt Today that he will lead an investigation into why the Ever Given containership ran aground in the canal's southern part. 
The captain revealed, "investigations shall answer the question of whether the ship's captain followed the instructions of the Suez Canal guide." He pointed out the investigation will be conducted for the public as it is a "global interest." 
He also said, if Ever Given rejects the investigation and doesn't hand over the necessary information, Egypt will "temporarily confiscate" the vessel and its load, and a civil lawsuit will be filed. He said that process would take upwards of two years but doubts that would happen. He speculates an investigation and resolution to the matter will be reached in 3-4 days. 
The investigation includes examining the ship's equipment to determine if the captain used it before entering the canal. 
We noted Tuesday, one day after Even Given was dislodged from the canal's bank, huge legal issues mount for Even Given and insurers. 
Already, shipping insurer Lloyd's of London expects a "large loss" the could be more than $100 million. Fitch Ratings said the blockage is expected to dent global reinsurers' earnings, already crushed by the virus pandemic disrupting global supply chains, winter storms in the US, and flooding in Australia. After the Suez crisis, marine reinsurance is expected to rise. 
The good news is that capacity is nearly doubled on the canal, with normalization nearing, possibly by the weekend. The six-day blockage of the canal was the longest in half a century.