---
Supply Chain Shock – Here's The Most Exposed S&P500 Industries To China
We noted on Wednesday night, two-thirds of the Chinese economy has effectively shut down much of its production capacity, crippling supply chains critical to keep not only the second-largest economy in the world humming, but the entire world. 
Former Morgan Stanley Asia chairman Stephen Roach warned last week that the global economy could already be in a period of vulnerability, where an exogenous shock, such as the coronavirus, could be the trigger for the next worldwide recession.
Goldman Sachs has warned that virus outbreak could reduce Chinese GDP growth in 1Q by 1.6% in year-over-year terms, or 6.4% in quarter-on-quarter annual rate terms, resulting in a sub-5% GDP 1Q print. A growth shock in China will be felt across the world as the virus has severed supply chains.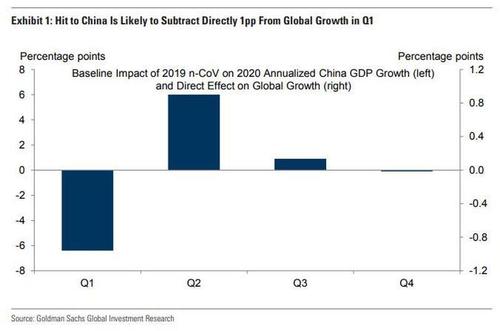 As growth expectations for China and the world come down, stocks are due for a repricing event. 
S&P 500 companies generate 60.5% of their revenue from the US and the rest international. 
Refinitiv data shows S&P 500 firms derive 6.2% of revenue from China and Hong Kong.
The semiconductors and semiconductor equipment industry group have about 30% of revenue exposure to China and Hong Kong, which is the most exposed industry.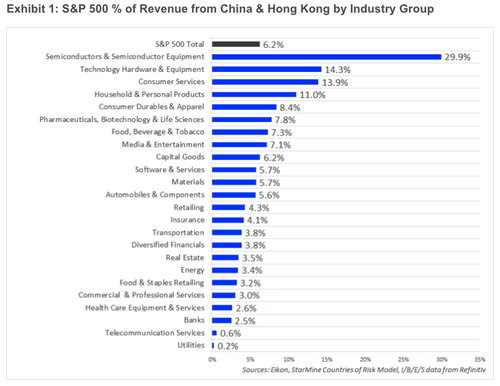 A great deal of Apple's supply chain is based in China. We noted earlier this week that much of its iPhone manufacturing plants are closed but expected to open next week. But if the plants remain closed after Monday/Tuesday, then Apple could experience iPhone shortages in the month ahead.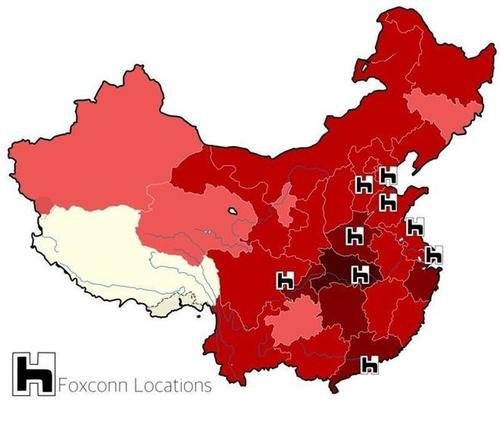 Dozens of companies have already announced factory shutdowns and retail shuttering in the last several weeks. The expectation is to bring everything online next week, but as per a new Nikkei report on Thursday, it seems that companies, like Honda, are already starting to postpone plant openings. 
The Telegraph's Ambrose Evans-Pritchard wrote Thursday that the scale of supply chain disruptions in China and aboard is absolutely "staggering."
We noted on Tuesday that Hyundai Motor Co. and its sister Kia Motors Corp. suspended production lines in South Korea after it was hit with a parts shortage from China.
Volkswagen, Toyota, General Motors, and Tesla have all closed their Chinese plants, as has Foxconn closed all plants making iPhones in the country.
The supply chain chaos is pushing out from China now could soon be realized in Europe.
Fiat-Chrysler might be forced to halt production at one of its European plants if the virus doesn't clear up within the next week or two. The company is already struggling to source parts from China.
Evans-Pritchard also warned that the collapse in Chinese oil consumption is "the biggest shock to oil markets since the Lehman crisis."
Two-thirds of China's economy was shut down overnight and has led to a collapse in energy demand, which now poses a significant threat to corporate bond markets across the world. 
Coronavirus isn't just infecting people and killing them, it's also creating havoc and disrupting complex supply chains that will lead many companies to revise their earnings down in 1H20.
Mohamed El-Erian, the chief economic adviser to the insurance company Allianz, said the economic damage caused by coronavirus would play this year.
El-Erian said the economic shock to Wuhan and the surrounding manufacturing hubs is happening at a time when the global economy is slowing and interest rates among central banks are near zero.
He asks: Could coronavirus be a black swan for the global economy?