---
Surging Dow Erases Post-Powell Losses As Rate-Hike Odds Soar
Who could have seen this coming?
The Dow and S&P have ripped higher overnight and are now higher post-FOMC...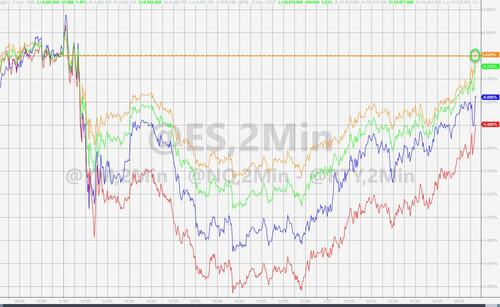 One can't help but wonder if this crazy stop-run is the turning point back down? But not if you ask the talking heads...
"We believe it's now time to take advantage of the pullback opportunity and put sidelined funds to work in favored sectors," said Scott Wren, senior global market strategist at Wells Fargo Investment Institute.

"This is the type of market where longer-term opportunities often present themselves."
The rout in the Nasdaq 100 Index has pushed 85% of its constituents into correction territory. If history is any guide, such selloffs have preceded a rebound 100% of the time, data compiled by SentimenTrader show -- with a caveat that the dot-com bust and the 2008 rout are excluded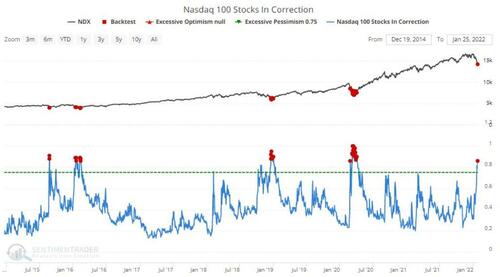 "...early, but tradeable lows develop from this," said Chris Verrone, head of technical analysis at Strategas.

"Even in early-2008 (Bear Stearns), the market rallied from a similar condition."
VIX is getting monkeyhammered lower...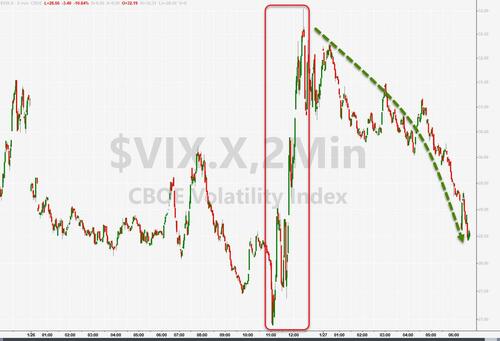 And that is as the market prices in an 80% chance of 5th rate-hike this year (and a 30% chance of a 50bps hike in March)...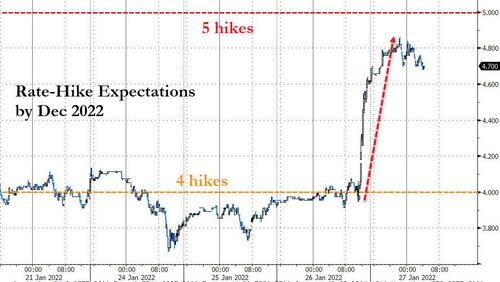 Do traders really think the stock market can bear that?
And the yield curve is collapsing...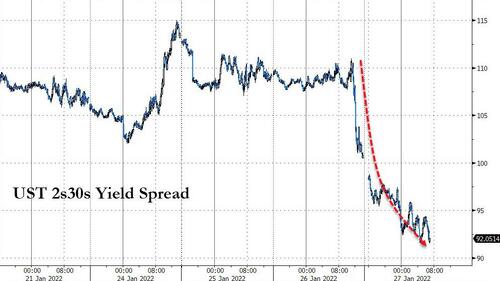 Screaming that The Fed is about to unleash a major policy error.