---
Tech Giants Are About To Give A Key Signal On Buybacks
By Jessica Menton, Bloomberg Markets Live reporter and analyst
Investors are bracing for a crucial stretch that will signal whether Corporate America is starting to stockpile cash for insurance against a cooling economy rather than using it to bolster shareholder returns.
This week brings earnings releases from two key contributors to share buybacks in recent quarters -- Big Tech in particular, but also energy titans like Chevron Corp. and Exxon Mobil Corp. Investors were put on notice this month after JPMorgan Chase & Co., Citigroup Inc. and Discover Financial Services said they're pausing the repurchases because of either regulatory issues or ongoing probes.
The importance of tech for this discussion is hard to exaggerate. Apple, Alphabet, Meta Platforms and Microsoft accounted for 63% of the 10 biggest S&P 500 Index share repurchases in the first quarter, data compiled by Bloomberg show. Any hint they're stepping back will raise concern that US companies are preparing for a recession, and also weaken a pillar of support for battered stocks after firms poured historic amounts of cash into buybacks last year.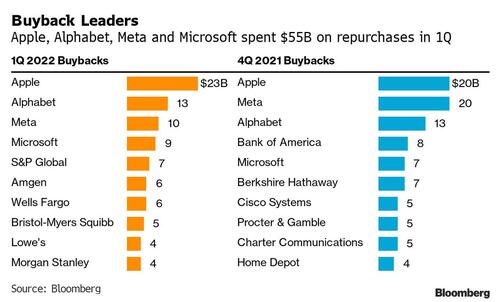 "To the degree that companies either reduce or don't announce additional share buybacks, that may remove a key source of demand for US equity markets the next several months," said Michael Sheldon, chief investment officer at RDM Financial Group-Hightower.
If companies don't take advantage of lower stock prices to buy back shares "despite having strong cash flows, that could be a red flag and signal that business outlooks are deteriorating," he said.
Early indications are that some companies are sticking with plans to repurchase their shares. On Tuesday, Raytheon Technologies Corp. said it would repurchase at least $2.5 billion of its shares, on top of the $1 billion that the aerospace and defense firm bought back in the second quarter.
For market watchers such as Victoria Greene at G Squared Private Wealth, Apple is still likely to announce buybacks even if investors would prefer to see them spending money elsewhere.
Alphabet and Microsoft deliver earnings after the bell Tuesday, followed by Meta on Wednesday and Apple on Thursday. Last year, Apple repurchased $88 billion of its stock, more than any other public US company, and eclipsing No. 2 Alphabet, which spent $50 billion, according to S&P Dow Jones Indices.
There have been signs of caution from Big Tech in recent weeks, with firms including Apple, Meta and Microsoft all announcing plans to slow hiring or cut workers.
US oil firms Exxon and Chevron report quarterly results Friday, the day after London-based Shell Plc. With West Texas Intermediate prices back below $100 a barrel, some investors are questioning whether energy companies will continue gobbling up shares.
S&P 500 energy firms spent $7.5 billion on stock repurchases in the first quarter, compared with $12 billion for all of 2021.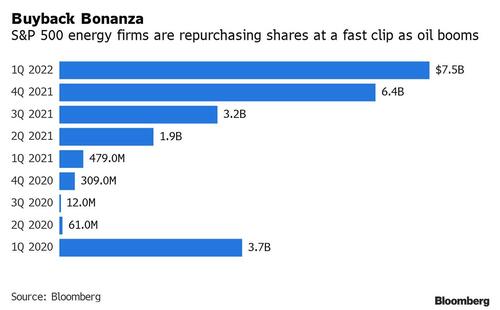 Greene at G Squared Private Wealth says there's reason to expect energy firms, and probably tech as well, to keep directing cash toward repurchases.
Russia's war in Ukraine has provided a windfall to the energy sector, driving crude prices to the highest in more than a decade in March. In April, Exxon tripled its buyback program to $30 billion and Chevron said it will repurchase a record $10 billion of stock before the end of this year.
"Energy companies will likely continue their dividends payouts and buybacks because this is their golden era," said Greene, the firm's chief investment officer.
"Buybacks are a confidence booster and tech companies are sitting on so much cash that they'll likely continue them, too," she said. "But if more companies begin suspending them, that shows management teams may be concerned that their stock prices aren't going up in the near-term and are worried about the economy."
Microsoft, Alphabet and Visa are among the companies expected to report results on July 26. Here are key earnings due in the U.S. and Canada, sorted by industry sector.