---
Tech Layoff Mania Sparks 200,000 Job Cuts As New Grads Pursue Careers On Wall Street
One month ago, we cited a job recruiter who was asked if the tech layoff cycle was over. Her response was, "We are definitely not done yet." This brings us to the latest data that shows 200,000 tech jobs have been lost since the beginning of the year. 
According to the jobs tracking website Layoff.fyi, 199,047 jobs from 702 tech firms have been slashed in the last five months. The pace at which firms are hemorrhaging jobs every month is worsening.  
Bloomberg said data from Levels.fyi, a site collecting industry pay data, shows tech firms are decreasing offers to new employees. This data showed compensation packages plunged 25% in March when compared to the same month last year. Also, stock options have become less appealing to new recruits as many startups listed on public stock exchanges have plunged into bear market territory.
"There's a lot of chaos in Big Tech — we're seeing a course correction with a lot of firing," Amy Lui Abel, a global talent partner at talent firm Lee Hecht Harrison, told Bloomberg. This has led many college graduates to search for jobs in finance instead of tech, as explained by Abel:
"But on Wall Street, you work really hard and you make a lot of money. That's the deal." 
Recall IBM CEO Arvind Krishna recently said the company expects to pause hiring for roles it thinks could be replaced with artificial intelligence in the coming years. 
Making matters worse, Goldman Sachs recently told clients that AI could result in 300 million layoffs across the Western world by the decade's end.  
Many of these jobs are never coming back because of AI. 
And why is that? Well, after two years of declining margins due to runaway inflation and soaring input prices, the worst of the profit margin recession is apparently behind us. The layoff wave will aid in the recovery of margin compression.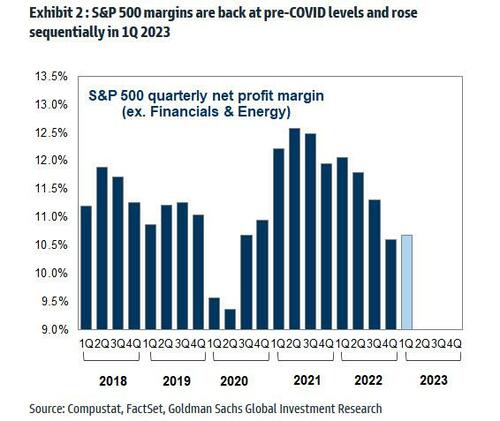 As for those searching for jobs, the shifting labor market and proliferation of AI suggest tech jobs are contracting while new grads turn their attention to finance jobs.  
Loading...