---
Tech Wreck Meta-stasizes To Broader Market; Credit Starts To Crack
Update (1700ET): No dips were bought in FB today as Zuck saw his net worth evaporate to the tune of around $30 billion. But, after hours - following a 7%-plus plunge in AMZN's share price in concert with the tech wreck on the day - Amazon's earnings and outlook sparked an astonishing surge of nearly 20% (adding around $15 billion to Jeff Bezos net worth)...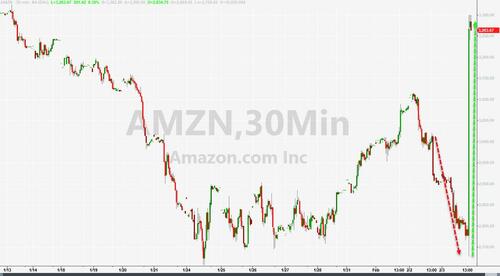 Here's the thing though...
As we detailed earlier, having traded just within striking-distance of CTA "buy triggers" on Wednesday, today's bloodbathery in the broad markets (gapping lower and further away from that new / incremental 'buy flow' from CTA Trend) is now critically important because, as Nomura's Charlie McElligott noted earlier, we have gradually "burned off" those obvious "first stage of mechanical rally" flows... and at the same time ripped through various stops at critical technical levels.
But...
Tonight's move in AMZN is now a major problem for markets. In fact it is, as McElligott warned, a "potential worst case scenario."
1) Funds sell Delta and grab back into Vol / Gamma as a reaction to FB on concerns it will knock-on into rest of Equities, just as funds had begun re-risking...

2) ...because the fear is that so many funds are going to "take an L" here on the sheer magnitude of the $drawdown that it will cause liquidation that spills-over into other "liquid" Growth names...

3) ...and then, AMZN releases absolutely blow-out +++ numbers later, forcing yet-another "lunge to the other side of the boat" as the aforementioned flows then reverse.
Simply out, the Nomura strategist "nailed it"...
1) FB's collapse smashed into every other equity index...

2) Growth stocks were systemically clubbed like a baby seal...

3) And then AMZN explodes higher, tearing the underlying indices higher...
All of which leaves stops having been run, positioning chaotic, and gamma extremely offsides (remember this move in AMZN happened after the options market was closed)...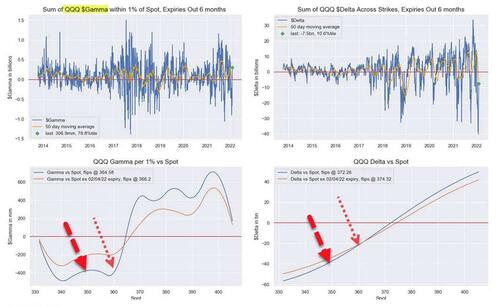 Oh, and just to add some sprinkles to that sundae of risk, do not forget tomorrow is payrolls day - which is setting up to be a disastrous print.
*  *  *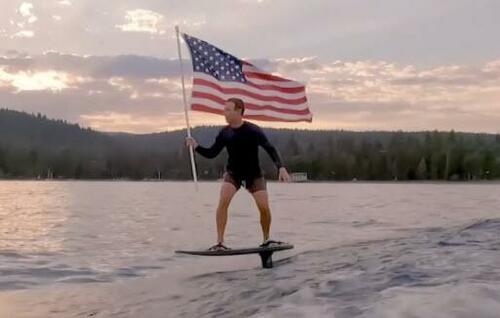 Today was the worst day for a balanced bond/stock portfolio since Feb 2021 as stocks puked and yields spiked as Risk-Parity funds puked as Zuckerberg's disaster forced deleveraging and derisking everywhere...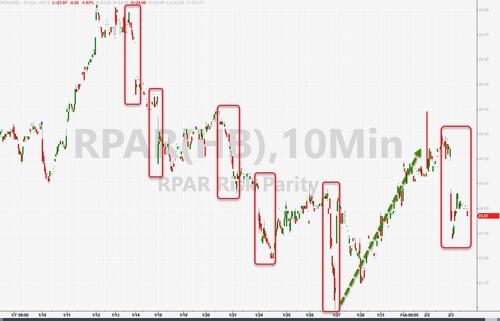 While Facebook's stock was probably up in the metaverse, in the cold, hard reality in which us plebs live, Meta lost almost $250 billion in market cap today, losing its membership of the 'four commas' club and falling to the same market cap as Nvidia...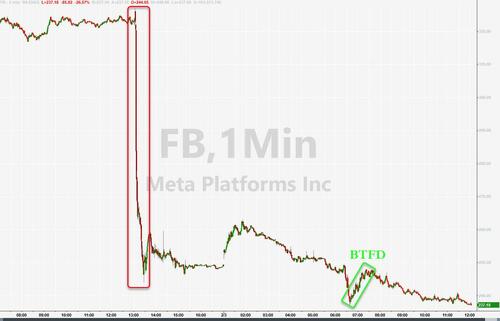 There was a brief retail-driven BTFD episode at the cash open, but the algos disagreed...
That is more market cap lost than the total market cap of 475 members of the S&P 500 and equivalent to an Adobe, a Disney, a Broadcom, two Blackrocks, two Goldmans, three General Motors, or five Bank of New York Mellons.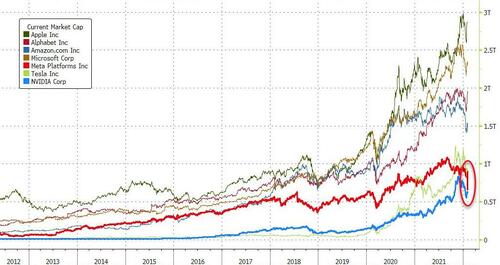 Source: Bloomberg
This is  - as far as we can tell - the largest single-day market cap loss for a company... ever. And dwarfs the next 5...
AAPL lost $179bn on 09/03/20

MSFT lost $178bn on 03/16/20

TSLA lost $140bn on 11/09/21

AMZN lost $130bn on 07/03/21

GOOGL lost $95bn on 03/16/20
And aside from the day that Jeff Bezos handed over half his wealth to his ex-wife, this has to be the biggest daily net worth loss for a human ever.
All of that amid a total lack of liquidity...

All of which weighed most heavily on Nasdaq obviously but that selling overhang metastasized (see what we did there?) across the broader market (and prompted liquidation selling in other assets). There were barely any bounces and those that did manage anything were hit hard. Selling accelerated at around 1430ET (margin call time).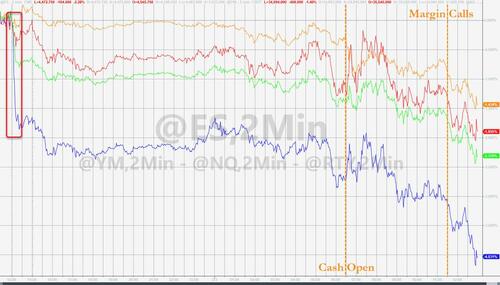 Worst day for the Nasdaq Since Sept 2020
The S&P and Dow both dropped back below their 100DMAs...
Everything is now red for February (with the late-day purge dragging the Dow down too)...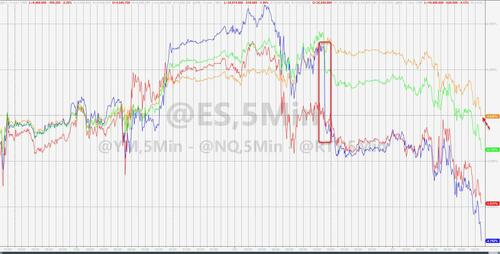 Credit markets ain't buying the recent rampage in stocks. HY/IG spreads are at 15-month highs...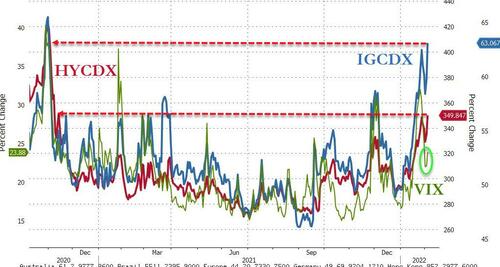 Source: Bloomberg
...while VIX decouples lower...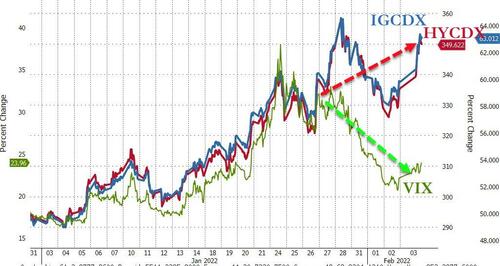 Source: Bloomberg
Treasuries were also dumped today with yields up 4-5bps (but only after spiking even more intraday)...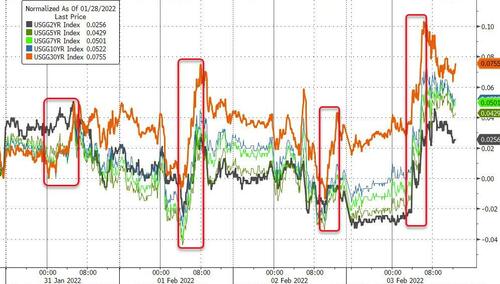 Source: Bloomberg
The 30Y Yield continues to chop in a relatively wide 10bps range...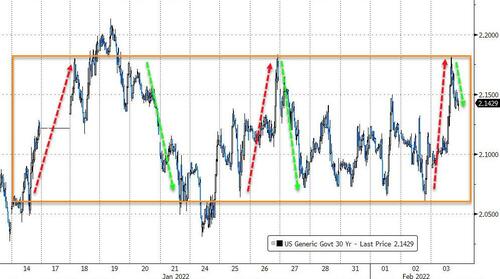 Source: Bloomberg
US rate-hike odds rose modestly but Lagarde sent European rate-hike expectations soaring with her surprisingly hawkish sentiment...
Source: Bloomberg
The dollar continued its slide, dumping rather notably today...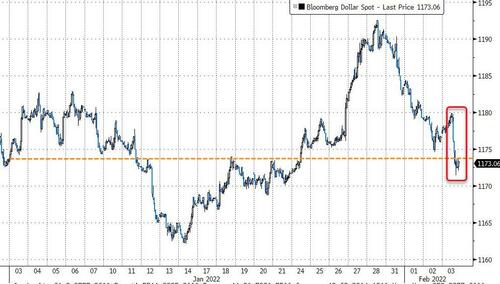 Source: Bloomberg
Bitcoin dropped for the 2nd day in a row, unable to hold above $37k...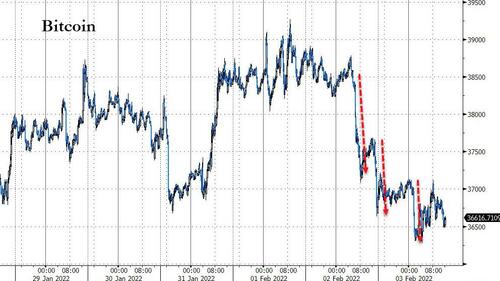 Source: Bloomberg
Gold was puked at the US equity cash open, back below $1800, but buyers stepped in rapidly and lifted it back above $1800...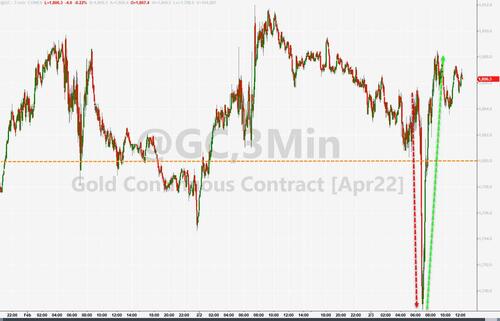 Finally, a weak dollar and escalating geopolitical risks sent WTI surging back above $90 today for the first time since Oct 2014...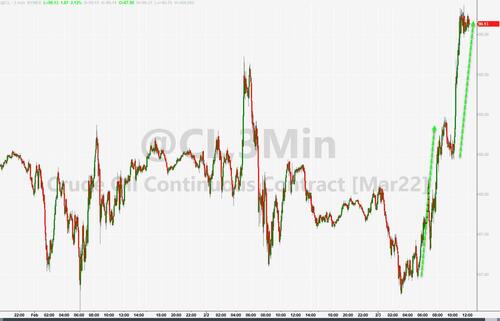 And that means $3.50 gas at your pump is coming very soon...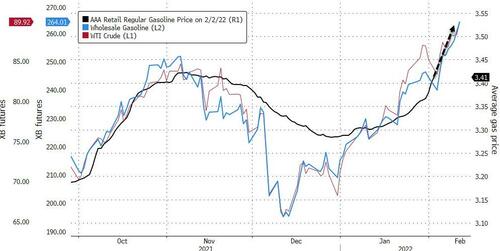 Source: Bloomberg
Get back to work Mr.Biden!