---
Tesla China Sales Up 20.6% Sequentially, Outpacing China's Overall 8.7% Rise In Sales
China's Passenger Car Association confirmed this weekend that Tesla sold 74,212 vehicles and exported 19,468 units for the month of June, solidifying a 20.6% sequential rise for the EV maker, per Bloomberg's calculations.
Even more impressive for Tesla is that China's June Retail Passenger Vehicle sales were lower by -2.6 YOY, falling to 1.89 million units, according to the same data. For comparison on a sequential basis, Tesla's 20.6% month-over-month jump outpaced China's 8.7% month-over-month gain on sales.
Bloomberg noted this weekend that total NEV sales in the country continue to be the driving force behind its sales growth. NEVs in China were up 25.2% YOY, totaling 665,000 units. Passenger vehicle output fell 0.5% YOY but was up 10.3% sequentially, coming in at 2.2 million units. 
We first noted Tesla's preliminary data out of China last week, but didn't have the country's total sales for comparison yet. 
As we said then, the company's robust sales are still being helped along by price cuts it put into place at the beginning of the year, with Bloomberg noting that "after a price war leading into the Shanghai auto show in April, deliveries started to pick up again and the overall market for new-energy vehicles remained strong."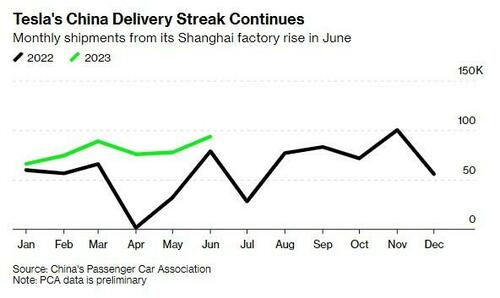 At the end of Q2 Tesla posted 466,140 deliveries for the quarter, ahead of Bloomberg's consensus estimate of 448,351. The auto manufacturer produced 479,700 vehicles in the quarter, exceeding estimates of 456,617.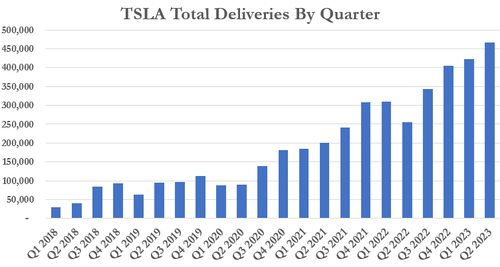 Tesla delivered 19,225 Model S/X vehicles in the quarter, beating expectations of 14,606.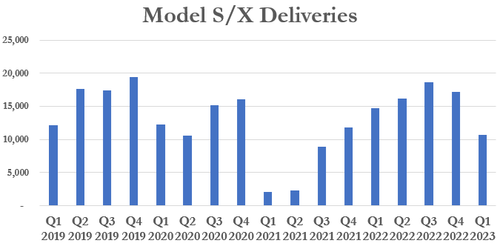 The EV manufacturer also delivered 446,915 Model 3/Y vehicles in the quarter, exceeding estimates of 437,386.
Recall, over the last month, we have been covering how legacy automakers like Ford and GM, paired with new EV companies like Rivian, have adopted Tesla's charging standard, allowing their vehicles to utilize Tesla's nationwide network of Superchargers. As such, we have been documenting how Tesla's charging standard is now quickly becoming the EV industry's charging standard. 
Hilariously, days ago, both Goldman Sachs and Morgan Stanley downgraded Tesla. Despite the downgrade, shares have held steady after their recent 3 month rally, up nearly 75% off their 52 week lows. Goldman, led by analyst Mark Delaney, noted that the stock price moving higher, in addition to a tougher pricing environment for autos, were two of the reasons for downgrading the name.
Loading...