---
Tesla Cuts Model S And X Prices To Stoke US Demand Amid EV Price War Threats
As per Tesla's website, the company has reduced the prices of its two most expensive electric vehicles in North America. This decision follows the investor day event held last week, during which Elon Musk stated that recent price cuts had sparked demand for more affordable models.
The starting prices for the Model S and X in the US have been reduced by 5.3% and 9.1%, respectively, to $89,990 and $99,990. Additionally, the higher-performance Plaid version of the Model S and X have been lowered by 4.3% and 8.3%. The Plaid iterations of the S and X, which now cost $109,990, have been reduced by $26,000 and $29,000 compared to their prices in early January.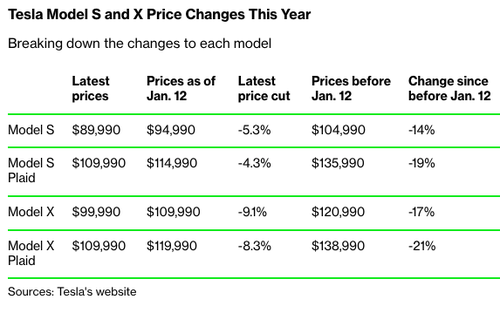 Last week, Musk claimed that the demand for Teslas was nearly unlimited and would increase significantly as the company made its vehicles more affordable. The recent price reductions for the S and X models imply that these vehicles may not have experienced the same boost in demand as the rest of the lineup when the company reduced prices earlier this year. 
In January, Tesla slashed the prices of its more affordable vehicles by as much as 20%, which enabled buyers to qualify for the tax incentive by putting the vehicles under a $55,000 cap. 
Musk directly addressed the price cuts during the investor day: "We found that even small changes in the price have a big effect on demand, very big." 
Electrek's Fred Lambert reported last month that price cuts of Model Y vehicles led to "unprecedented demand" in the US. He said the EV crossover sold out entirely, with no more production builds until April. 
We pointed out in late January, "Tesla 'Weaponizes' Price-Cuts To Crush EV Competition." 
According to Bank of America analyst John Murphy, legacy automakers have thin profit margins or even incur losses on their electric vehicle offerings due to their lack of scale in the EV market, unlike Tesla. Murphy suggests that Tesla's recent price cuts could prompt automakers to lower their own EV prices in response, potentially sparking a price war.
"These price cuts are likely to make business even more difficult, just as they are attempting to ramp production of EV offerings," Murphy said.
Reuters noted Tesla is planning to begin production of a new version of the Model 3, codenamed "Highland," later this year. Additionally, the company is planning a styling change to the Model Y, codenamed "Juniper," set to take effect next year.
Loading...