---
Tesla Delivers 184,800 Vehicles In Q1, Model S/X Deliveries Plunge
Tesla reported 184,800 vehicles delivered for Q1 2021, coming in head of the average analyst estimate of 168,000 vehicles, the company reported on Friday.
Analyst estimates for deliveries ranged from 145,000 to 188,000 for the quarter, CNBC noted. The most pronounced change in the data heading into 2021 is the lack of deliveries of Model S and Model X models, which as you can see in the chart below, only account for just 2,020 of the company's Q1 deliveries.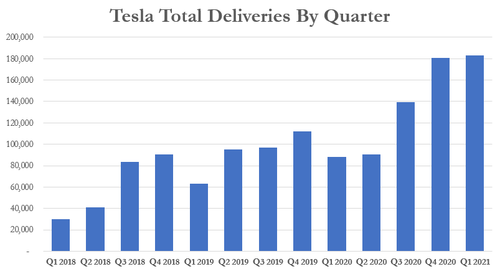 The remaining 182,780 vehicles that Tesla delivered were either Model 3 or Model Ys. The company said its production was negatively affected by a fire at its Fremont plant, temporary closures due to parts shortages and the broader semiconductor shortage that the entire industry is dealing with. 
Last year, Tesla delivered 88,400 vehicles in the same quarter.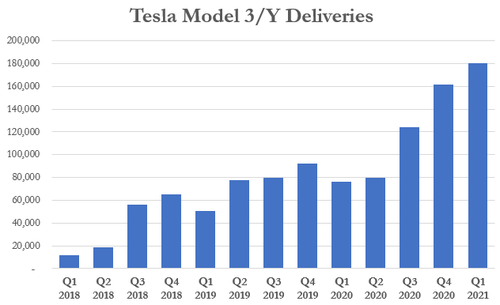 And Tesla CFO Zach Kirkhorn did address the low contribution percentage of the company's Model S and X for the quarter in Tesla's most recent earnings call. He also said that Q1 numbers would have the benefit of Tesla's Shanhai plant spooling up: "Specifically for Q1, our volumes will have the benefit of early Model Y ramp in Shanghai. However, S and X production will be low due to the transition to the newly re-architected products."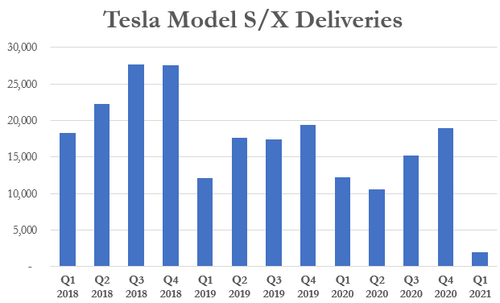 All eyes remain on the scorching hot traction that legacy automakers have begun to get with their EV plans - including Ford's recent Q1 where it sold over 6,000 Mustang Mach E crossovers. Analysts are looking to see if these EV sales will eventually cut into Tesla's marketshare.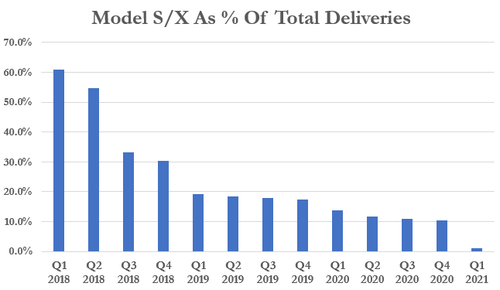 Jeffries analyst Philippe Houchois wrote late last week: "Legacy-free 30-50% net growth and 2-digit margin potential still support high multiples but Tesla is no longer unique as an EV play with preferred access to capital. Some of the edge started to erode, but only slowly and Tesla still leads on multiple fronts, from software to design-to-manufacture, speed of execution and direct selling."
Recall, Tesla reported 499,550 global deliveries in 2020.