---
Tesla Earnings Preview: What To Watch For When The EV Maker Reports After The Bell Today
Tesla is set to report after the bell today, with the consensus EPS estimate at $2.36 and revenue estimated to come in at $16.65B. But this Q1 report may be more about the guidance than its Q4 numbers, since investors already know that the company beat expectations with deliveries during the quarter. 
Investors are going to be watching for "details about when production will begin at new factories in Austin and Berlin" and "sales projections for 2022 after the company surprised with record deliveries in the fourth quarter", Bloomberg wrote Wednesday morning.
We reported that in Q4, Tesla gave up on $1.3 billion in German subsidies it had hoped for as part of the EV manufacturer's new battery-cell plant in Brandenburg, close to Berlin. 
The company may also offer color and face questions on Elon Musk's stock sales, which amounted to over $10 billion worth of Tesla stock heading into the end of 2021. 
Bloomberg estimates are also calling for Tesla's Model Y to be the best-selling EV globally this year. We'll take the under on those predictions.
Recall, the company just posted a record delivery quarter for Q4. For 2021, the automaker delivered "over 936,000" vehicles, per a company press release. Those numbers were up about 87% from the year prior. The report also reminded that Tesla has said "repeatedly it expects 50% annual increases in deliveries over a multi-year period".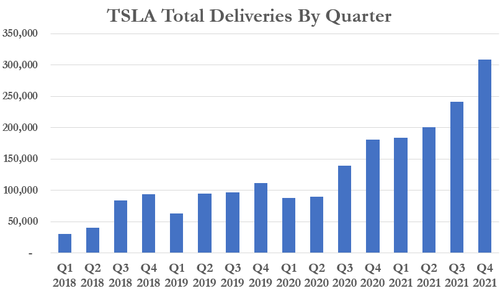 In addition to sales and deliveries, investors will likely be watching the company's vehicle mix and how it affects ASP, which declined 6% YOY last quarter. 
It looks as though the phasing out of the Model S and the Model X is heading toward completion. Of the deliveries in the fourth quarter, 296,850 of them were Model 3 or Model Y vehicles, while just 11,750 were Model S or Model X vehicles.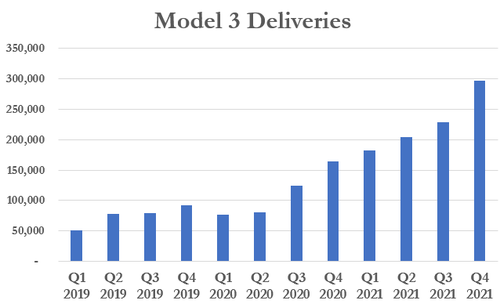 Estimates had called for 12,719 Model S and X deliveries and 263,422 Model 3 and Y deliveries.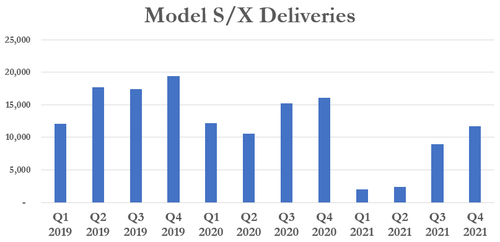 Investors may also be looking for color on a slew of recalls that occurred toward the end of last year, with the automaker recalling what amounted to hundreds of thousands of vehicles, stemming from from opening and closing the trunk lid that may damage the rearview camera cable harness and increase the risk of a crash. Tesla filed a recall with the National Highway Traffic Safety Administration (NHTSA) on Dec. 21 for 356,309 U.S. vehicles that could be prone to wiring harness damage, reports on Thursday morning revealed. 
There was also a recall of 119,009 2014-21 Model S U.S. vehicles that had a front trunk latch assembly possibly misaligned, preventing the secondary hood latch from engaging.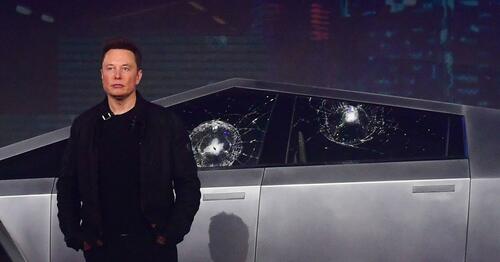 Here's what analysts were saying heading out of 2021 and into 2022, and their most recent expectations for Tesla:
Wedbush (outperform, PT $1,400)
Deliveries underpin electric- vehicle demand which looks "robust" for Tesla going into 2022, analyst Daniel Ives writes in a note
Says China demand is notable this quarter and "will be a focus for the bulls digesting these results"
Figures will improve sentiment for the EV industry as a whole, Ives writes
Jefferies (buy, PT $1,400)
Jefferies analysts including Philippe Houchois say "Tesla ended 2021 on a high"
Model S and Model X deliveries were "light due to capacity constraints" but Models 3 and Y over-compensated
Notes that deliveries exceeded production for the second quarter in a row
Cowen (market perform, PT $625)
"Tesla continues to shrug off the chip supply crunch and clearly has ramped Shanghai at breakneck speed"
However, Tesla will also need to successfully ramp up its new plants in Austin, Texas and Berlin, as well as maintain growth in China, for the stock to "continue to work" in 2022
Believes 2022 will be a more challenging year than 2021 due to increasing competition as Tesla's existing vehicles get "long in the tooth"
Piper Sandler (overweight, PT $1,300)
Tesla's 4Q run-rate suggests 2022 consensus is too low
Believes the company's margins may also have ramped up substantially in the quarter
"Our estimates are biased higher"
For additional chuckles, just weeks ago, we also noted that Wedbush said Tesla was in a "clear position of strength" as an EV manufacturer.
Though nobody may be scrutinizing the report today more than Cathie Wood, who has Tesla as the top weighting in her ARK Innovation Fund (ARKK), which has started 2022 down over 20% after a similarly unpleasant end to 2021.