---
Tesla Halts Gigafactory Shanghai For Two Days Amid COVID Surge 
Tesla, Inc. shuttered its massive Gigafactory Shanghai for two days as Chinese officials scrambled to contain one of the country's worst outbreaks of COVID-19 since the early days of the virus pandemic, Reuters reported Wednesday, citing a notice sent internally and to suppliers.
Gigafactory Shanghai, also known as Gigafactory 3, halted all production lines, making Model 3 sedans and Model Y crossovers. There was no reason given for the stoppage at the plant. According to China Passenger Car Association data, the factory delivered 56,515 vehicles in February and produced 2,000 cars a day.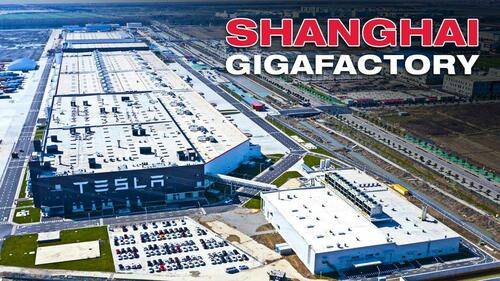 The notice didn't specify whether Tesla will increase future capacity to make up for the lost output when operations restart. 
China's zero-tolerance approach has shuttered factories and placed some 51 million people into some form of lockdown in other cities. Shanghai has yet to declare a citywide lockdown but has closed some neighborhoods, shopping districts, and industrial parks and encouraged workers to remote work from home. 
A Tesla supplier told Gigafactory Shanghai that COVID measures had shut down its facility and only had two days of supply stockpiled. 
Both Toyota and Volkswagen had announced similar shutdowns due to increased infections. Apple supplier Foxconn was also forced to scale back iPhone production. 
This is the latest example of supply chain disruptions in China, stemming from the country's zero-tolerance policy against COVID, which could have spillover risks on the rest of the world.