---
Tesla Jumps After Beating On Sales And Earnings As Free Cash Flow Soars, Says Delivering 500K Cars This Year Will Be "More Difficult"
Heading into today's Tesla earnings call, a question in this case posed by GLJ's Gordon Johnson, has emerged: do TSLA's earnings tonight even matter? As Johnson responds, "not really. Why? Well, Consensus is calling for 31c/shr in EPS for TSLA in 3Q20. What's key is ~16c/shr of this, or ~$200mn, is one-time credit sales which go away at the end of this year, and thus do not deserve a multiple… you put a multiple on recurring profit, not one-time profit. So TSLA's core biz of making cars appears set to do around 15c/shr in EPS, or ~60c/shr annualized. That's a P/E ratio of ~700x at TSLA's stock price today. That means TSLA's EPS should grow at a 700% CAGR over the next (at least) 5yrs."
Johnson then asks "Is this realistic" and answers that "of the 505 companies in the S&P 500, NONE OF THEM have grown earnings at a 700% CAGR over the past five years. Conclusion? TSLA is grossly overvalued, and a 10-20c/shr beat/miss is meaningless. Stated differently, at a ~700x P/E ratio, TSLA is not being priced to perfection… it's being priced to impossibility."
Why is this important? Because as the GLJ strategist continues, 2020 YTD EV sales in the EU (the world's most competitive EV market) are up ~100% y/y, yet TSLA's sales are down -14% y/y 2020 YTD." In other words, not only is TSLA losing share, but they aren't seeing growth in the world's most important EV market of Europe. Meanwhile, in China, which is supposed to be TSLA's major growth market, TSLA's sales have been below production in each of the past 3 months, and their NEV market share in China has fell from 20.1% in Mar. 2020 to 7.9% in Sep. 2020. And, all of this has occurred despite TSLA cutting the price of its cars ~13 times this year (the price of a made-in-China ["MIC"] Model 3 in China is down 30% YTD). In fact, TSLA is now shipping MIC Model 3 cars to the EU, showing demand in China simply doesn't exist despite cutting the price of the car 30% YTD,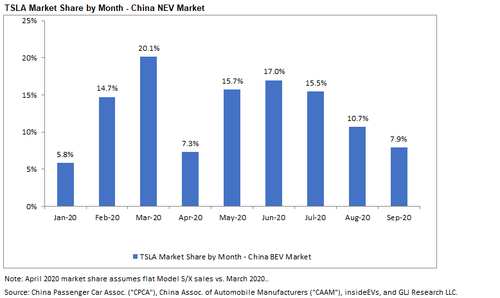 Of course, not everyone will agree, and for those who do care about earnings, here is a snapshot of what Wall Street consensus expects for the third quarter.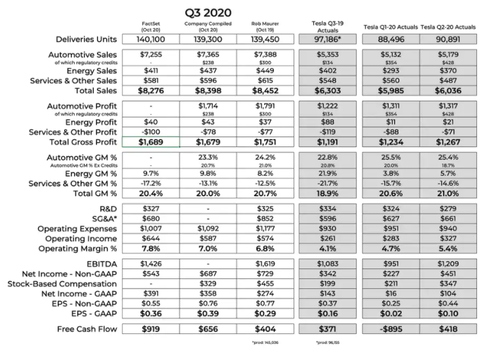 Meanwhile, after sending its stock soaring in the first half of the year, option traders appear to be taking a back seat: according to Bloomberg, volatility in the electric-car maker has been plunging after a flurry of retail investor demand contributed to a surge in options prices over the summer. Ten-day realized volatility has dropped to about 36, down 50% from its one-month level of 72, and there are signs that retail interest may be waning, according to Alon Rosin, Oppenheimer's head of institutional equity derivatives.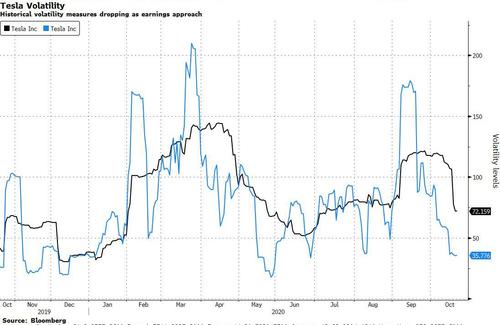 Looking at the options, the current at-the-money straddle suggests shares will move 7.8% in conjunction with the report. That's in line with the average move of 7.8% over the last eight reports, when declines outpaced rallies at a rate of 5-to-3.
* * *
So with all that in mind, here is what Tesla just reported for the second quarter:
Q3 GAAP EPS of $76 cents, up 105% from $0.37 a year ago, and beating expectations of 55 cents
Q3 Revenue of $8.77BN, 39% Y/Y, and also beating the $8.26BN estimate.
Q3 Adjusted Net Income $874MM, up 156% Y/Y however, as in the previous quarter, nearly half of this was thanks to regulatory credits of $397MM; Meanwhile GAAP Net Income was just $331MM, less than the total amount of reg credits.
Q3 Free Cash Flow of $1.395BN, vs Exp. of $1.1BN
Below is the full breakdown of Q3 results: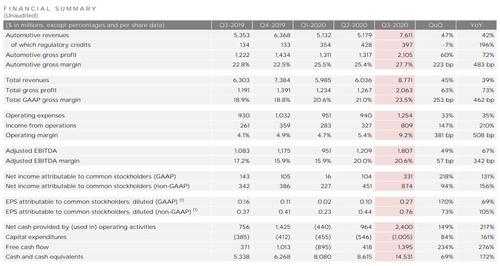 Commenting on its 39% revenue growth, the company said that "this was achieved mainly through substantial growth in vehicle deliveries as well as growth in other parts of the business. At the same time, vehicle average selling price (ASP) declined slightly  compared to the same period last year as our product mix continues to shift from Model S and Model X to the more affordable Model 3 and Model Y."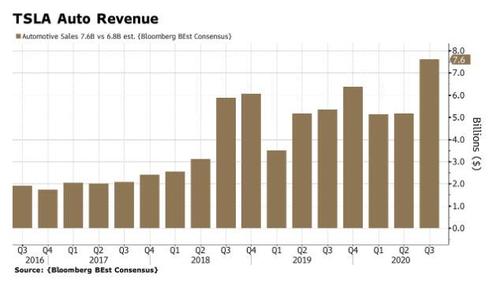 What is bizarre is that for a company that is valued more than most other automakers in the world combined on its prospective growth, and is larger than both the entire US and European auto sector, one would expect far more revenue growth even after this quarter's bounce. In fact, when excluding reg credits, Tesla's rolling 4-quarter automotive revenue growth (less credits) is muted at best.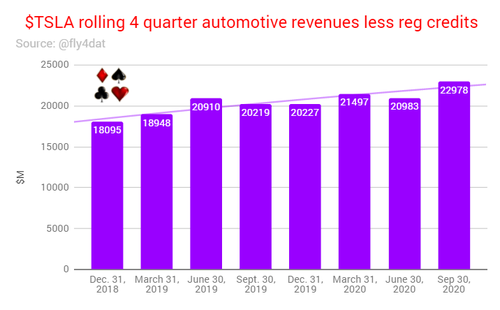 And one further point on regulatory credits from user fly4dat:
Reg credit revenue INCREASED from Q2 by $109M, because Q2's $428M included recognizing the $140M deferred credit revenue that's been on Tesla's books for 1.5 yrs.

There is $544M left from the FCA contract for the next year 5 quarters. Add any China (~$50M) and non-FCA US (tiny).

— fly4dat (@fly4dat) October 21, 2020
Some more details from the second quarter earnings report:
Q3 automotive gross margin +27.7% vs. +22.8% y/y
Q3 cash and cash equivalents $14.53 billion vs. $5.3 billion y/y, estimate $12.93 billion
Q3 capital expenditure $1.01 billion
While superficially, Tesla reported a fifth consecutive quarter of profits, an earnings streak which could add momentum for Tesla's inclusion in the S&P 500 Index, as noted above a sizable $397MM (up 197% Y/Y, and just under 50% of non-GAAP Net Income) was from the sale of regulatory credits. The amount was fractionally below the record $428MM reported last quarter.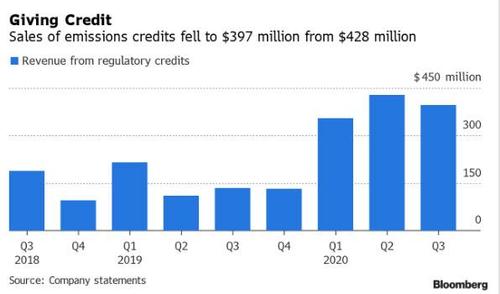 "Regulatory credits are a big part of the EPS beat," said analyst Ben Kallo of Robert W. Baird, but added that "that's part of the game: Tesla's competitors are paying them, and Tesla is reinvesting that into their factories in Berlin and Texas."
Putting this number in context, TSLA reported GAAP Income of $331MM which were entirely due to the $397MM in reg credits.
Looking at the gross margin, it grew more than 250bps in the quarter to 23.5%, while operating margins grew to 9.2%. That was in spite of giving Musk $290 million for hitting his compensation targets. As Tesla explained, the margin was thanks to "better fixed cost absorption" which as BBG explains means that once you got a plant up and running, the more cars you crank out, the more bang you get for the bucks invested.
"What jumped out to me is gross margins," Gene Munster said. "That's the machine that keeps the machine growing. They are making more money from each car. Separately, the Semi Truck coming in 2021 is a surprise to me."
The company also said that its plan of delivering 500,000 Vehicles in 2020 remains on target, after increasing capacity of Model 3/Model Y units.
"We have the capacity installed to produce and deliver 500,000 vehicles this year. While achieving this goal has become more difficult, delivering half a million vehicles in 2020 remains our target."
Tesla expects production to reach full capacity toward the end of this year or beginning of  next year.
Of note: the factory in Fremont, California can now make 590,000 cars a year: 500K of the 3/Y, and 90K of the older S and X, up from 490,000 last quarter (at 400,000 for Model 3/Y). The Shanghai plant is now at 250,000 cars, up from 200,000 last quarter.
In any case, to hit its 500K target, Tesla will have to deliver 180,000 vehicles in Q4 to meet this goal. That may explain why the company warned at the top of its earnings report that "achieving this goal has become more difficult."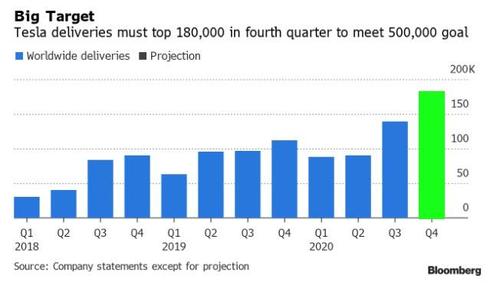 Putting this 180K number in context, Tesla reported a total of 139,593 Deliveries in the quarter, and total production of 82,272 vehicles.
And here is a snapshot of Tesla's total production and deliveries: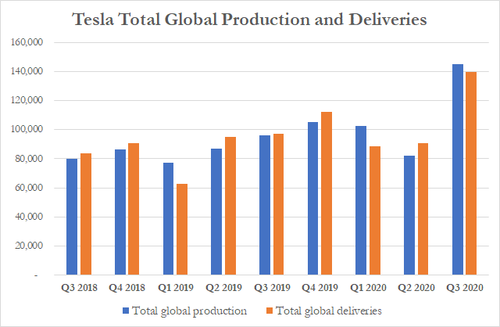 The Model S/X are pretty much dead: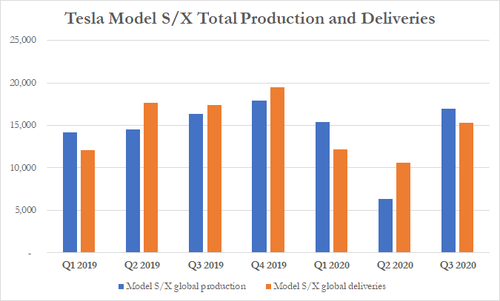 And the only thing keeping Tesla alive is the Model 3: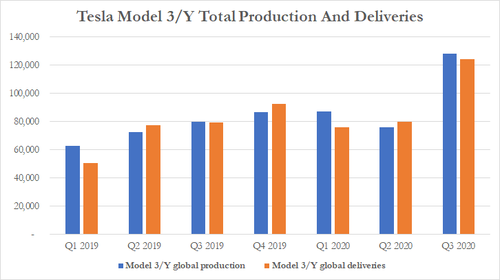 Tesla also said that it has sufficient liquidity to fund its product roadmap, and added that Berlin, Shanghai deliveries are on track for a 2021 start.
Shanghai

Model 3 production capacity has increased to 250,000 units a year. We reduced the price of Model 3 to 249,900 RMB after incentives, making it the lowest-price premium mid-sized sedan1 in China. This was enabled both by lower-cost batteries and an increased level of local procurement. As a result of this shift in cost and starting price, we recently added a third production shift to our Model 3 factory.

Berlin-Brandenburg

Construction of the Gigafactory in Berlin continues to progress rapidly. Buildings are under construction and equipment move-in will start over the coming weeks. At the same time, the Giga Berlin team continues to grow. Production is expected to start in 2021.
One big surprise in the report was Tesla's free cash flow, which soared from 418MM in Q2 to a record $1.395BN in Q3, surprising Wall Street which expected $1.1BN in FCF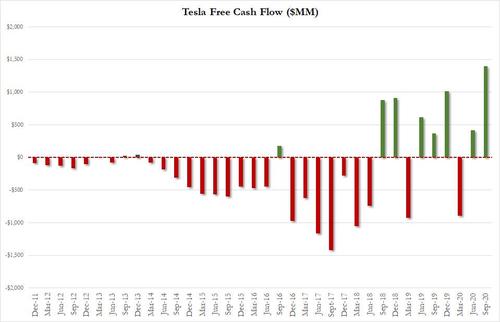 Also of note: Tesla recorded a $1.3 billion jump in payables.
Thanks to positive free cash flow and the company's $5BN equity offering in the quarter, cash grew impressively to $14.5 billion, up almost $6BN from the previously quarter, which means that Tesla will have no issues meeting debt maturities. Yet as some have pointed out, how did interest income decline by 25% from $8MM to $6MM when cash increased by $6 billion?
How does interest income go down 25% Q/Q with cash up $6B?$TSLA $TSLAQ

— passthebeano (@passthebeano) October 21, 2020
And incidentally, Tesla top-ticked its own $5BN equity offering perfectly: the average price for the offering was $449 a share, and is Tesla trading at about $432 now.
While secondary to its business, Tesla said that it was "seeing accelerating interest in Powerwall as concerns with grid stability grow, particularly in California" which comes amid rolling blackouts in California.
Looking ahead, Tesla's says that Tesla Semi deliveries will begin in 2021. However, as Bloomberg reminds us, the Semi was first revealed in the fall of 2017.
So what was the market's verdict? In kneejerk reaction Tesla stock traded higher but only modestly so compared to previous post-earnings spikes, and was last trading at $437/share, back to levels last seen just 3 days ago. And in fact after digesting the early big beat, the stock is now almost back to unchanged.