---
Tesla Model Y Passes Toyota Corolla To Become Best Selling Car In The World In 2023
While Elon Musk continues to be a lightning rod for political controversy and discussion, Tesla is (at least for the time being) still executing in the background. Just last week the company's Model Y vehicle passed the Toyota Corolla as the best selling car in the world, according to The Driven, an Australian auto blog. 
Citing data from JATO Dynamics, the blog says that in Q1 the Model Y sold 267,200 vehicles, blowing past Toyota Corolla's 256,400 sales. The blog also notes that the Model Y has been "hugely popular" in Australia and is the second best selling SUV of any type. 
"When comparing it to ICE vehicles, the Tesla Model Y is the best-selling Medium SUV in the over $60,000, in the country by a wide margin," The Driven writes. "With 5,264 sales, it far outpaces the next best-selling Medium SUV which is the Audi !5 with 1,618 sales."
The Model Y's passing the Corolla is especially notable due to the difference in price, The Verge reported, noting that the 2023 Model Y starts at $47,490, whereas the Toyota starts at $21,550.
They noted that Musk had predicted sales "in the 500k to 1 million unit per year level" for the Model Y dating back to 2016. 
In 2021, Musk added: "We think Model Y will be the best selling car or vehicle of any kind in the world. Probably next year. I'm not 100 percent certain next year, but I think it's quite likely... more likely than not, that 2022 Model Y is best selling car or truck... in the world."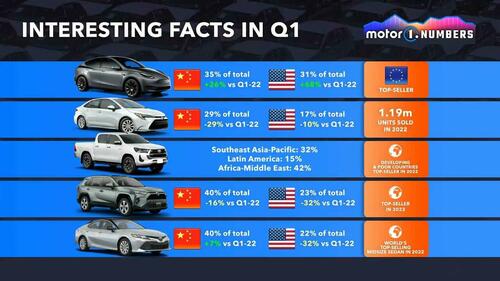 Pushing the company's mainstream appeal even further last week was news that it would share its Superchargers with Ford. 
As we noted, three months after the Biden administration announced that Tesla, Inc. would make its Supercharger network accessible to non-Tesla electric vehicles, Ford Motor Co. reached an agreement with Tesla, allowing Ford's EV customers to tap into approximately 12,000 Supercharger stations across North America. 
"This is great news for our customers who will have unprecedented access to the largest network of fast chargers in the US and Canada with 12,000+ Tesla Superchargers plus 10,000+ fast-chargers already in the BlueOval Charge Network," said Jim Farley, Ford president and CEO. 
Farley continued, "Widespread access to fast-charging is absolutely vital to our growth as an EV brand, and this breakthrough agreement comes as we are ramping up production of our popular Mustang Mach-E and F-150 Lightning, and preparing to launch a series of next-generation EVs starting in 2025."
Beginning in 2024, Mustang Mach-E, F-150 Lightning, and E-Transit customers will be able to use Superchargers via an adapter and software integration and payment activation through FordPass or Ford Pro Intelligence. 
Loading...