---
Tesla Offers Rare $7,500 Discount To Boost Holiday Deliveries
One day after we reported, Tesla Inc. implemented a hiring freeze and a new round of layoffs. News for the EV company worsened as it offered a rare discount on Model 3 and Model Y vehicles, a sign that demand is softening. 
Discounts on Model 3 and Model Y vehicles delivered in the US this month had discounts of $7,500, according to the company's website. That's up from the $3,750 credit it offered previously. On top of that, another perk was offered: free supercharging for 10,000 miles.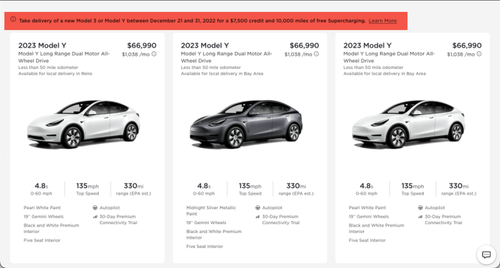 Electrek pointed out customers have canceled their orders and held off on their purchases until new government tax credits take effect in January, weighing on demand.
Tesla was already offering a discount, and to double it, along with free supercharging, indicates the company is dissatisfied with demand figures for the holiday quarter. 
"The fact they seem to be cutting price to increase deliveries volumes doesn't raise confidence, particularly at a time where we see increasing competition," Craig Irwin, a senior analyst at ROTH Capital Partners, told Reuters. 
It's unusual for Tesla to offer such discounts and perks. Elon Musk has said the company doesn't discount. The billionaire also predicted an "epic" end of the year for the company but discounting and perks suggest otherwise. 
Furthermore, the news of the company expected to make layoffs during the first quarter of 2023 is another ominous sign of demand problems that may extend into the new year.  
Tesla said in October it would miss the vehicle delivery target for the year. Shares of the company have slid more than 60% year-to-date, possibly reflecting a bumpy future.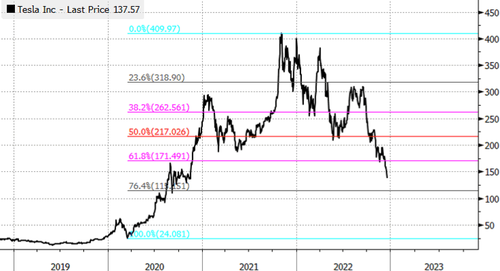 None of this should be a surprise, as readers understand the auto market is collapsing. 
Loading...