---
Tesla Owners Flood Chinese Showrooms To Protest Sharp Price Cuts
Tesla owners in China are apparently not pleased with the company's new policy of cutting prices on what now seems like a weekly basis. 
The swift pace of price cuts caused several of Tesla's showrooms and distribution centers to swell with new Tesla owners, furious that they had missed out on the company's price cuts by a matter of days. 
Customers were demanding rebates and credits, claiming that they had overpaid for the same cars that weren't marked down at the time they were purchased, a new report from Reuters says. Prices of Tesla vehicles in China are now between 13% and 24% lower than they were in September. 
About 200 recent buyers of the Tesla Model Y and Model 3 made their way to a Tesla delivery center in Shanghai to protest, the report says. Recall, Tesla cut prices for the second time in just three months at the end of last week. 
Some of the customers claimed that they didn't think the prices would be cut so quickly. Many of the buyers were rushed into buying their vehicles before the end of 2022 to beat the deadline on a government subsidy for EVs.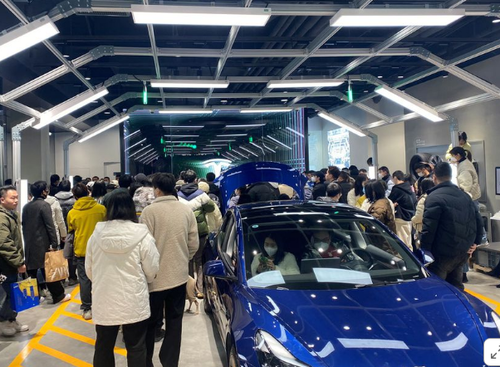 Reuters reviewed video on social media that showed "crowds at Tesla stores and delivery centres in other Chinese cities from Chengdu to Shenzhen", suggesting that the protests were carried out widely across the country. 
One owner told Reuters: "It may be a normal business practice but this is not how a responsible enterprise should behave." He told reporters that police had facilitated a meeting between the customers and Tesla staff. The customers handed over a list of demands, the report says, which included an apology, compensation and other credits. Tesla has said it would respond by early next week. 
"About a dozen police officers" were on site at the protests in Shanghai. "Return the money, refund our cars," a crowd in one protest video, posted to social media, chants out loud. 
Tesla has cut prices to help spur demand as the company heads into the new year. In Q4 2022, Tesla reported a record number of vehicle deliveries, but still missed Wall Street's estimates. 
Loading...