---
Tesla Shares Plunge Almost 7% After Company Reportedly Halts Plans To Expand In China
It's amazing how natural market forces can take a hold of companies when market makers aren't constantly scrambling to hedge against massive purchases of deep out of the money call options.
On that note, Tesla shares are getting pasted to the tune of another 6% on Tuesday in the pre-market session, following through on yesterday's nearly 5% plunge and helping drag down S&P futures 0.7% heading into the cash open. Nasdaq futures are down 1.3% at the same time, setting up what could be an ugly follow through for the likes of Tesla uber-bull Cathie Wood's ARK Innovation ETF heading into mid-week.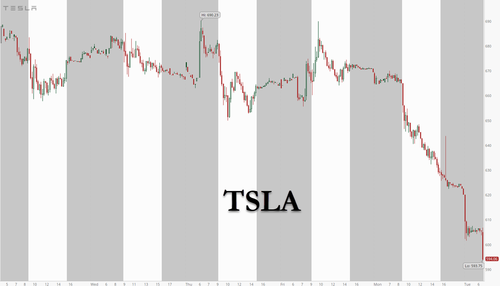 The plunge in shares is being attributed to the overall slump in tech stocks, but also on a Bloomberg report that Tesla had halted its plans to buy new land in Shanghai and that sales in China have fallen. 
The company reportedly halted plans to buy land to expand its manufacturing facility and turn it into a worldwide export hub due to "trade tensions" between the U.S. and China. The company currently uses its China facility to export to Europe, "Tesla now intends to limit the proportion of China output," Reuters reported. 
But we can't help but notice: there have been "trade tensions" between the U.S. and China throughout the last few years anyway. Could it be that halting the expansion of the facility was a result of growing tensions between China and Tesla, and not China and the U.S.?
Recall, just days ago, we highlighted yet another deadly crash involving a Tesla - this one in China. And the country's state-run Global Times was quick to shame the automaker as a result. It published a horrifying image of a Tesla vehicle rear-ending a truck in Shaoguan, South China's Guangdong Province on Friday, "killing the electric car's driver on the spot."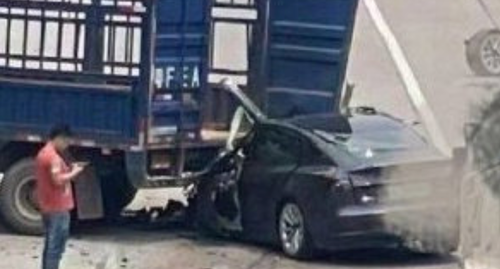 Tesla's image is deteriorating in China as state media continue to publicize braking failures. The risk here is Musk's Chinese fairy tale could eventually come to an end. In late April, we noted that Chinese state media suggested that the automaker's sales could be "doomed."
Regardless, as his stock was plunging due to this growing tension with China, it was clear that Elon Musk was focusing on all the right things. He took to Twitter on Tuesday morning and asked whether or not Tesla should accept Dogecoin:
Tesla drops below $595 after @elonmusk's tweet https://t.co/NHIuNziAbv

— Wallstreetbets 🟩 Crypto (@qryptoo) May 11, 2021
LOL Tesla getting smacked pre market, and here's what CEO numb nuts is up to: https://t.co/6qhQEmj7mb

— Quoth the Raven (@QTRResearch) May 11, 2021