---
Tesla Shares Set To Snap 5-Day Rally After GM Says It Will Manufacture Its Own EV Systems And Motors
In a potential seachange within the EV industry, this morning General Motors announced it would be manufacturing its own family of EV drive systems and motors. 
General Motors said that it will "put into production an interchangeable 'family' of electric vehicle (EV) drive systems and motors, boosting manufacturing efficiencies as it transitions to a fully electric lineup." The legacy automaker is looking to "build a vertically integrated electric car business," according to Reuters.
The announcement sent a ripple across EV stocks in pre-market trading on Wednesday, with Tesla shares poised to break their recent rally that has driven the stock up more than 35% off its September lows.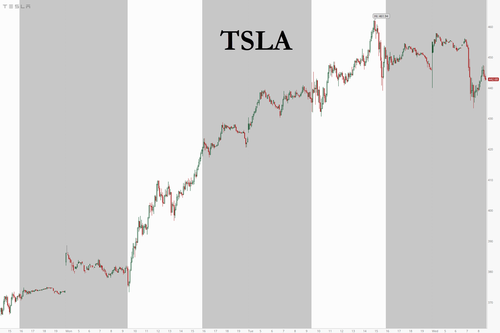 Adam Kwiatkowski, GM's executive chief engineer for global electrical propulsion, said: "By designing its own e-axles, GM could better integrate them with an EV's battery and the rest of the car. E-axles combine gear, motor and power electronics into a single system and help convert the electricity from batteries efficiently to propel the vehicle."
He told Reuters last week: "GM designed these drive units simultaneously with a full gambit of electric vehicles that fill out our portfolio. They become synergistic and make them a really efficient package that's good for the performance of the vehicle, good for driving customer enthusiasm, and most importantly it's good for cost efficiency." 
Curiously, the news also comes days after General Motors' partnership with Nikola Motors was called into question by short seller Hindenburg Research, who called Nikola an "intricate fraud". Both GM and CEO Mary Barra have acknowledged that they did appropriate amounts of due diligence on the Nikola deal and for now, General Motors appears to not be distancing itself from the embattled EV name.
The rationale behind GM's announcement isn't a mystery: either the company is trying to take the first step to distancing themselves from the Nikola deal, or more likely, it is simply trying to tap into the insane valuations that the market is currently assigning to EV names.
$GM could be "a trade" as it's clearly now an EV tech leader.
Pros: 8x normalized ($4) earnings & MIGHT grab the imagination of EV Robintards
Cons: NO ONE makes money on EVs.
Not growing overall.

Conclusion: Every OEM being in EVs will crash $TSLA's price down, not bring OEMs up

— Mark B. Spiegel (@markbspiegel) September 16, 2020