---
Tesla Slides After Cutting US Model Y Price By 20%
Tesla Inc. shares slid in premarket trading after slashing prices of its vehicles sold in the US. The goal is to attract new buyers as the electric vehicle maker struggles with a significant demand problem.
Price cuts span across much of Tesla's lineup and now allow buyers to take advantage of the $7,500 US government tax credit. It lowered the cost of the cheapest Model Y by 20%, reducing the price by as much as $21,000 to $52,990, not including fees and taxes. That enables buyers to qualify for the tax incentive by putting the vehicle under a $55,000 cap. Tesla cut 14% off the high-performance version of its Model 3, which now costs $53,990 before taxes, placing it in the price range so buyers can receive the tax benefit. Other high-end Tesla models were discounted as well.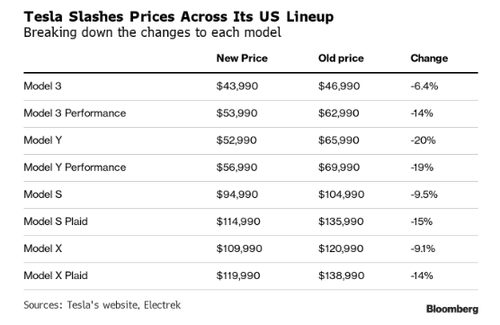 Tesla's stock fell as much as 5% in early trading. Shares of other EV automakers, including Rivian Automotive Inc, also declined.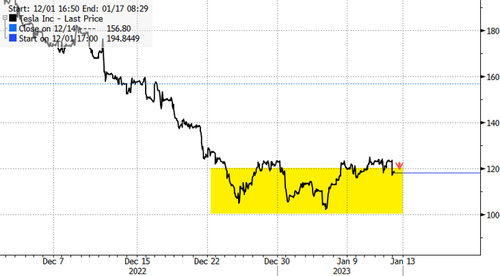 Analysts at major Wall Street banks said the price cuts would impact near-term gross margins (list courtesy of Bloomberg): 
Guggenheim: Analyst Ronald Jewsikow downgrades to sell from neutral, as the analyst expects a "sizable" gross margin miss in the fourth quarter, primarily based on the price reduction and incentives

Says that estimates for 2023 need to be reset

"Overall, heading into a challenging backdrop in FY23, we believe TSLA had to decide whether to sacrifice volume growth or gross margins, and based on pricing actions, the answer appears to be gross margins," the analyst writes

Evercore ISI (in-line): "There will be a significant impact to TSLA's near term gross margin and the math depends on how long these new price levels last," analyst Chris McNally writes.

Wells Fargo's Colin Langan also cut its PT from $230 to $130, warning that "There is growing debate among institutional investors on how to value TLSA — auto or tech?."
New EV guidelines were released last year by the Treasury Department and Internal Revenue Service that irritated Musk because Model Y didn't weigh enough to be labeled an SUV. That means the vehicle had to be priced under $55,000 to receive tax credits. 
When checking out on the Tesla website for purchasing a new vehicle, such as the Model 3 Performance, a $7,500 federal tax credit is now factored into the price.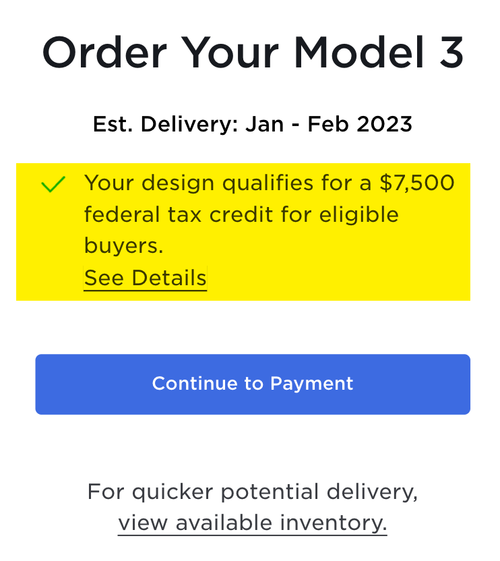 Tesla reducing the prices of its vehicles is an ominous sign of demand problems. 
Teslas becoming the hot potato of 2023 was not on my bingo card 🤯

Prices of new Teslas just got abruptly reduced across the board.

Dealers with lots of Teslas in inventory are about to get absolutely wrecked.

— CarDealershipGuy (@GuyDealership) January 13, 2023
Bernstein analyst Toni Sacconaghi slapped the EV stock with a sell rating and wrote earlier this month that the carmaker was facing "a significant demand problem" because its vehicles were too expensive to qualify for tax credits. 
"We believe Tesla will need to either reduce its growth targets (and run its factories below capacity) or sustain and potentially increase recent price cuts globally, pressuring margins," Sacconaghi wrote, adding, "demand problems remaining until Tesla is able to introduce a lower- priced offering in volume, which may only be in 2025." 
And it was just one week ago that Tesla shares slipped near the $100 handle after it announced another round of price cuts in the Chinese market. 
The latest total deliveries from Tesla in the fourth quarter were 405,278 vehicles but missed Wall Street estimates. 
Tesla is facing a significant international demand problem that could continue pressuring shares lower. 
Loading...