---
Tesla Soars After Reporting 4th Consecutive GAAP Profit, Making It Eligible For S&P500 Index Inclusion
Among the companies reporting Q2 earnings, few will be watched as closely as Tesla whose stock has quadrupled since hitting a March low, rising to a mind-boggling market value of $290 billion, surpassing the market cap of every other automaker in the world, and making it the 15th largest company in the S&P500 index, if it was in the index that is.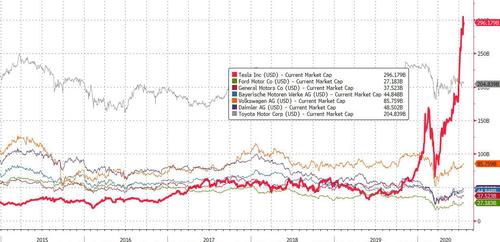 According to the LA Times, that surge makes Tesla the world's highest valued car company — if far from the largest. Of the 90 million cars sold around the world in 2019 Tesla sold 367,000. Take the two top-selling carmakers in the world, Toyota and Volkswagen, toss in Ford; the stock market still values Tesla higher than all three combined.
In recent weeks, Tesla has also become a retail daytrading favorite with the number of Robinhood accounts holding Tesla shares rising to an all-time high of 496,890, making Tesla the second-most popular stock on the platform over the last 24 hours, and the 19th-most popular stock over the last 7 days. This flood of new retail money has certainly helped send the stock surging, although many have speculated that gamma manipulation in TSLA options has been critical to facilitate the recent surge.
To be sure, Tesla's crazy stock moves continued this week: on Monday, Tesla stock climbed nearly 10%, adding $26.5 billion to its market value in a single day. It pulled back 4.5% on Tuesday, to $1,568.36 a share. Even Jim Cramer who has hyped Tesla stock plenty in the past, is astounded. Asked about Tesla stock on Twitter on Monday, he wrote: "I don't even know if it is a stock. it is something else entirely, like a new species discovered in the wild."
Commenting on the move, Russ Mitchell wrote that "Tesla's bewildering ascent makes more sense when you think of it as a hyper-exaggerated product of — and maybe metaphor for — a stock market that itself has stopped making sense, at least by conventional measures."
Still, Q2 earnings will matter if only to determine if Tesla will be allowed to join the S&P500: should Tesla report a Q2 profit it would be the fourth consecutive quarter of reported profitability on a GAAP basis would make Elon Musk's electric car company eligible to join the S&P 500 index which could mean a sudden jump in demand from passive funds that track the benchmark.
Still, as CNBC noted earlier this week, index inclusion is not a done deal, and even if the company does report a fourth consecutive quarter of GAAP profits, there's no guarantee that it will be added to the S&P 500, as inclusion in the index is based on quantitative as well as qualitative factors.
Even if a company meets these criteria as well as the other stipulations, however, it still does not guarantee inclusion in the index, according to Howard Silverblatt, senior index analyst at S&P Dow Jones Indices.

"The purpose of the index is to emulate the U.S. domestic common market," he said. "When you go to put a company in — to actually select it — it's got to fit into the algorithm in that it represents the market, it has liquidity, it has size," he added.

The committee meets on a quarterly basis to rebalance the index, and the next meeting is scheduled for the third Friday in September. But Silverblatt said companies can be added or removed from the S&P at any time.
On the other hand, in a note published this morning, Morgan Stanley analyst Adam Jonas wrote that "in the event Tesla posts a loss and has to wait for S&P500 index inclusion... while this would be a short-term disappointment, we doubt the market would see this as narrative changing at all" (Jonas is Underweight the stock and has a $740 price target)
Besides GAAP earnings, Jones said that other things to look for in Q2 earnings include update to guidance, timelines of new production facilties (Texas, Berlin), Cybertruck order book and launch timline, gross margins and FCF and software business model updates.
To hit its earnings bogey, a revenue source Tesla can tap into that's difficult for analysts to model for are the regulatory credits the company sells to other automakers that need them to comply with emissions standards. Tesla generated $354 million in revenue from these credits in the first quarter. Analysts expect this business to grow, as Europe and China are making their car-pollution rules stricter.
Meanwhile, as Bloomberg adds, another key question will be how many cars it will deliver: in January, the company said full year vehicle deliveries "should comfortably exceed 500,000 units." In April, Tesla said it had "capacity installed to exceed 500,000 vehicle deliveries this year" despite factory shutdowns because of the coronavirus. So far, Tesla has delivered about 179,050 vehicles through the first half of the year. If the company reaffirms its guidance for more than 500,000, analysts will be keen to hear more color including a regional breakdown.
* * *
So with all that in mind, here is what Tesla just reported for the second quarter:
Q2 GAAP EPS of $0.50, up sharply from a GAAP loss of $2.310 a year ago, and beating expectations of an 11 cent loss
Q2 Revenue of$6.04BN, down 4.9% Y/Y, but above the $5.4BN estimate.
Q2 Adjusted Net Income $451MM, vs exp loss of $74MM. However, Tesla sold $428MM in regulatory credit this quarter, a new record ; of not Q2 Net income was just $104MM.
Q2 Free Cash of $418MM, vs Exp. cash burn of $617.9MM.
What is bizarre is that for a company that is valued more than most other automakers in the world combined on its prospective growth, and is larger than both the entire US and European auto sector, one would expect revenue to actually, well, grow at some point?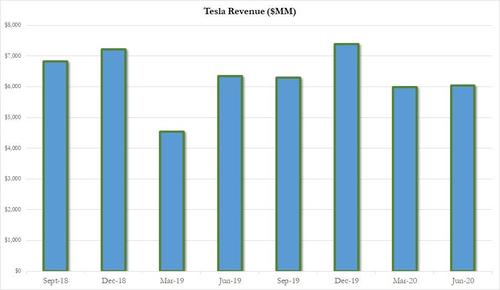 Full breakdown of Q2 results: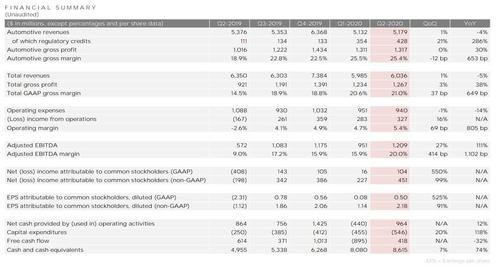 Some more details from the second quarter earnings report:
Delivering Half Million Vehicles in 2020 Remains Target
Capacity Installed to Exceed 500k Deliveries This Year
Shanghai Factory First Deliveries Expected in 2021
Capacity Installed for Over 500,000 Deliveries This Yr
Says Semi Deliveries to Begin in 2021
Shanghai Factory Is Progressing as Planned
So how did Tesla report positive GAAP EPS?
It generated a record $428MM from sale of regulatory credits. This means that without a record $421MM in regulatory credit sales it would have negative GAAP earnings. There was more: As Tesla revealed, its operating profit improved "due to a temporary reduction in employee compensation expense, a sequential increase in regulatory credit revenue" and most notably a deferred revenue recognition of $48M related to a Full Self Driving (FSD) feature release.
Since this will be closely scrutinized, courtesy of Bloomberg here's a look at how Tesla's revenue from the sale of regulatory credits have trended over the last few years. One wonders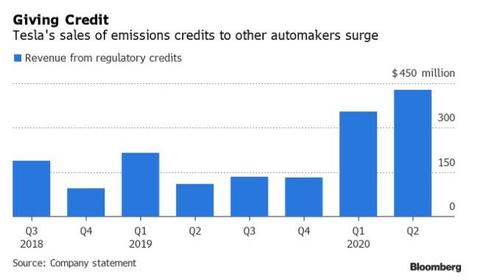 No matter the details, however, Tesla now officially has 4 consecutive quarters of positive GAAP earnings, which explains why the stock is up as much as 5% after hours.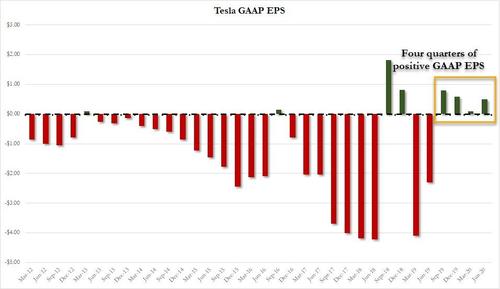 Putting the company's Q2  revenues in context:
Q2 2020:   $6.0 billion
Q2 2019:   $6.3 billion
Q2 2018:   $4.0 billion
Q2 2017:   $2.8 billion
Q2 2016:   $1.3 billion
Q2 2015: $955 million
Q2 2014: $769 million
Q2 2013: $405 million
Q2 2012:    $27 million
Tesla reported a total of 90,891 Deliveries in the quarter, and total production of 82,272 vehicles.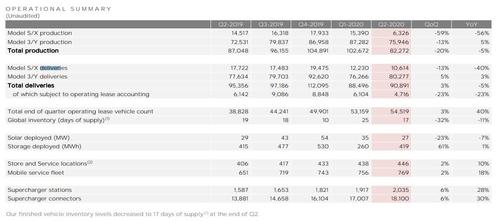 And here is a snapshot of Tesla's total production and deliveries: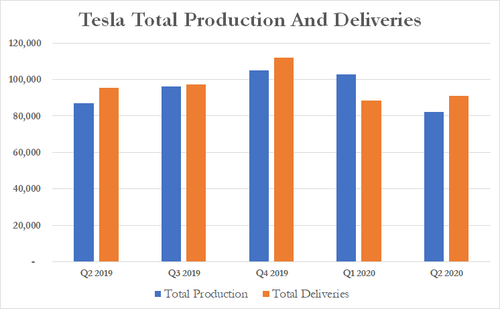 The Model S/X are pretty much dead: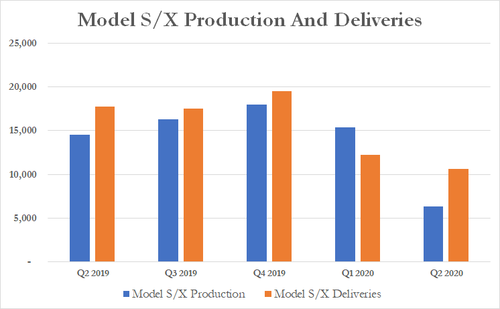 And the only thing keeping Tesla alive is the Model 3: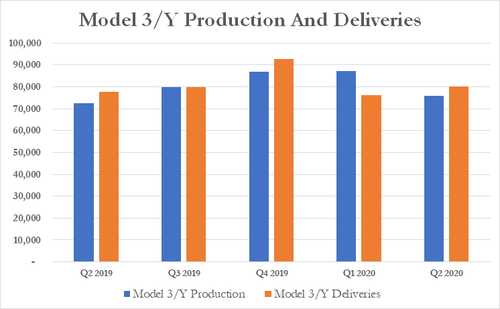 One big surprise in the report was Tesla's free cash flow, which soared from a cash burn of $895MM in Q1 to a positive number of $418MM in Q2, surprising Wall Street which expected a burn of $74MM.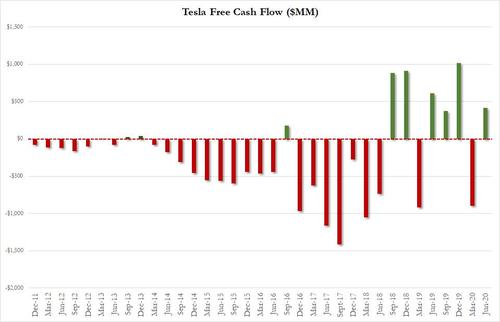 Commenting on the number, Tesla said that free cash flow was "negatively impacted by a higher percentage of deliveries  occurring towards the end of the quarter compared to prior quarters, as well as an increase in government rebates and  regulatory credit receivables, which are paid in accordance with their payment terms. Since vehicle production resumed in Fremont and Nevada in early May, our days payable outstanding was not impacted as much as initially anticipated."
Thanks to the positive cash flow, Tesla's cash and cash equivalents increased by $535M in Q2 to a record $8.6 Billion.
What about future output and production capacity? This is what Tesla said about its Fremont, Shanghai and Berlin factories, which will need billions in future capex investments to meet the company's lofty production goals:
Fremont

Although the Model Y production line was operating for about four months in the first half of 2020 due to shutdowns, we exited Q2 with Model Y production running at installed capacity. This ramp was significantly faster than our initial Model 3 ramp, which took over nine months to reach the same weekly rate. We are installing additional machinery at the Fremont Factory, which is expected to increase total Model 3 / Model Y capacity from 400,000 to 500,000 units per year.

Shanghai

Model 3 has received a strong reception in China, not only becoming the bestselling EV, but also competing with mid-sized premium sedans, such as BMW 3-series and Mercedes C- (even before subsidies and vehicle tax), reduced operating costs and industry leading standard equipment. Construction for Model Y lines in the Shanghai factory is progressing as planned, with first deliveries expected in 2021.

Berlin-Brandenburg 

In Germany, one of our biggest European markets, Gigafactory Berlin construction continues to progress. As we build new factories, we continue to iterate on the factory and product design to improve efficiency, cost and technology. We are implementing further structural improvements based on our learnings from prior factories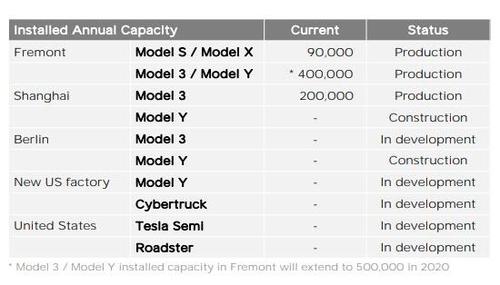 Elsewhere, Tesla also had its worst quarter yet... for traditional solar-panel deployments. According to Bloomberg, Tesla deployed just 27 megawatts in 2Q, just below its previous low of 29 megawatts deployed one year earlier. But hey, who cares.
Finally, the outlook.
As a reminder, In Q1 Tesla backed off its pledge of delivering 500,000 units in the first quarter; fast forward to Q2 when the company reported that while it has the "capacity the capacity installed to exceed 500,000 vehicle deliveries this year, despite recent production interruptions," the world is still too uncertain.
Although we have successfully ramped vehicle production back to prior levels, it remains difficult to predict whether there will be further operational interruptions or how global consumer sentiment will evolve in the second half of 2020. We will continue to update our outlook as necessary.
In terms of cash flow, Tesla said that it "should have sufficient liquidity to fund our product roadmap, long-term capacity expansion plans and other expenses."
Here we need to note that once again Tesla Accounts Receivable gimmick continues, and as Tesla Charts pointed out, AR grew again even as total revenue shrank by 4.9% which is bizarre for a company that "demands payment before delivery."
Accounts receivable growing while revenue is shrinking for a company that demands payment before delivery. Nothing to see here. $TSLAQ pic.twitter.com/Vi7SvlDxBQ

— TC (@TESLAcharts) July 22, 2020
* * *
So what was the market's verdict?
Commenting to Bloomberg, Gene Munster said that "Tesla was gunning for S&P induction, and they hit their target," he told me. "But they didn't have to pull too many rabbits out of the hat to get there. They did it for reasons that are sustainable."
Largely due to the positive GAAP EPS number and maintaining the guidance of 500,000 car sales for 2020, Tesla stock is exploding, and is now above $1,700 in after hours trading, meaning its market cap is a record $317BN as of this moment.