---
Tesla Sold Out Of Model Y After "Unprecedented Demand" In US, Electrek Says
Electrek's Fred Lambert was correct one month ago when he said Tesla price cuts by up to 20% stoked "unprecedented demand" in the US. He's now reporting Model Y vehicles have sold out entirely for the US, with no more production builds until April. 
On Jan. 13, Tesla announced Model Y base unit would be priced at $52,990, down from $65,990 - nearly a 20% difference—the reason: for customers to take advantage of the $7,500 US government tax credit.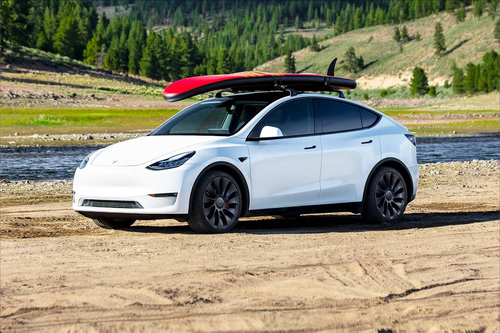 The result? Well, success, actually huge success. Here's what Lambert said:
Now sources familiar with the matter told Electrek that Tesla has completely run out of production build slots for the quarter for Model Y, which is now Tesla's highest-volume model.

While Tesla is sold out for new production "build slots," it will still have some specific configurations in inventory available in some markets.

The automaker has updated its estimated timeline on the Model Y to "Est. Delivery: Apr – Jun 2023," which is after having increased the price of the base Model Y back up $1,500 after reducing it by $13,000 early last month.
Google search trends for "Model Y" erupted nationwide around the announced price cuts.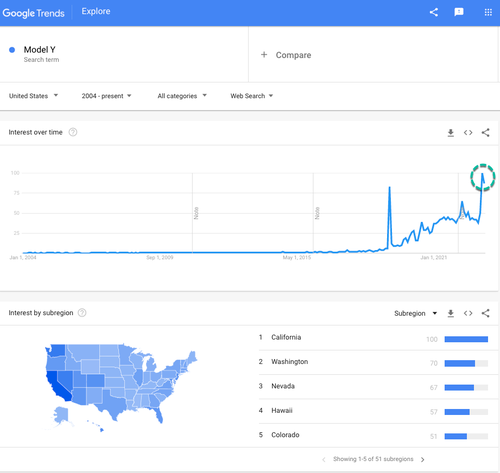 A week after the announcement, we outlined how the price cuts by Tesla were also designed to crush the competition. 
However, not everyone was happy with the price cuts. Existing owners of Teslas were furious about how their vehicles lost tremendous value overnight. 
Loading...