---
Tesla Suspends Ops At Shanghai Plant One Day Sooner Than Expected
Tesla has officially halted production of its Shanghai plant one day before it was planned, Bloomberg reported over the holiday. 
The EV maker was expected to halt production - as we noted in a previous article - but continued swirling questions about demand are once again surfacing after the company shut down operations at the key location earlier than expected. 
Recall back on December 9th we wrote that the company was shutting down operations late this month due to upgrades at the plant and waning consumer demand. 
As part of the shut down, Model Y and Model 3 production lines are expected to be suspended. Bloomberg reported earlier this month that Model 3 production could resume in early January, though Model Y output disruptions could be prolonged. A source said Model 3 production could be suspended again later in the month for the Chinese New Year. They added that this would allow for more upgrades and equipment maintenance to produce an enhanced version of the model. 
Reuters also reported on the planned shut down earlier this month, citing two people who said that the suspension of the assembly line would result in a 30% reduction in Model Y production for the month. They added this type of production halt wasn't a common practice for the plant.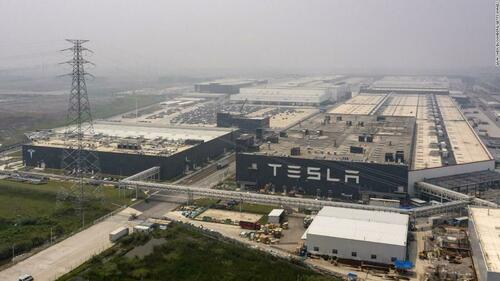 "The Shanghai factory, the most important manufacturing hub for Elon Musk's electric vehicle company, kept normal operations during the last week of December last year," Reuters said. 
Earlier this month, Bloomberg also said that slumping Chinese demand would result in the factory reducing production by 20% from full capacity.
Despite a report from Shanghai Securities Journal calling it "false information" at the beginning of the month, it now looks like the the report was accurate. And, with Tesla now shutting down one day prior to expectations, more questions than answers about demand are likely being raised.  
Reuters reported last month that Tesla plans a revamped version of Model 3 to cut production costs and boost the style of the five-year-old electric sedan. Tesla has also cut prices in the second-largest economy in the world to stay competitive with domestic bands. 
Tesla shares year-to-date are now down about 65%. 
Loading...