---
Tesla Shares Up 5% After ARK Drops Meteoric $3,000 Price Target
Tesla shares are up about 5% in pre-market trading Monday after ARK Invest's Cathie Wood released a batshit crazy "new and improved" price target on the company of $3,000 per share at the end of the week last week.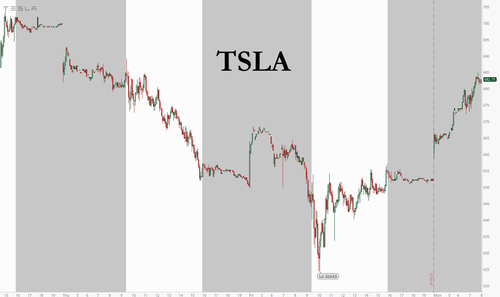 Last week was an eventful week last week for those watching the perpetual saga that is Tesla motors. At right about the same time the stock's - err, company's - biggest fan wound up releasing a new financial "model" with a new astronomical price target on the name, Elon Musk withdrew the company's latest Full Self Driving beta v8.2 after it was absolutely thrashed by critics like Road and Track who called it "laughably bad" and "potentially dangerous".
"If you think we're anywhere near fully autonomous cars, this video might convince you otherwise," Road and Track wrote about Tesla's Full Self Driving feature. The article referred to the feature as "morally dubious, technologically limited, and potentially dangerous". 
The video shows what would otherwise be called a comedy of errors, but for how dangerous the Full Self Driving beta could actually be. "It appears hapless and utterly confused at all times, never passably imitating a human driver," Road and Track wrote.
The article then goes on to list how, exactly the Tesla "breaks a variety of traffic laws", "nearly slams into a Camry", has another "near collision" and, at one point, "drives into the oncoming lane". 
The video caught fire on social media on fire, obviously making its rounds quick enough to prompt some damage control from Tesla. Elon Musk Tweeted on Friday that there was "limited value" to testing the version that Tesla had just put on the roads. He said he was hoping to upload a new version "next month".
Given significant architectural changes, including fundamental improvements to pure vision, there is limited value to testing 8.x. Hoping to upload V9.0 & button next month.

— Elon Musk (@elonmusk) March 20, 2021
This walk back on FSD - which, as a reminder, Tesla has been charging customers thousands of dollars for, for years - also comes days after a pregnant mother in Red Bank, NJ said that a driverless Tesla almost hit her and her toddler. "The car's owner wasn't even outside when this happened. I'm six months pregnant, so I couldn't even run across the parking lot to speak with them," she told Patch. 
And nobody has been a bigger advocate for Tesla's Full Self Driving than ARK Invest's Cathie Wood. The notorious Tesla bull, along with other bulls like Gene Munster, have constantly cited autonomous driving as a key lynchpin in their respective Tesla bull cases.
"We believe Elon Musk, who over the weekend figured out that Tesla would offer full service driving to anyone that wants it," is going to "be able to show us the path to autonomous quicker than analysts expect," Wood said on CNBC less than two weeks ago. 
Wood also released a new financial model and price target for Tesla, calling for the stock to hit $3,000 by the year 2025. That would be a pre-split price target of $15,000 and a market cap of almost $3 trillion. As part of her new model she said there is a "50% chance of Tesla achieving fully autonomous driving within five years," according to Bloomberg. Her "bear case" on the stock is $1,500, a more than 2x from the company's current share price.
Supporting her insanity price target, Wood's ARK Invest released a new open source financial model. That model, once in the hands of actual financial analysts, was quickly dissected and debunked.
Immediately people pointed out that the "new" model actually cut estimates for Tesla's 2021 deliveries:
Fun fact: In their new "model", Ark actually CUT estimates for $TSLA 2021 deliveries by 17%

— TC, Chartoking (@TESLAcharts) March 20, 2021
Another analyst pointed out that the model's "bull case" uses a higher cost of capital than its "bear case". 
that the most valuable and most profitable company on earth, with a $ Trillion market cap, 60% gross margins and well north of $100 Billion in free cash flow won't be priced worse than a CCC credit. (cont'd) pic.twitter.com/zb0wgp98Q4

— Keubiko (@Keubiko) March 20, 2021
In a second thread the same analyst dissects Tesla's "insurance business", pointing out that ARK seemed to completely forget to include any type of underwriting or operating expenses in what is an industry with notoriously huge statutory capital requirements.
Some analysts also took exception with the fact that ARK didn't include any equity raises for Tesla, in any of its scenarios, as necessary to reach 5 million to 10 million deliveries in 2025. 
$ARKK maths are funny: No equity raise expected for $TSLA to reach 5m-10m in 2025 deliveries.

Using their capex/unit capacity #'s, here's how much Tesla capex should be:

5M units by 2025: $51.4 billion
10M by 2025: $44.8bn

No joke.

$0 for equity raise to do this. 🤡$TSLAQ https://t.co/V4hZaP5Uxa

— Motorhead (@BradMunchen) March 20, 2021
If I am reading this correctly, ARK believes $TSLA will have $300-700B in 2025 revenues, with no debt and no equity issuance (1B shares o/s). No capital needed in a capital-intensive industry. pic.twitter.com/whtJ5dPgfK

— Diogenes (@WallStCynic) March 20, 2021
Others didn't mince words about what, exactly, they thought the model was:
It isn't... https://t.co/TcYitEsFQt

— TC, Chartoking (@TESLAcharts) March 20, 2021
And finally, we think Seabreeze Partners' Doug Kass said it best. He simply called the price target "B.S." and said "ARK is a joke" because they "just willy nilly make shit up". 
marketing machine. All the flak recently about short sellers, and people continue to get away with this garbage?
Where is the financial media calling them out?
NEW RULE – No price revisions. The more these stocks go down, the more these guys revise the target up.

— Dougie Kass (@DougKass) March 20, 2021