---
Texas Instruments To Close Two Dallas-Area Chip Factories Amid Slowdown
Texas Instruments announced Wednesday that it would close two chip plants in North Texas over the next three to five years, reported Dallas News. 
Texas Instruments' Public Relations manager Nicole Bernard said a factory in Dallas at its north campus would be shuttered, along with a chip facility in Sherman. 
Bernard said both sites would be wound down no earlier than 2023 and no later than 2025. 
"Employees at these factories have been an important part of TI's overall success and will continue to be critical to help to ensure a successful transition," Bernard said. "As we get closer to the end of the transition, we expect to offer many (of the) employees jobs in our other Dallas-area manufacturing sites. For individuals without roles at that time, we will offer severance packages and other transition assistance."
Plans to close both chip plants reflect a shift in the way the company produces chips for a range of devices, from smartphones to automotive to industrial machinery. 
The company is concentrating on making 300-millimeter wafers, rather than 150-millimeter wafer production seen at Dallas and Sherman plants.
The announcement was made during earnings call on Wednesday when the company reported revenue of $3.35 billion in the fourth quarter, a decline of 10%. However, a slight improvement from an 11% drop in the third quarter. 
The company has been grappling with crosscurrents in the global economy that have slowed the overall industry since 2018, CEO Rich Templeton said, "most markets weakened further."
"Most markets showed signs of stabilizing," Templeton said in the prepared statement.
While semiconductor markets have stabilized, we noted that hedge funds have already bet big on chipmakers and hardware firms, pricing in one of the most robust recoveries in years, despite a slowing economy.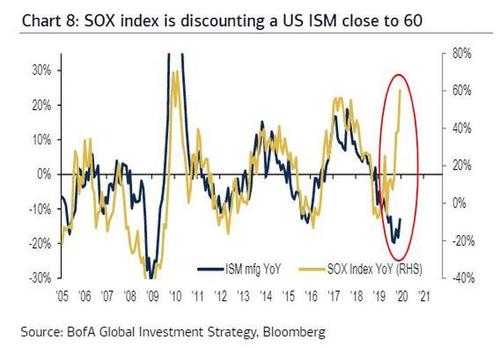 The move higher in SOX has been nothing shy of astonishing.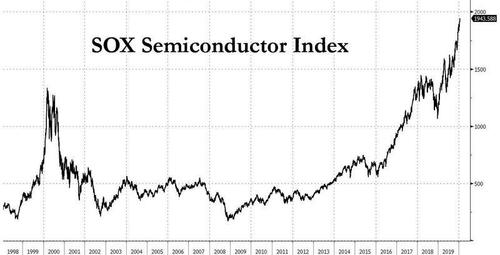 Even though the SOX index has nearly doubled over the past year, yet what is bizarre is that this move certainly was not on the back of earnings, which are now lower than where they were when the index was over 40% lower!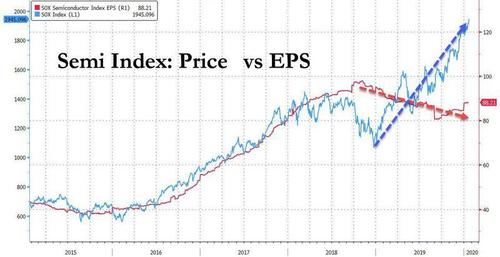 It was due to Huawei and other Chinese technology companies stockpiling chips ahead of a widely expected toughening of U.S. technology sanctions that may come as soon as next month. 
Teddy Vallee, CIO of Pervalle Global, tweeted, $TXN revs YoY vs. Global PMI. The guide exactly in-line with our leads for stabilization in ROW but no material pickup."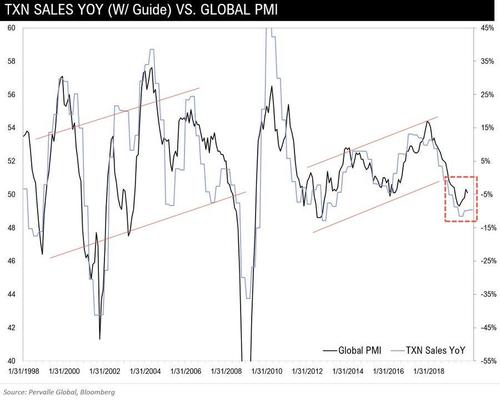 World Economic Forum President Borge Brende warned earlier this week that the world is "faced with a synchronized slowdown in the global economy. And we're also faced with a situation where the ammunition that we have to fight a potential global recession is more limited."
What could go wrong with asset managers and leveraged funds pricing in a recovery that might not be the expected V-shape but rather more of a U-shape, if not further deceleration.