---
There Were 70 Major Bankruptcies In Just 4 Months This Year
By Mish Shedlock of Mishtalk
For 2009 there were 118 bankruptcies through April. In Covid-impacted 2020, there were 71 bankruptcies. In 2023 there have been 70.
This is the third worst start to the year since 2000. Here's the Tweet.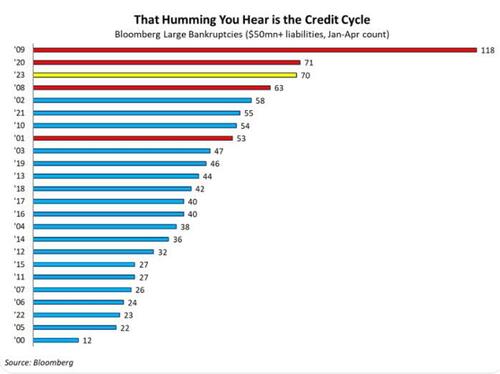 2023 Bankruptcy Spotlight 
Bed Bath & Beyond: April 2023: Home goods, baby goods
David's Bridal: Date: April 2023: Bridal apparel
Boxed: April 2023: An e-commerce platform selling wholesale consumer goods
Independent Pet Partners: February 2023: Pet supplies
Tuesday Morning: February 2023: Discount home goods
Serta Simmons Bedding: January 2023: Bedding and accessories
Party City: January 2023: Party supplies
Forma Brands: January 2023: Beauty products 
The bankruptcy spotlight list is condensed from a detailed report by CBInsights. 
Spotlight Bed Bath and Beyond
NBC reports Bed Bath and Beyond Prepares for Store Closings
"Thank you to all of our loyal customers," Bed Bath & Beyond said in a message posted to social media on Monday. "We have made the difficult decision to begin winding down our operations. Bed Bath & Beyond and buybuy BABY stores remain open to serve you."

According to the retailer's website, "deep discount" store closing sales are expected to begin in stores and online beginning Wednesday, and "all purchases during our store closing sales will be final."

According to the retailer, Bed Bath & Beyond websites, along with 360 brick-and-mortar stores and 120 buybuy BABY locations will "remain open and continue serving customers as the Company begins its efforts to effectuate the closure of its retail locations."

In Illinois, only eight Bed Bath & Beyond stores remain open, along with five buybuy BABY stores. Earlier this year, Bed Bath & Beyond announced closures of 19 stores across Illinois, many of them in the Chicago area.
Deep Discounts, No Coupons
Bed Bath and Beyond is no longer accepting coupons. Gift cards and loyalty certificates are still valid. All sales are final. 
Spotlight David's Bridal 
CNN reports One in four brides wear David's Bridal to their wedding. Now, it's filing for bankruptcy
"An increasing number of brides are opting for less traditional wedding attire, including thrift wedding dresses," David's Bridal said in a bankruptcy filing. "These shifting consumer preferences have significantly exacerbated" the company's financial crunch.

"The demand for formal wedding dresses, bridesmaid dresses, and related accessories has decreased substantially in the current environment," the company said in its filing.

David's Bridal will keep its nearly 300 stores and website operating and fulfill all customer orders as it searches for a buyer for the company. It will also honor gift cards, returns and exchanges. But if David's Bridal is not able to find a buyer, it could have to close all stores and liquidate.

The company has around 10,000 full and part-time employees, but last week it said it was laying off 9,000 workers.

David's Bridal, the successor to a bridal retailing business that began as a single bridal salon in Ft. Lauderdale, Florida, in 1950, said approximately 25% of brides in the United States wear one of its gowns at their wedding.
Nonstore Retail Sales as Percent of Advance Retail Sales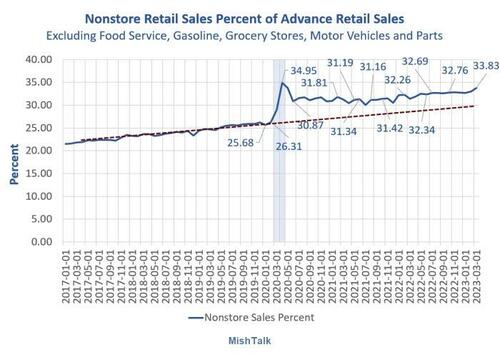 To create the chart I subtracted food, gasoline, motor vehicles, and items one does not normally buy online, then took the nonstore percentage of what remained. 
Not only have consumer preferences shifted on what people buy, preferences have shifted in the way people buy. 
The percentage of shopping online has been steadily rising but the Covid pandemic goosed the trend. It's about four percentage points above the prior trend. 
Amazon was the big beneficiary. It explains Amazon's earnings report. Nonetheless, not all is well with Amazon.
Amazon Layoffs
On April 26, Geekwire reported Latest round of Amazon layoffs begins today, impacting AWS and human resources
Amazon began notifying Amazon Web Services and human resources employees impacted by its latest round of layoffs on Wednesday, as the company continues to trim headcount to cut costs.

The layoffs are part of the 9,000-person corporate workforce reduction announced by the company in March. The cuts mostly affect AWS, human resources (which Amazon calls PXT, for People Experience and Technology), Amazon Advertising, and Twitch.

Amazon in January announced a 18,000-person layoff, the largest in the Seattle company's history. The additional 9,000 layoffs bring the total to 27,000 job cuts, about 8% of Amazon's corporate workforce, which previously numbered around 350,000 people.

The company has trimmed back and eliminated several products, services, and entire businesses over the past year to help cut expenses, including its Scout neighborhood delivery robots, its Amazon Care primary healthcare business, bricks-and-mortar Amazon bookstores, and others. Amazon said Wednesday that it was shutting down its Halo health devices and service.
M2 Money Supply Declines 8 Straight Months, ODL Down 12 Straight Months
On April 12, I commented Fed Minutes Now Predict a Recession This Year Along With Higher Unemployment. Also note M2 Money Supply Declines 8 Straight Months, ODL Down 12 Straight Months.
The economy is slowing fast. A rise in unemployment will follow,
Loading...