---
"There's A Revolt" - Retailers Reach Limits On Prices Increases As Consumers Pushback 
The inconvenient truth about persistent inflation at four-decade highs is wage gains for average workers have evaporated. Even though wages are increasing, inflation is going up much faster. That means purchasing power for consumers is reduced, and consumer goods companies are on thin ice as to how much they can raise prices until consumers alter spending habits. 
Macy's Inc. CEO Jeff Gennette recently told WSJ they tried to raise prices on some mattresses and sofas by $100 and were met with fierce consumer push back. Clothing brand Bella Dahl hiked shirt prices by $20 and immediately saw sales crater. "There was a revolt," said Steven Millman, Bella Dahls' brand officer. "If we go any higher, we'll do half the sales."
Some department stores and apparel retailers are hitting thresholds for how much they can raise prices. There was very little resistance from consumers as inflation began to rise over the last year. Now, inflation levels are the highest since 1982, and industry executives and analysts believe a price ceiling could be nearing as any higher would suggest demand destruction, sending consumers into hibernation mode.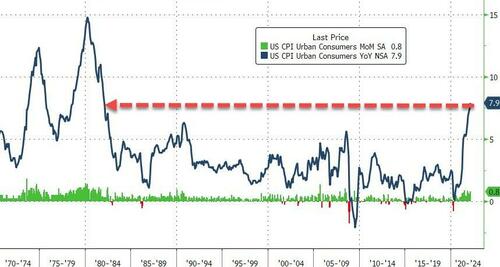 The propaganda headlines about working power and rising wages by the Biden administration in the midterm year obscures the fact that wages have less buying power as inflation runs rampant.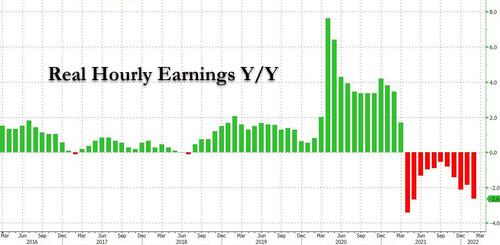 Retail sales slowed in February over January, according to the Commerce Department. Compared with February 2021, sales jumped 17.7%, but much of that is due to soaring gasoline and food prices. 
Neil Saunders, managing director at research firm GlobalData, said there is "some trading down with more shoppers turning to value players for some of their purchases in the apparel industry." He said, "this is likely in response to squeezed budgets." 
Market research firm NPD Group said sales of apparel, footwear, toys, and sports equipment slumped in nine of the ten weeks between Dec. 26 to Mar. 5, compared with last year's same period. NPD surveyed consumers who said if prices continue to rise, they will restrict spending. 
"We see less demand as consumers pay higher prices," said Marshal Cohen, NPD's chief retail industry adviser. "Price sensitivity is starting to show up. There is a threshold that consumers don't want to go over."
The problem of inflation crushing wage gains is likely to persist through 2022. This comes as discount department store chains, such as Walmart, Target, and other big-box retailers, hike prices rather than rolling out promotions. 
Retailers are trying to figure out how far prices can rise from here without losing customers. The latest pushback from consumers may suggest prices are at a triggering point of demand destruction.