---
These Are The Companies Most Exposed To Russia And Ukraine
Now that military action in Ukraine is reality, a development which has caught much of the market by surprise, investors are digging through the data to uncover which companies are most exposed to the deadly escalation in Ukraine.
The good news is that for the most part, corporate exposure to Russia/Ukraine is limited and focused in a handful of sectors (mostly commodities and energy). Despite the relatively low exposure however, energy costs are at the heart of the Fed's anti-inflation crusade, and as JPMorgan writes, the Russia/Ukraine crisis could force a reassessment of the Fed tightening path resulting in central banks turning less hawkish, while policymakers may consider additional fiscal stimulus (e.g. US gas tax reduction).
That said, Russia is a major producers of PGMs, nickel, aluminium and diamonds In 2021, Russia accounted for: ~35% of global palladium mine supply, ~10% of platinum, ~6% of primary aluminium, 7% of nickel, 4% of copper and ~30% of rough diamonds. Metal prices have already reacted to the risk of supply disruptions, but sanctions on exports on any of these  metals/commodities could send prices even higher; global visible inventories are already depleted meaning metal prices will respond quickly to any supply shocks. Russia's importance to the global autos industry is particularly high (platinum and palladium) and the recent experience of sanctions on major aluminium producer Rusal in 2018 show the potential disruption effects on global supply chains.
Given the importance of Russian gas to Europe, Deutsche Bank warns that power prices could remain elevated or move even higher in Europe in the event of supply disruptions. Aluminium and zinc production are energy intensive with a number of facilities in Europe curtailing production in recent months due to high power prices. The surge in energy prices had led to at least seven aluminium smelters in Europe announcing partial or full curtailments, totaling >700 ktpa of capacity. Europe produced ~4.3 mt of aluminium in 2021, or ~15% of ex-China output, and is heavily reliant on imports (including from Russia).
With that in mind, the bank has highlighted three screens for US companies with direct/indirect exposure to this geopolitical event:
Russia-Ukraine Outperformers (indirect exposure through Energy, Materials and Industrials/Defense),
Russia-Ukraine Underperformers (direct/indirect exposure, with direct revenue exposure accounting for ~4% on average, e.g. KGC 14%, ARNC 9%, PM 8%, PEP 4%, MCD 4%)
Russia-Ukraine Underperformers (using statistical analysis).
As JPM caveats, these screens should be viewed as starter lists for discretionary investors to identify individual companies with potentially high positive/negative sensitivities to this geopolitical risk.
So without further ado here is a list of companies classified by JPM as...
Russia-Ukraine Outperformers (indirect exposure):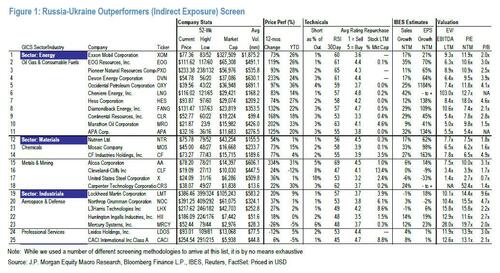 Russia-Ukraine Underperformers (Direct/Indirect Exposure)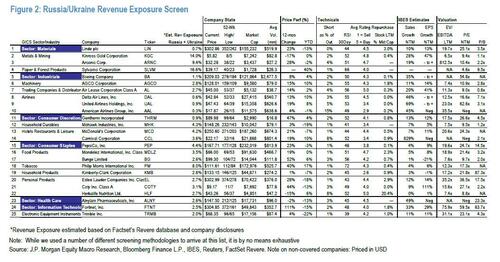 As an alternative to identifying US stocks based on direct / indirect exposures, JPM screened stocks most sensitive to Russia-Ukraine tensions. It used the following filters to screen stocks with highest statistical sensitivity to this geopolitical risk as a starter list for fundamental investors:
US Stocks with Market cap > $1bn
Filtered stocks that had high idiosyncratic 1 day moves
Measured Russia specific beta and correlation since Oct'21 using residual returns:

Stock returns - industry * Industry returns - inflation* Inflation chg
MSCI Russia returns - EM sec.adj. * EM returns with sector adjustment

Filtered for correlation above 0.2 and selected higher beta to Russia stock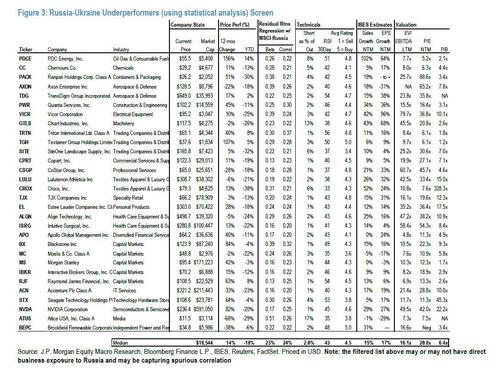 How about direct financial linkages? The good news here too is that European bank direct exposures to Russia and Ukraine are small and concentrated among a handful of banks..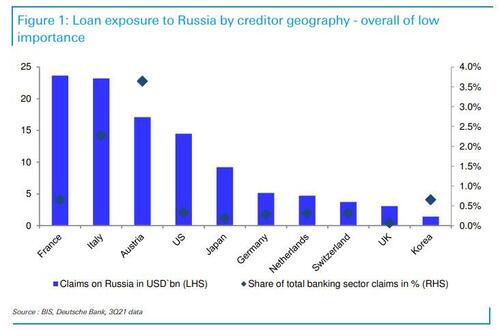 ... with Austria's Raiffeisen Bank International being most exposed followed by Unicredit and SocGen, though for both the relative importance is already much lower according to Deutsche Bank.

Finally, focusing just on commodities, Deutsche Bank notes that the following companies have meaningful exposure to aluminium, nickel, zinc, PGMs and energy:  Norsk Hydro (aluminium), Alcoa (aluminium), Anglo (PGMs, diamonds), Boliden (zinc, nickel), Glencore (zinc, nickel, thermal coal), BHP (petroleum), Teck (zinc) and Sibanye (PGMs).
But as always, the market is the best arbiter, and here are some of the companies that had gotten hit the hardest today:
London-listed Ferrexpo, which runs iron ore mines in Ukraine, falls as much as 11%, while Russian gold miner Petropavlovsk drops 15% in U.K. trading; peers Eurasia Mining -29%; Polymetal International -33%, Evraz -30%
Construction- equipment supplier Ferronordic, which has significant business in Russia and neighboring states, slides as much as 23%, the most on record
Fashion retailer LPP, which sells clothes in CEE, falls as much as 24%, also the most on record
Shares of Finnish tire maker Nokian Renkaat, which has close to 20% sales in Russia, fall as much as 11%; Nordic peer Rockwool declines 8%, among the biggest laggards on Denmark's large-cap OMXC25 benchmark
Raiffeisen Bank falls as much as 12%, outpacing a sector-wide slump in banking stocks; Bank of Georgia Group also down as much as 12%
Airline operator Wizz Air, which operates in CEE, slips as much as 17%
Among other Russia-exposed stock decliners are Buzzi Unicem -5.8%, Hyve Group -9%
Banking shares are among the worst performers in Europe Thursday, with the Stoxx 600 Banks Index tumbling as much as 4.1%: Raiffeisen -10%, Deutsche Bank -5.7%, Commerzbank -5%; UniCredit drops as much as 7.3%, most since November