---
"They Made A Lot Of Money" - UBS's Billionaire Clients Dump Stocks As Top Could Be Nearing
UBS' head of global family offices told Reuters, the surge in equities from March to May netted significant returns for its wealthiest clients. Now they're disposing of equities by locking in gains and moving money into "illiquid and private assets." 
"We had record loans written during the middle of March and the middle of April, of significant family offices who asked us for balance sheet and then went into the market," Josef Stadler said. "They bought, for example, U.S. equities, but they didn't buy $50 million. They bought a billion-plus of those equities to rebalance. And they made a lot of money."
Buying the dip, in the tune of billions of dollars, led family offices to outperform hedge funds, and hit their target benchmarks through May, according to the bank's latest survey of family offices.
UBS is known as "fortress bank for billionaires," because it caters to the world's wealthiest folks. The bank's survey of family offices, 121 in total, each has an average AUM of $1.6 billion. 
Stadler said the rapid rise in equities would likely "soften throughout the rest of this year."
For more color on why equities could slump in the second half, we recently noted the Federal Reserve's balance sheet is contracting, realtime indicators show the recovery has stalled, and valuations are stretched. 
The Fed's balance sheet increased from $3 trillion to $7.2 trillion during the pandemic. At the same time, the S&P500 soared as the balance sheet expanded. However, in recent weeks, the balance sheet has contracted, resulting in S&P500 having trouble sustaining 3,200, despite the barrage of virus vaccine headlines.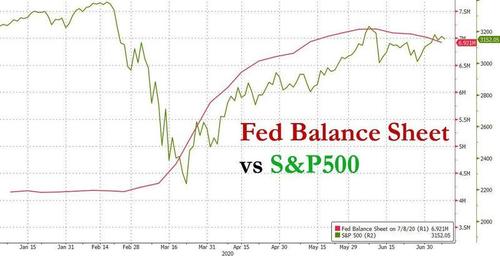 S&P500 futures have stalled just above the 74.6%-Fib, chopping around the Fib-level since early June.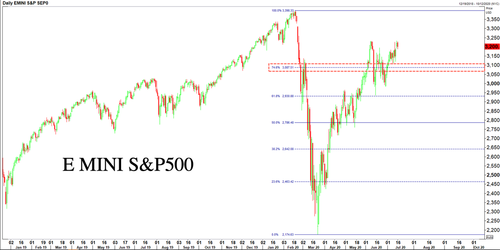 As the Fed printed trillions of dollars and the government unleashed trillions more in fiscal stimulus, the economy rebounded. Still, as virus cases surge across the country, states are now pausing or reversing reopenings, resulting in a recovery that stalled in late June.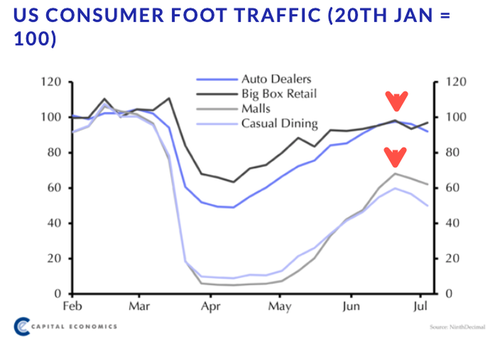 The latest BofA Fund Manager Survey shows a near-record 71% of FMS investors said the stock market is overvalued, which makes sense since not only is the Nasdaq at all-time highs and the S&P just shy thereof, but P/E multiples are the highest they have ever been.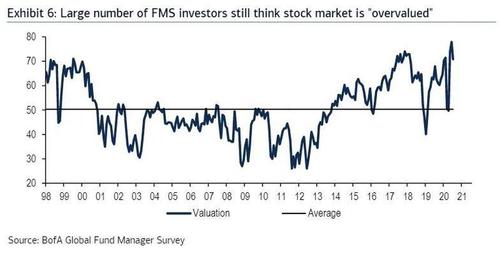 Smart money is dumping stocks as Robinhood daytraders panic buy. Retail is about to be turned into long-term bagholders.