---
Massive Layoffs On Deck At Credit Suisse, Which Tells Workers Bonuses Will Still Be Paid So Go To Work
The forced bail-in sale of Credit Suisse to UBS will lead to a staggering number of job cuts in the next few weeks or months, as there are significant overlaps at both banks resulting from the merger. Before the merger, Credit Suisse was already undergoing a restructuring process, laying off upwards of 9,000 employees. Now job losses could accelerate at the troubled bank, according to Bloomberg, citing people familiar with the situation. 
The two banks have a considerable workforce with approximately 125,000 employees, 30% of whom are located in Switzerland. The merger creates a lot of overlaps in certain departments, and the people estimate significant job cuts are looming.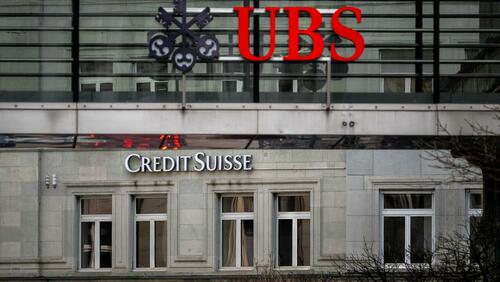 UBS Chairman Colm Kelleher wouldn't share any details over the weekend about the job-cut number, but UBS published a statement Sunday about the need to reduce the bank's annual cost base by more than $8 billion by 2027. 
"Let me be very specific on this: UBS intends to downsize Credit Suisse's investment banking business and align it with our conservative risk culture," Kelleher said at Sunday's press conference. He warned about a bumpy road ahead.
Bloomberg said Credit Suisse employees were emailed a memo about the impacted roles and "will aim to continue to provide severance in line with market practice." The memo stated that bonuses would remain unchanged and will be paid on Friday... which probably is when everyone quits right after the bonus wire transfer hits their bank account (which is neither at UBS nor Credit Suisse).
There will be no changes to payroll arrangements and bonuses will still be paid on March 24, the Credit Suisse said in an internal memo to staff: BBG

So everyone quits next Friday

— zerohedge (@zerohedge) March 20, 2023
"We know that many of you will have been following the intense media coverage over the past 48 hours on the future of Credit Suisse and appreciate the enormous uncertainty and stress that this has caused," Credit Suisse Chairman Axel Lehmann and Chief Executive Officer Ulrich Koerner said in a separate memo.
The path moving forward for both banks appears to include reducing expenses and headcount. UBS will become even more dominant in Switzerland. And the good news is the takeover reduces systemic concerns (for now). 
Loading...