---
Three Percent Of The Fed's Corporate Bond Holdings Are Junk Rated
It is only appropriate that on the day Ball Corporation sold a bond with the lowest "high" yield ever for a junk bond, at 2.875%...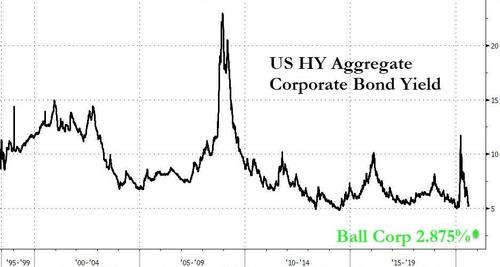 ... that the Fed would publish its latest corporate bond purchase data, in which we find that as of July 31, some 3% of the corporate bonds purchased by the Fed in its SMCCF facility, and 2.8% of corporate bond purchased via the Fed's SMCCF broad market index were junk, or BB, rated (technically, some BB credits are likely IG, but for the sake of simplicity we will "round down" and assume all BBs are sub-investment grade).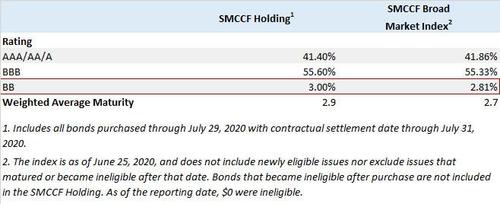 Some other notable facts: as of last Monday, the Fed owned 916 CUSIPs outright, with a par value of $3.349BN, which include among others bonds issued by Berkshire Hathaway, foreign automakers such as Toyota, Nissan, Daimler, BMW and Hyundai; US giants such as Walmart, General Motors, General Electric, Visa, Microsoft, McDonalds, Novartis and Pfizer; REITs such as Simon Property, Duke Realty, National Retail Properties; Energy companies such as Exxon, Spectra Energy, Sempra Energy, Sabine Pass, Phillips 66, Kinder Morgan; non-ESG names such as Philip Morris and J&J and, of course, Apple.

Looking at just ETFs, as of July 31 the Fed had purchased $8.7ZBN in mostly IG ETFs, but also some high pardon "low yield" junk bond ETFs such as JNK, HYG and so on.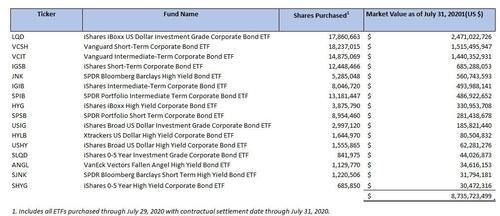 For brokered trades, the Fed purchased $2.37 billion directly from Wall Street firms, of which Morgan Stanley, Amherst Pierpont, Wells Fargo, Goldman and Barclays Capital were the biggest sellers of their own inventory.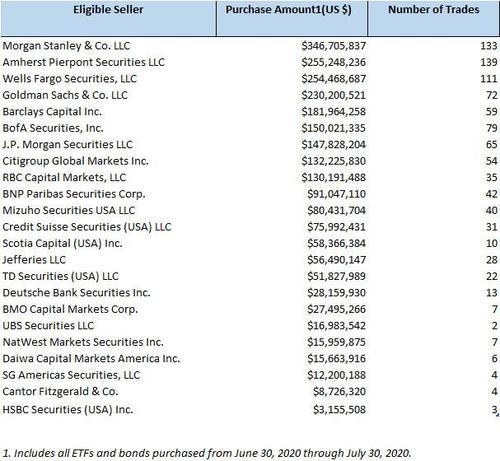 Finally, when buying bonds in the open market, the Fed is infinitely generous purchasing CUSIPs at prices far, far above par, which we can only assume is in line with market prices however since the Fed must purchase these bonds, the broker on the trade can declare any offer and the Fed will have to lift it.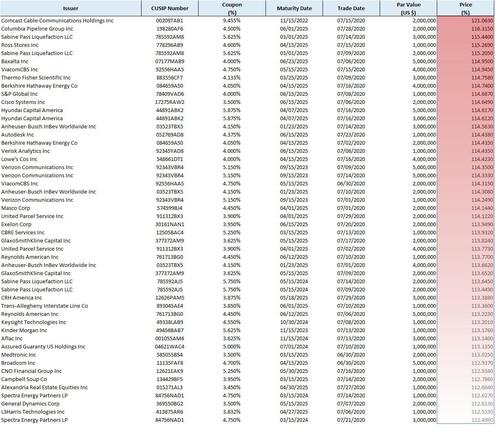 Source: The central planning hedge fund known as the Federal Reserve of the USSA.