---
Is The Tide Turning For Tech After A Brutal First Half?
By Michael Msika, Bloomberg Markets Live commentator and reporter
The early signs from this reporting season haven't been great for tech stocks, but that isn't putting off those investors seeking to jump back in at reduced valuations. Optimism that inflation may soon start to slow and the Federal Reserve become less hawkish has seen growth stocks, and tech in particular, stage a comeback.
Since the market low on July 5, the Stoxx 600 Technology index has soared 15% and is the best-performing subgroup in Europe. That's despite underwhelming second-quarter earnings and guidance cutsfrom the likes of ASML and SAP.
"The turn in interest rates suggests that the recent better performance of growth style over value can continue," say JPMorgan strategists led by Mislav Matejka. Softening macro-economic indicators "could open the doors to a more balanced Fed," they say, seeing an opportunity for stocks including ASML and Adyen.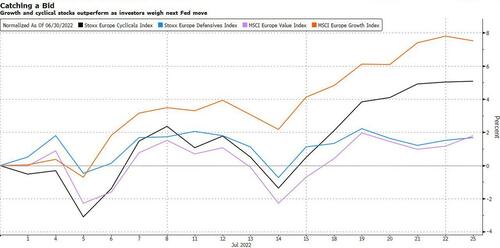 After a 32% drop in the first half of the year, Europe's tech subindex may already be pricing in a major slowdown. Yet it still isn't cheap, with a forward price-earnings ratio exceeding 21, an 80% premium to the broader market. And valuations show an inverse correlation to real yields, which are currently receding.
"Growth stock valuations are no longer expensive, but not yet depressed," say Goldman Sachs strategists including Ryan Hammond, warning about non-profitable growth stocks that may need to raise capital to stay solvent, in a difficult environment of tightening financial conditions.
The next Fed decision on Wednesday will offer some more clues about the central bank's hawkishness going forward, with a rate hike already a given in view of still rampant inflation, but with all eyes on the message.
"The growth trajectory is already low enough and a 'monster' hike would be unnecessarily risky, especially as it might trigger a substantial repricing and would make it harder for the FOMC to control market expectations going forward," says Generali Investments economist Paolo Zanghieri, who expects a 75 basis-point hike.
Technically, the picture is positive, though the rise may be temporary. "Some sort of recovery is at hand," says DayByDay technical analyst Valerie Gastaldy. Looking at the relative ratio of the tech subindex and the Stoxx 600, the analyst says the recovery has further to run, to at least 1.518, and maybe higher.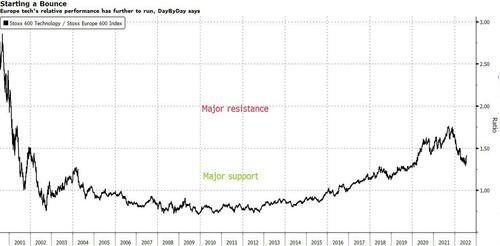 "Investors still have a love affair with growth stocks, particularly tech given their outstanding performance over the past decade," say Morgan Stanley strategists led by Michael Wilson. "However, many of these stocks are more economically sensitive than many still appreciate and if recession is coming, these stocks will not do well.".