---
"Time To Act:" Lazard To Cut 10% Of Jobs Amid M&A Slowdown
Investment bank Lazard Ltd on Friday announced plans to shrink its workforce by 10% this year, following a decline in dealmaking activity in the first quarter. 
"Candidly, things are not feeling as good as they were in December or January," Chief Executive Officer Ken Jacobs told Bloomberg. He stressed, "It's time to act. That's basically it." 
The first quarter of 2023 was the slowest start to global dealmaking since 2013, as rising interest rates and elevated inflation soured the mood in capital markets. 
According to Bloomberg data, on Wall Street, investment-banking fees across the top five firms plunged 49% last year. This resulted in a first-quarter financial-advisory revenue decline of 29% from a year ago, to 274 million, which missed analysts' estimates of $296 million. Asset-management revenue slid 15% to $265 million. There was also a surprise first-quarter loss of 22.2 million, or 27 cents a share, compared with a profit of $113.9 million, or $1.05 a share, in the same period a year earlier. Analysts surveyed by FactSet were expecting a profit of 32 cents a share.
Lazard incurred a $21 charge in the first quarter, and the investment bank expects an additional $95 million in charges. 
"We are implementing cost-saving initiatives to right-size for the current environment and provide flexibility to strategically invest in our business," Jacobs said. 
As of March, Lazard had a workforce of approximately 3,400.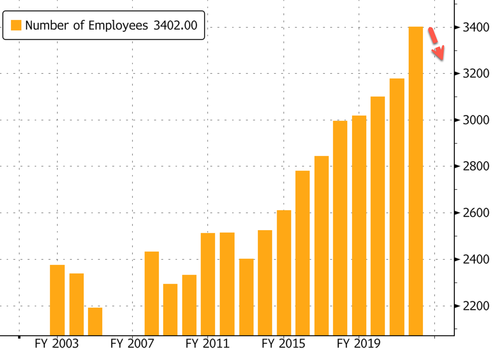 Jacobs expects other investment banks will reduce headcount this year as the dealmaking environment remains muted. Bankers have also been slashing bonuses (read: here & here). 
Loading...