---
"Today Might Be A Shock": World's Third-Largest Equity Market Suffers Historic All-Day Trading Halt
When we reported last night that Japan's stock exchange had halted all trading "due to network issues", we expected that the glitch would be resolved shortly and things would promptly go back to normal. We were wrong - instead, trading on the Tokyo Stock Exchange was brought to a complete standstill by a hardware failure for all of Thursday, in what is now the worst-ever outage for the world's third-largest equity market.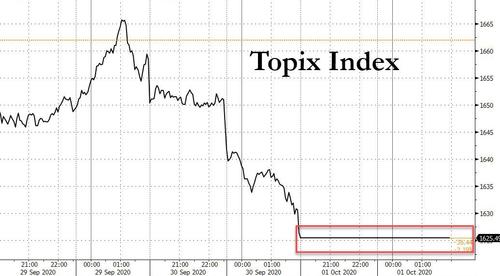 TSE exchange operator Japan Exchange Group Inc., said that all Thursday orders were canceled, and opening prices when trading resumes will be the closing prices on Wednesday. Other markets in Japan, including exchanges in Sapporo, Nagoya, and Fukuoka, also suspended trading on Thursday. Derivatives, including futures, trade on the Osaka Exchange, which was not impacted by the system issue.
The Exchange initially said that trading of all stocks would be halted due to an "issue in the distribution of market information." In a notice on its website shortly before trading began at 9 a.m., Japan Exchange said it would not be able to accept orders. It later said trading would be halted for the entire day and did not say when it would resume operations.
The exchange "glitch" stemmed from "a hardware failure" and that switching to a backup device also failed to work. As a result, market information could not be distributed, and the exchange made the decision to call off trading for the entire day after conferring with market participants, who said it would be difficult to deal with their clients and carry out orders.
"After discussing with market participants, if trading resumed today, there was a request that it would be difficult to deal with customers and smooth trading," Koichiro Miyahara, president and CEO of TSE, said in a press conference. "So we decided to suspend trading for the entire day."
The outage caused wide discontent among market participants who were unable to execute trades on a day when the Bank of Japan was releasing its Tankan survey, a closely watched economic indicator, which meant high volumes were expected. The survey was released just 10 minutes before trading was due to start. TSE said it "sincerely apologizes for any inconvenience caused to investors."
In a press conference on Thursday, Chief Cabinet Secretary Katsunobu Kato said the incident was "very regrettable."
"We have caused great inconvenience to many market participants, investors and listed companies," Miyahara further apologized, adding that "we will take thorough steps to prevent a recurrence."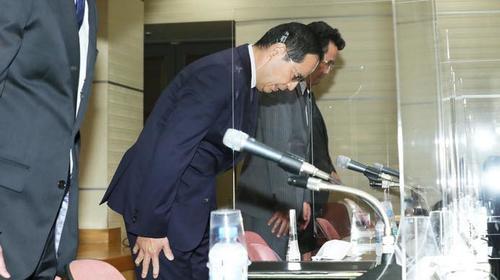 Chief Information Officer Ryusuke Yokoyama explained that TSE has identified the faulty part of the device, and that Friday's operation would be run with a backup device. However, it is still investigating why the automatic switch-over from the faulty to the backup device did not work on Thursday.
Fujitsu, the information technology services company that developed the TSE's "arrowhead" trading system, earlier told Nikkei that it was "currently checking the situation." The TSE began using the system in 2010, and upgraded it last November.
"It is our responsibility to operate the market," said Miyahara, TSE's CEO. While Fujitsu will be investigating the cause of he failures, Miyahara said that TSE is not considering asking the company for compensations.
Makoto Sengoku, a market analyst at Tokai Tokyo Research Institute Co., said he'll be watching the reaction in the TSE Mothers Index, the main gauge for startup companies in Japan. "For retail investors that are trading everyday, today might be a shock, but for those who aren't frequently trading it's not as impactful," he said.
"The timing is really just bad," said Takashi Hiroki, chief strategist at brokerage Monex in Tokyo, adding that many market participants had been hoping to buy back their stocks or increase their holdings after an overnight rise in U.S. markets. "The market was robbed of that chance," he added.
"It hasn't affected our trading, as we didn't have any orders for Japan overnight, but it does mean we don't have a fresh price for our Japanese holdings," William de Gale, manager of the UK-based BlueBox Global Technology Fund which has around 5% of its assets in Japanese stocks, said.
* * *
"We have to make sure this kind of situation is never repeated," Japan's top government spokesman, Katsunobu Kato, told a briefing.
The halt, which surely infuriated the Bank of Japan which now sets the public mood through the stock market, where it buys record amounts of ETFs to manipulate the "wealth effect", dampened investor sentiment following a positive U.S. stock market performance overnight and closures in other major markets in the region, including China, Hong Kong, South Korea and Taiwan for public holidays, according to Bloomberg.
The failure also came on the first day of a new quarter and of the second half of Japan's fiscal year, when trading volumes would typically be high as many funds adjust their positions.
According to the Nikkei, the unprecedented disruption is likely to raise concerns over the reliability of Asia's largest exchange by market capitalization at a time when Japan has ambitions of becoming the region's leading financial hub.
The issue marks a major blow to one of the largest stock exchanges in the world. TSE has an average daily turnover of about 3 trillion yen ($28 billion). More than 2,100 companies are listed on its main board, called the first section, with a total market capitalization of over 600 trillion yen. Japan's $6.1 trillion stock market is the third-largest in the world behind the U.S. and China.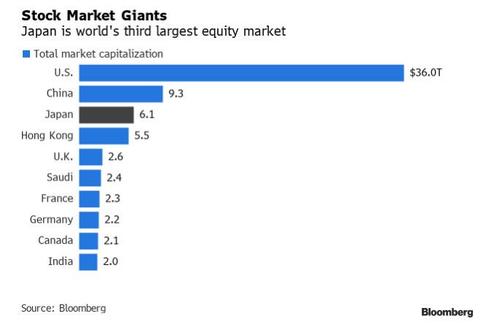 It is also raising concerns over the safety of TSE's trading system, which the bourse has touted as one of the most sophisticated in the world. "There should be a backup system, so it's puzzling that trading would stop altogether," said one portfolio manager. Previous trading halts only lasted for hours. TSE suffered a complete trading halt due to a system error in November 2005, but trading resumed the same day. The bourse also temporarily suspended trading of all stocks in January 2006, when an investigation into Livedoor triggered a flood of orders.
The Nagoya Stock Exchange, Fukuoka Stock Exchange and Sapporo Securities Exchange also halted trading activity on Thursday. The exchanges all use the Tokyo Stock Exchange's system to execute trades. TSE's off-trading hours trading system, ToSTNeT, also halted trading.
As Bloomberg adds, global markets have been on a heightened state of alert for any glitches after a cyber attack in New Zealand that spurred trading halts over four days in August, though Tokyo exchange officials said there were no indications Thursday's outage was related to hacking, which occurred on hardware not directly connected externally. Deutsche Boerse AG's electronic-trading system has also suffered two major outages this year.
Bloomberg also reminds us that a series of computer issues in the mid-2000s led to the resignation of the exchange president.
Trading was halted for 4 1/2 hours in 2005 due to a botched system upgrade, the first time equity trading had been completely suspended. In January 2006, the exchange halted trading early after a surge in orders, triggered by an investigation into high-flying internet company Livedoor Co., overloaded its computer systems. That resulted in shortened trading hours for three months.
The Tokyo exchange introduced its faster Arrowhead system, developed by Fujitsu Ltd., in January 2010, but that didn't solve the issues entirely. A computer glitch in 2012 halted trading in 241 securities, while a system error later that year took took derivatives trading offline.
The Tokyo exchange introduced its faster Arrowhead system, developed by Fujitsu Ltd., in January 2010, but that didn't solve the issues entirely. A computer glitch in 2012 halted trading in 241 securities, while a system errorlater that year took took derivatives trading offline.
The current Arrowhead system was installed in November 2019, officials said, with equipment supplied by Fujitsu. Tokyo Stock Exchange officials said that as the market operator, it accepted responsibility for the outage, and that Fujitsu was merely a vendor. TSE CEO Miyahara said there were no plans at the moment to seek damages from Fujitsu.
* * *
The good news is that Mrs Watanabe will soon be able to return to her favorite daytrading activity: trading will resume at 9 a.m. JST on Friday, as normal and without trading limits, based on Wednesday's close as starting prices. TSE announced after the press conference that it was "proceeding without problems toward resumption of trading."
"There will be a huge surge in trading volumes around the U.S. presidential election, and this does raise some concerns about the TSE's ability to process a large increase in orders," said Hideyuki Ishiguro, a senior strategist at Daiwa Securities.