---
"Too Big To Fail" Credit Suisse Domino Effect Far More Potent Than SVB
By Ven Ram, Bloomberg Markets Live reporter and strategist
Should the markets' worst fears on Credit Suisse come true, the euro-area economy will fall off a cliff, upend the global financial system and bring policy tightening by major central banks to a screaming halt.
Unlike Silicon Valley Bank and Signature Bank, the Swiss lender is classified as systemically important by the US Financial Stability Board — meaning it's too big to fail as a collapse has the potential to trigger a financial crisis.
European Central Bank officials contacted lenders Wednesday to ask about their financial exposure to Credit Suisse, the Wall Street Journal reported.
Credit Suisse reported that its assets under management were almost 1.3 trillion Swiss francs, or the equivalent of $1.4 trillion, as recently as last month. For perspective, that would amount to almost 10% of the 14.5 trillion euro-area economy
The cost of insuring Credit Suisse's debt against default for one year jumped to a record 2728 basis points on Wednesday. Meanwhile, the company's shares tumbled to a record and its bonds plunged to levels typically associated with distress.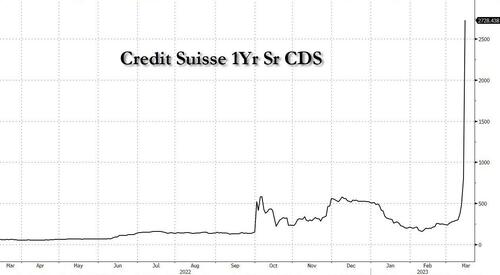 The latest leg lower was spurred by comments from Saudi National Bank — Credit Suisse's top shareholder — that it had no intention of investing more into the Swiss lender, which is in the midst of a complex three-year restructuring in a bid to return to profitability.
Over in the US, a swift response from policymakers including the Federal Reserve staved off a crisis that loomed over the financial landscape following the failure of SVB. The California-based lender collapsed after a loss of depositor confidence compelled the bank to sell assets that had lost value amid the Fed's tightening.
The Fed lost little time before unveiling a term-funding program that essentially allowed US banks — presumably those that may be in a predicament similar to SVB amid the increase in interest rates — to borrow against bonds that may have lost value at 100 cents on the dollar. That quick backstop helped assuage some of the worst fears of depositors and investors.
It's not exactly clear how the plot will play out in Europe, with UBS Group AG chief executive officer Ralph Hamers commenting that he won't answer "hypothetical questions" about its struggling Swiss rival and that UBS is "focused on our own strategy."
Credit Suisse's Chief Executive Officer Ulrich Koerner earlier this week pleaded for patience, citing its CET1 capital ratio of 14.1% in the fourth quarter and a liquidity coverage ratio of 144% that has since increased to about 150% on average
Still, that patience may be in short supply in the global financial markets, with investors showing increased sensitivity to any perception of additional risk.
For policymakers in Europe and the US, though, what is at stake here is an entity that has a far greater domino effect in its ability to damage sentiment than Silicon Valley Bank and Signature Bank combined.
Loading...